U.S. Radio Astronomy Observatories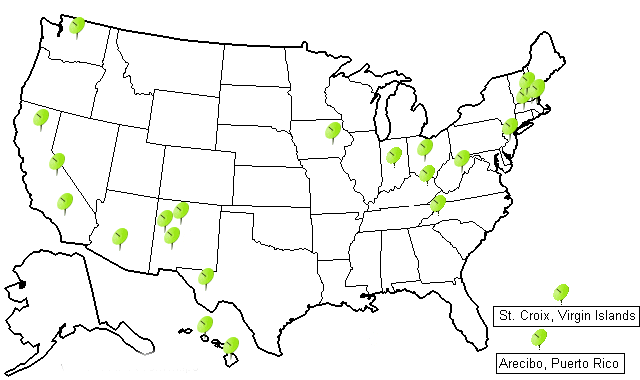 U.S. Radio Astronomy Observatories
Please send corrections or updates to bpa@nas.edu
National Astronomy and Ionosphere Center--Arecibo Observatory
Box 995
Arecibo, PR 00613-0995
Phone: (787) 878-2612
Contact: Daniel Altschuler
Sponsor: National Science Foundation through Cornell University
Location: Arecibo, Puerto Rico
For data on the telescopes, location, frequencies, etc., see the NAIC Web site. For data on the telescopes, location, frequencies, etc., see the NAIC Web site.

Caltech Submillimeter Observatory
Division of Physics, Mathematics, and Astronomy
California Institute of Technology
Pasadena, CA 91125
Contact: T. G. Phillips
Sponsor: National Science Foundation
Location: Mauna Kea, Hawaii
Latitude: 19° 49' 34"
Longitude: 155° 28.3'
Altitude: 4100 m
Telescope: Leighton design
Diameter: 10.4 m
Area: 84 m2
Height: 15 m
Coverage: 0°-360° az., 0°-90° el.
Remarks:
Observation Type: Galactic, extragalactic, spectral line, continuum
Frequency band(s):
250 GHz
350 GHz
450 GHz
650 GHz
850 GHz

Crawford Hill (horn antenna, see below for millimeter telescope)
AT&T Bell Laboratories
Holmdel, NJ 07733
Contact: Robert W. Wilson
Location: Holmdel, NJ
Latitude: +40° 23.5'
Longitude: -74° 11.2' E
Altitude: 100 m
Telescope: 22-ft. horn antenna
Diameter: 7 m
Area: 23 m2 at 0.60 eff.
Height: 10 m
Coverage: 0°-360° az., 0°-90° el.
Remarks: Antenna is usable up to 40 GHz. No observations have been performed since 1982.
Observation Type: HI line survey
Frequency band(s:
Tunable 1400 MHz
Crawford Hill (mm telescope)
AT&T Bell Laboratories
Holmdel, NJ 07733
Contact: Robert W. Wilson
Reference: T. S. Chu et al., Bell System Technical Journal 57, 1257-1288, May-June, 1978
Location: Holmdel, NJ
Latitude: +40° 23.5'
Longitude: -74° 11.2' E
Altitude: 100 m
Telescope: Offset cassegrain mm telescope
Diameter: 7 m
Area: 23 m2 at 0.60 eff.
Height: 12 m
Coverage: 0°-360° az., 0°-90° el.
Observation Type: mm-wavelength spectral line and continuum
Frequency band(s):
Tunable from 70-250 GHz


Deep Space Network--Goldstone Deep Space Communications Complex
DSS 12
DSS 13
DSS 14
DSS 15
See all listed below
Deep Space Network--Canberra Deep Space Communications Complex
DSS 42
DSS 43
DSS 45
See all listed below
Deep Space Network--Madrid Deep Space Communications Complex
DSS 61
DSS 63
DSS 65
See all listed below
DSN Station locations in ITRF93-like reference frame at epoch 2003.0
DSS 12
Jet Propulsion Laboratory, California Institute of Technology
4800 Oak Grove Drive
Pasadena, CA 91109
Sponsor: National Aeronautics and Space Administration (NASA)
Reference: Deep Space Network Flight Project Interface Design Handbook 810-5, Rev. D, Vol. II, JPL
Location: Goldstone, California
Latitude: 35° 17' 59.77391'' N
Longitude: 243° 11' 40.23879'' E
Altitude: 962.85958 m
Telescope: Equatorial-parabolic cassegrain antenna
Diameter: 34 m
Area: 2215 m2 at 2.2 GHz
1671 m2 at 8.4 GHz
Height: Approximately 18 m
Coverage: No coverage south of 35° el. at 180° az.
Remarks: These are equatorial antennas whose coverage is stated approximately.
Observation Type: Spacecraft communications and radio astronomy
Frequency band(s):
2250 MHz
8.42 GHz

DSS 13
Jet Propulsion Laboratory
California Institute of Technology
4800 Oak Grove Drive
Pasadena, CA 91109
Sponsor: National Aeronautics and Space Administration (NASA)
Reference: DSS 13 Master Plan May 1977, JPL Deep Space Research Station (DSS 13), Subsystem Functional Requirements, May 1987, JPL
Location: Goldstone, California
Latitude: 35° 14' 49.79173" N
Longitude: 243° 12' 19.94762" E
Altitude: 1071.14904 m
Telescope: Parabolic antenna
Diameter: 26 m
Area: 1253 m2 at 2.3 GHz
1349 m2 at 8.4 GHz
Height: 14 m
Coverage: 0°-360° az., 0°-90° el.
Remarks: Will be upgraded to a 34-m GHz beam waveguide antenna by the end of 1990. The search for extraterrestrial intelligence will examine the band from 1-10 GHz.
Observation Type: Spacecraft communication research, planetary radar, radio astronomy
Frequency band(s):
2050-2700 MHz
8.05-8.9 GHz
Diameter: 70 m
Area: 7697 m2 at 1.6 GHz
11084 m2 at 2.3 GHz
10006 m2 at 8.4 GHz
7851 m2 at 22 GHz
Height: 33.5 m
Coverage: 0°-360° az., 6°-90° el.
Remarks: This facility has a 400-kW cw radar capability at 2.2 and 8.4 GHz.
Observation Type: Spacecraft communication and navigation, radio astronomy
Frequency band(s):
1670 MHz
2290 MHz
8.45 GHz
22 GHz

DSS 14
Jet Propulsion Laboratory
California Institute of Technology
4800 Oak Grove Drive
Pasadena, CA 91109
Sponsor: National Aeronautics and Space Administration (NASA)
Reference: Deep Space Network Flight Project Interface Design Handbook 810-5, Rev. D, Volume II, JPL
Location: Goldstone, CA
Latitude: 35° 25' 33.24354'' N
Longitude: 243° 06' 37.66245'' E
Altitude: 1002.09512 m
Telescope: Parabolic cassegrain
DSS 15
Jet Propulsion Laboratory
California Institute of Technology
4800 Oak Grove Drive
Pasadena, CA 91109
Sponsor: National Aeronautics and Space Administration (NASA)
Reference: Deep Space Network Flight Project Interface Design Handbook 810-5, Rev. D, Volume II, JPL
Location: Goldstone, CA
Latitude: 35° 25' 18.67222''
Longitude: 243° 06' 46.09763''
Altitude: 973.91568 m
Telescope: Parabolic cassegrain
Diameter: 34 m
Area: 2056 m2 at 2.2 GHz
2631 m2 at 8.4 GHz
Height: 18 m
Coverage: 0°-360° az., 0°-90° el.
Remarks: This station is used for VLBI observations for spacecraft navigation, radio astronomy, and geodesy.
Observation Type: Spacecraft communications and radio astronomy
Frequency band(s):
2250 MHz
8.45 GHz

DSS 42
Jet Propulsion Laboratory, California Institute of Technology
4800 Oak Grove Drive
Pasadena, CA 91109
Sponsor: National Aeronautics and Space Administration (NASA)
Reference: Deep Space Network Flight Project Interface Design Handbook 810-5, Rev. D, Volume II, JPL
Location: Tidbinbilla, Australia
Latitude: -35° 24' 02.42910''
Longitude: 148° 58' 52.56264'' E
Altitude: 675.31987 m
Telescope: Equatorial mount parabolic cassegrain antenna
Diameter: 34 m
Area: 2215 m2 at 2.2 GHz
1671 m2 at 8.4 GHz
Height: Approximately 18 m
Coverage: No coverage south of 35° el. at 180° az.
Remarks: These are equatorial mount antennas whose coverage is stated approximately.
Observation Type: Spacecraft communications and radio astronomy
Frequency band(s):
2250 MHz
8.42 GHz


DSS 43
Jet Propulsion Laboratory, California Institute of Technology
4800 Oak Grove Drive
Pasadena, CA 91109
Sponsor: National Aeronautics and Space Administration (NASA)
Reference: Deep Space Network Flight Project Interface Design Handbook 810-5, Rev. D, Volume II, JPL
Location: Tidbinbilla, Australia
Latitude: -35° 24' 8.72766''
Longitude: 148° 58' 52.56232'' E
Altitude: 689.57185 m
Telescope: Parabolic cassegrain antenna
Diameter: 70 m
Area: 7697 m2 at 1.6 GHz
11084 m2 at 2.3 GHz
10006 m2 at 8.4 GHz
7851 m2 at 22 GHz
Height: 33.5 m
Coverage: 0°-360° az., 6°-90° el.
Remarks: This antenna is sometimes used as an array element with the 64-m antenna located in Parkes, Australia.
Observation Type: Spacecraft communication and navigation, radio astronomy
Frequency band(s):
1670 MHz
2290 MHz
8.45 GHz
22 GHz

DSS 45
Jet Propulsion Laboratory, California Institute of Technology
4800 Oak Grove Drive
Pasadena, CA 91109
Sponsor: National Aeronautics and Space Administration (NASA)
Reference: Deep Space Network Flight Project Interface Design Handbook 810-5, Rev. D, Volume II, JPL
Location:Tidbinbilla, Australia
Latitude: -35° 23' 54.44809"
Longitude: 148° 58' 39.66828'' E
Altitude: 675.05203 m
Telescope: Parabolic cassegrain antenna
Diameter: 34 m
Area: 2056 m2 at 2.2 GHz
2631 m2 at 8.4 GHz
Height: 18 m
Coverage: 0°-360° az., 0°-90° el.
Remarks: This station is used for VLBI observations for spacecraft navigation, radio astronomy, and geodesy.
Observation Type: Spacecraft communications and radio astronomy
Frequency band(s):
2250 GHz
8.45 GHz

DSS 61
Jet Propulsion Laboratory
California Institute of Technology
4800 Park Grove Drive
Pasadena, CA 91109
Sponsor: National Aeronautics and Space Administration (NASA)
Reference: Deep Space Network Flight Project Interface Design Handbook 810-5, Rev. D, Volume II, JPL
Location: Robledo, Spain
Latitude: 40° 25' 43.46145'' N
Longitude: 355° 45' 03.51994'' E
Altitude: 841.13196 m
Telescope: Equatorial mount parabolic cassegrain antenna
Diameter: 34 m
Area: 2215 m2 at 2.2 GHz
1671 m2 at 8.4 GHz
Height: Approximately 18 m
Coverage: No coverage south of 35° el. at 180° az.
Remarks: These are equatorial mount antennas whose coverage is stated approximately.
Observation Type: Spacecraft communications and radio astronomy
Frequency band(s):
2250 MHz
8.42 GHz

DSS 63
Jet Propulsion Laboratory
California Institute of Technology
4800 Oak Grove Drive
Pasadena, CA 91109
Sponsor: National Aeronautics and Space Administration (NASA)
Reference: Deep Space Network Flight Project Interface Design Handbook 810-5, Rev. D., Volume II, JPL
Location: Robledo, Spain
Latitude: 40° 25' 52.35554'' N
Longitude: 355° 45' 7.16925'' E
Altitude: 865.52260 m
Telescope: Parabolic cassegrain antenna
Diameter: 70 m
Area: 7697 m2 at 1.6 GHz
11084 m2 at 2.3 GHz
10006 m2 at 8.4 GHz
7851 m2 at 22 GHz
Height: 33.5 m
Coverage: 0°-360° az., 6°-90° el.
Observation Type: Spacecraft communication and navigation, radio astronomy
Frequency band(s):
1670 MHz
2290 MHz
8.45 GHz
22 GHz

DSS 65
Jet Propulsion Laboratory
California Institute of Technology
4800 Oak Grove Drive
Pasadena, CA 91109
Sponsor: National Aeronautics and Space Administration (NASA)
Reference: Deep Space Network Flight Project Interface Design Handbook 810-5, Rev. D, Volume II, JPL
Location:Robledo, Spain
Latitude: 40° 25' 37.94333''
Longitude: 355° 44' 57.48397''
Altitude: 834.56016 m
Telescope: Parabolic cassegrain antenna
Diameter: 34 m
Area: 2056 m2 at 2.2 GHz
2631 m2 at 8.4 GHz
Height: 18 m
Coverage: 0°-360° az., 0°-90° el.
Remarks: This station is used for VLBI observations for spacecraft navigation, radio astronomy, and geodesy.
Observation Type: Spacecraft communications and radio astronomy
Frequency band(s):
2250 MHz
8.45 GHz


Five College Radio Astronomy Observatory
FCRAO
619 Lederle GRC
University of Massachusetts
Amherst, MA 01003
Contact: F. Peter Schloerb
Sponsor: National Science Foundation and the University of Massachusetts
Reference: Kraus, J., Radio Astronomy (2nd ed.); Predmore, C.R. et al., Trans. IEEE MTT 32, 498 (1984)
Location: New Salem, MA
Latitude: 42° 23.5' N
Longitude: 72° 20.7' W
Altitude: 314 m
Telescope:Steerable cassegrain paraboloid radome, alt.-az. mount)
Diameter: 13.7 m
Area: 66 m2 at 0.45 eff. (115 GHz)
Height: n/a
Coverage: 0°-360° az., 10°-87° el.
Remarks: 15 element focal plane array receiver at 3 mm
Observation Type: Planetary, cometary, galactic, and extragalactic spectroscopy and continuum
Frequency band(s):
86-115 GHz

Hat Creek Radio Observatory--BIMA
(scroll down for other telescopes at this site)
(6.1-m telescopes)
Radio Astronomy Laboratory
University of California
Berkeley, CA 94720
Phone: (510) 643-7673
Contact: Leo Blitz
Sponsor: National Science Foundation
Reference: The Berkeley-Illinois-Maryland-Associates Millimeter Array, 1996, Welch et al., PASP, 108, 93.
Location:Cassel, California
Latitude: +40° 49' 04'' N
Longitude: 121° 28' 24'' W
Altitude: 1043 m
Telescope: Array of ten steerableparaboloids
Diameter: 6.1 m
Area: 51 m2 at 0.60 eff.
Height: 6 m
Coverage: Full sky
Remarks: 24-h operation, all seasons
Observation Type: Aperture synthesis in continuum and spectral lines
Frequency band(s):
75-115 GHz
220-270 GHz
28-36 GHz

Haystack Observatory
Northeast Radio Observatory Corporation
Route 40
Westford, MA 01886
Sponsor: National Science Foundation
Reference: Bulletin AAS 28, 512-525 (1996)
An Introduction to the Haystack Observatory, April 1987
Location: Tyngsboro, MA
Latitude: 42° 37.4'
71° 29.3' W
Altitude: 122 m
Telescope:Cassegrain paraboloid, alt.-az. mounted
Diameter: 36 m
Area: 440 m2 at 8 GHz
410 m2 at 22 GHz
400 m2 at 43 GHz
160 m2 at 86 GHz
Height: 23.3 m
Coverage: All sky
Observation Type: Spectral line, continuum, and VLBI at all frequencies
Frequency band(s):
2240-2340 MHz
7.5-8.7 GHz
21.2-25.4 GHz
35-49 GHz
85-115 GHz

University of Indiana Radio Observatory
Lilly Hall
Indianpolis, IN
Sponsor:
Reference:
Location:Indianapolis,IN
Latitude:
Longitude:
Altitude:
Telescope: Parabolic dish
Diameter: 5 m
Area:
Height:
Coverage:
Observation Type:
Frequency band(s:
C band, at about 3.78 GHz, (with brief dual KU and C band operation) and 1.42 GHz.

Morehead Radio Telescope (13.25-m telescope)
Morehead State University
Astrophysics Laboratory
150 University Blvd.
Morehead, KY 40351
Phone: (606) 783-2381
Contact: Dr. Benjamin K. Malphrus
Sponsor: NSF, NASA, Morehead State University
Location: Morehead, KY
Latitude: 38.183º N
Longitude: 83.433º W
Altitude: 1337 ft.
Telescope: Full-motion partial paraboloidal section
Major Axis: 13.25 m
Minor Axis: 3.35 m
Approximate total Surface Area: 44 m2
Coverage: 0º - 360º az., 0º - 90º el.
Frequency Band(s):
Currently Operating:
1.38-1.42 GHz
Planned: 1.6- 1.7 GHz
2.4- 4.2 GHz
22-24 GHz

National Radio Astronomy Observatory--Green Bank
(scroll down for other telescopes at this site and information on the National Radio Quiet Zone)
The 100-m telescope is operational.
National Radio Astronomy Observatory--Green Bank
42.7-m Telescope
P.O. Box 2
Green Bank, WV 24944-0002
Phone: (304) 456-2011
Sponsor: National Science Foundation
Location: Green Bank, WV
Latitude: 38° 26' 08'' N
Longitude: 79° 49' 42'' W
Altitude: 825 m
Telescope:Paraboloid, equatorial mount
Diameter: 42.7 m
Area: 790 m2 at 0.55 eff.
Coverage:
Dec.: +88° to -46°
Hour angle: ±7h, dec. >-16°
±4h58min, -36°< dec. <-16°
±3h18min, dec. <-36°
Remarks: Frequency, bandwidth, temperature, and polarization are listed for several different receivers.
Observation Type: Continuum, spectral line, and VLBI
Frequency band(s):
50-88 MHz
110-240 MHz
450-500 MHz
280-350 MHz
350-410 MHz
450-500 MHz
500-750 MHz
750-1000 MHz
1.00-1.45 GHz
4.47-5.05 GHz
1.3-1.5 GHz
1.30-1.80 GHz
2.64-2.75 GHz
2.9-3.4 GHz
4.6-5.0 GHz
3.12-3.37 GHz
4.6-5.1 GHz
4.7-7.2 GHz
7.6-11.2 GHz
12-16.2 GHz
18.2-25.2 GHz

National Radio Astronomy Observatory--Green Bank
Two-Element Interferometer
P.O. Box 2
Green Bank, WV 24944-0002
Phone: (304) 456-2011
Sponsor: U.S. Naval Research Laboratory
Location: Green Bank, WV
Latitude: 38° 26' 08'' N
Longitude: 79° 49' 42'' W
Altitude: 825 m
Telescope: Two paraboloids, equatorial mounts
Diameter: 25.9 m
Area: 290 m2 at 0.55 eff.
Height: n/a
Coverage:
Declination: +86° to -46°
Hour angle: ±5h 40min, dec. >0°
±4h 40min, dec. <0°
Remarks: New receivers installed by April 1989.
Observation Type: Continuum flux-density monitoring for extreme scattering events
Frequency band(s):
2.1-2.3 GHz
8.2-8.6 GHz

National Radio Astronomy Observatory--Green Bank
25.9-m Telescope
P.O. Box 2
Green Bank, WV 24944-0002
Phone: (304) 456-2011
Sponsor: U.S. Naval Research Laboratory
Location: Green Bank, WV
Latitude: 38° 26' 08'' N
Longitude: 79° 49' 42'' W
Altitude: 825 m
Telescope:Paraboloid, equatorial mount
Diameter: 25.9 m
Area: 290 m2 at 0.55 eff.
Coverage:
Declination: +86° to -46°
Hour angle: ±5h 40min, dec. >0°
±4h 40min, dec. <0°
Observation Type: VLBI monitoring of UT1 and polar motion
Frequency band(s):
2.1-2.3 GHz
8.2-8.6 GHz

Steward Observatory-Kitt Peak
12-m Telescope
Steward Observatory
Tucson, Arizona 85721
Phone: (520) 621-6526
Contact: Prof. Lucy Ziurys
Sponsor: University of Arizona, Research Corporation
Reference: Gordon, M. A., Sky & Telescope 67, 326 (1984); Findlay, J. W. and Payne, J. M., Proceedings of the Third International Conference on Antennas and Propagation, ICAP-83, Part 1, 55-59 (1983).
Location:Kitt Peak, AZ
Latitude: 31° 57' 11.990'' N
Longitude: +111° 36' 53.475'' W
Altitude: 1914 m
Telescope:Paraboloid, alt-azimuth mount
Diameter: 12.0 m
Area: 113 m2
Coverage: Elevation > 15°
Remarks: Scheduled thrice annually, based on scientific merit of applications
Observation Type: Continuum, spectral line, and VLBI
Frequency band(s):
68 - 300 GHz

Steward Observatory-SMT Telescope
10-m Telescope
Steward Observatory
Tucson, Arizona 85721
Phone: (520) 621-6526
Contact: Prof. Lucy Ziurys
Sponsor: University of Arizona
Location: Mt. Graham, AZ
Latitude: 32° 42' 05.8'' N
Longitude: +109° 53' 28.5'' W
Altitude: 3186 m
Telescope:Paraboloid, alt-azimuth mount
Diameter: 10 m
Area: 78 m2
Coverage: Elevation > -2 to 91°
Remarks: Scheduled thrice annually, based on scientific merit of applications
Observation Type: Continuum, spectral line
Frequency band(s):
125 - 1100 GHz

National Radio Astronomy Observatory--Very Large Array (VLA)
P.O. Box O
Socorro, NM 87801-0387
Phone: (505) 835-7000
Sponsor: National Science Foundation
Reference: Napier, Thompson, and Ekers; Proc. IEEE 71, 295 (1983)
Location: Plains of San Agustin, New Mexico
Latitude: 34° 04' 43.497'' N
Longitude: 107° 37' 03.819'' W
Altitude: 2126 m (6975 ft)
Telescope: 27 shaped paraboloids, alt-azimuth mounts, 4 standard three-armed Wye configurations, maximum baselines 1-36 km, 3 hybrid configurations
Diameter: 25 m, each antenna
Aperture eff:
400 cm: 0.50
92 cm: 0.40
20 cm: 0.51
6 cm: 0.65
3.6 cm: 0.62
2 cm: 0.52
1.3 cm: 0.43
Height: 29 m
Coverage: -85°-445° az., 8°-125° el.
Remarks: Configurations cycle through the 4 standards and 3 hybrids every 16 months. Scheduled by configuration on a trimester basis with proposal deadlines on the 15th of June, October, and February through 1990.
Observation Type: Continuum, spectral line, and VLBI
Frequency band(s):
73.0-74.6 MHz*
306-340 MHz
1340-1730 MHz
4500-5000 MHz
8000-8800 MHz
14.4-15.4 GHz
22.0-24.0 GHz

National Radio Astronomy Observatory--Very Long Baseline Array (VLBA)
P.O. Box O
NM 87801-0387
Phone: (505) 835-7000
Sponsor: National Science Foundation
Reference: Kellermann
Location: Operations center and correlator in Socorro, NM; antenna sites at the following locations, latitudes, longitudes, and altitudes:

Pie Town, NM 34.30° N 108.12° W 2371
Kit Peak, AZ 31.96° N 111.61° W 1916 m
Los Alamos, NM 35.78° N 106.25° W 1967 m
Fort Davis, TX 30.63° N 103.94° W 1615 m
North Liberty, IA 41.77° N 91.57° W 241 m
Brewster, WA 48.13° N 119.68° W 255 m
Owens Valley, CA 37.23° N 118.28° W 1207 m
St. Croix, VI 17.76° N 64.58° W 16 m
Mauna Kea, HI 19.81° N 155.46° W 3725 m
Hancock, NH 42.93° N 71.98° W 309 m
Telescope: 10 shapedparaboloids, alt-azimuth mounts
Diameter: 25 m, each antenna
Coverage: Full sky
Remarks: 10 antennas will be used for very long baseline interferometry (VLBI), with hydrogen maser standards and tape recording of signals. Becomes fully operational in 1992.
Observation Type: VLBI, line and continuum
Frequency band(s):
312-342 MHz
580-640 MHz
1.35-1.75 GHz
2.15-2.35 GHz
4.6-5.1 GHz
8.0-8.8 GHz
10.2-11.2 GHz
14.4-15.4 GHz
21.7-24.1 GHz
42.3-43.5 GHz

Ohio State University Radio Observatory
2015 Neil Avenue
Columbus, OH 43210
Contact: Robert Dixon
Sponsor: NASA and Ohio State University
Location: Near Delaware, OH
Latitude: 40° 15.1' N
Longitude: 83° 02.9' W
Telescope: Kraus-type paraboloid
Diameter: 100 x 30 m
Area: 2000 m2
Height: 30 m
Coverage: 150°-210°.
Remarks: Continuous observations
Observation Type: SETI, OH and H lines, continuum
Frequency band(s):
1575 MHz


Owens Valley Radio Observatory Facilities
(scroll down for other telescopes at this site)
(39.6-m telescope)
California Institute of Technology
Mail Code 105-24
Pasadena, CA 91125
Phone: (818) 395-4973
Contact: Dr. A.I. Sargent
Sponsor: NSF, NASA, California Institute of Technology
Location: Big Pine, California
Latitude: 37° N
Longitude: 118° W
Altitude: 1236 m
Telescope: Steerable paraboloid
Diameter: 39.6 m
Area: 616 m2 at 0.50 eff.
Height: 23 m
Coverage: 0°-360° az., -20° to 90° el.
Frequency band(s):
319-339 MHz
580-620 MHz
1250-1490 MHz
1575-1765 MHz
2250-2330 MHz
4.75-5.15 GHz
2220-2370 MHz
8.085 GHz
10.695 GHz
19-24 GHz
42.6-43.4 GHz

Owens Valley Radio Observatory Facilities
(six-element interferometer)
California Institute of Technology
Mail Code 105-24
Pasadena, CA 91125
Phone: (818) 395-4973
Contact: Dr. A.I. Sargent
Sponsor: NSF, NASA, California Institute of Technology
Location: Big Pine, California
Latitude: 37° 14' 02.6'' N
Longitude: 118° 16' 56.2'' W
Altitude: 1222 m
Telescope: 6-element interferometer, steerable paraboloid
Diameter: 10.4 m
Area: 42 m2 at 0.55 eff.
Height: 6 m
Coverage: 0°-360° az., 0°-90° el.
Observation Type: Galactic, extragalactic, planetary, spectral lines, continuum, VLBI
Frequency band(s):
26-36 GHz (HEMT) 80-115 GHz (SIS) 210-270 GHz (SIS)


Owens Valley Radio Observatory Facilities
(two-element interferometer)
California Institute of Technology
Mail Code 105-24
Pasadena, CA 91125
Phone: (818) 395-4973
Contact: Dr. A.I. Sargent
Sponsor: NSF, NASA, California Institute of Technology
Location: Big Pine, California
Latitude: 37° 13' 55.7'' N
Longitude: 118° 17' 37.19'' W
Altitude: 1226 m
Telescope: Two-element interferometer, steerable equatorial mounted paraboloid
Diameter: 27.4 m
Area: 295 m2 at 0.50 eff.
Height: 15 m
Coverage: ±6h RA, +90° to -37° dec.
Remarks: Occasionally used with the 40-m antenna as a 3-element interferometer
Observation Type: Solar, galactic, continuum
Frequency band(s):
Frequency agile system:
500 MHz -18 GHz (solar observations)
2.4-8.2 GHz (low noise operation)


Pisgah Astronomical Research Institute
1 PARI Drive
Rosman, NC 28772-9614
Phone: 828- 862-5554
Contact: info@pari.edu
Sponsor: Pisgah Astronomical Research Institute, a not for profit 501c3/509 public foundation.
Location: National Forest near, NC
Latitude: 35° 11' 59" N
Longitude: 82° 52' 19" W
Altitude: 895 m
Telescope: Two 26-m, a 12.2-m, a 4.6-m antenna, and a pair of HF LPY.
Approximate total Surface Area: 1200 m2
Coverage: 0º-360º az., 0º-90º el.
Frequency Band(s):
Currently Operating:
Current radiometers on the west 26-m telescope include the frequencies 1.4 and 1.6 GHz for HI / OH measurements, 4.829 GHz for formaldehyde detection, and 6.668 and 12.178 GHz for methanol detection. A 327-MHz receiver is in place for Pulsar timing tests. The east 26-m telescope has a 1.4 GHz radiometer, 3.4 - 4.4 GHz, and 11.7 - 12.2 GHz feeds. A modification for 327 MHz and 4.829 GHz is underway.

The 12.2-m telescope has prime focus feeds supporting 6 cm (3.3-4.4 GHz) and 3 cm (10.9-12.75 GHz), and a removable cassegrain subreflector and feed assembly is available for 6-5 cm (6.6-7.7 GHz) operation. The precision surface of the 12.2-m antenna will support planned operation at 1, 0.8, 0.7, and 0.6 cm (21.7-24.1, 36.0-36.5, 41.0 -45.0, and 48.0-49.0 GHz).

The 4.6-m antenna is configured for 21 cm (1.42 GHz), 4.829, 6.668, and 11.178 GHz reception. The antenna was part of early NASA experiments at 30GHz with the ATS (advanced technology) satellite. So higher frequencies may be added in the future.

A NASA JOVE project 17 - 30 MHz antenna system consisting of two large 7 element log periodic yagisphased for LHCP and RHCP reception feeds Jupiter and Solar flare data to the Internet.

Radio Solar Telescope Network (RSTN)--Palehua Solar Observatory
(scroll down for other RSTN sites)
Detachment 5, 55th Space Weather Squadron
(55 SWXS)
10 Hickam Court
Hickam AFB, HI 96853-5254
Phone: (808) 672-0234
DSN: 315-455-2427
Contact (Director, CO): Maj. David A. Miller
Sponsor: Air Force Space Command
Location: Palehua, Hawaii
Latitude: 21.37914° N
Longitude: 158.11412° W
Altitude: 518.16 m
Telescope: Fixed semi-bicone antenna with 34 elements; 3 tracking paraboloid antennas
Diameter: 300-m separation for bicone; 8.5, 2.4, and 0.9 m for others
Area: n/a for bicone; 57.2, 4.67, and 0.66 m2 at 0.50 eff. for others
Height: 6.1 m for bicone; 10.8, 2.3, and 2.3 m
Coverage: ±23° az., 0°-180° el.
Remarks: Operational facility
Observation Type: Solar
Frequency band(s):
50 MHz for bicone;
for others
246.8 MHz
400.21 MHz
610.21 MHz
1415.92 MHz
2695.67 MHz
4962.07 MHz
8829.8 MHz
15441.85 MHz


Radio Solar Telescope Network (RSTN)--Sagamore Hill Solar Observatory
50 WS
715 Kepler Ave., Suite 60
Falcon AFB, CO 80912-7160
Phone: (719) 567-6211
DSN: 560-6211
(50WS/DO)
Contact: Maj. Charles A. Koehler
Sponsor: U.S. Air Force
Location: South Hamilton, Massachusetts [may have been moved to Holloman AFB, NM]
Latitude: 42.63083° N
Longitude: 70.81500° W
Altitude: 53.34 m
Telescope: Fixed semi-bicone antenna with 34 elements; 3 tracking parabolic antennas
Diameter: 300-m separation for bicone ; 8.5, 2.4, and 0.9 m for others
Area: n/a for bicone; 57.2 m2, 4.67 m2, 0.66 m2 at 0.50 eff. for others
Height: 6.1 m; 10.8, 2.3, and 2.3 m
Coverage: ±23° az., 0°-180° el.
Remarks: Operational facility
Observation Type: Solar
Frequency band(s):
50 MHz for bicone;
for others
246.58 MHz
399.17 MHz
609.79 MHz
1415.9 MHz
2695.0 MHz
5022.38 MHz
8856.5 MHz
15356.2 MHz


Radio Solar Telescope Network (RSTN)--Learmonth Solar Observatory
50 WS 715 Kepler Ave., Suite 60
Falcon AFB, CO 80912-7160
Phone: (719) 567-6211
DSN: 560-6211
(50WS/DO)
Contact: Maj. Charles A. Koehler
Sponsor: U.S. Air Force
Location: Learmonth, Western Australia
Latitude: 22.2333° S
Longitude: 114.08333° E
Altitude: 10.9 m
Telescope: Fixed semi-bicone antenna with 34 elements; 3 tracking parabolic antennas
Diameter: 300-m separation for bicone; 8.5, 2.4, and 0.9 m for others
Area: n/a for bicone; 57.2 m2, 4.67 m2, and 0.66 m2 at 0.50 eff. for others
Height: 6.1 m for bicone; 10.8, 2.3, and 2.3 m
Coverage: -23° to 23° az., 0°-180° el.
Remarks: Operational facility
Observation Type: Solar
Frequency band(s):
55 MHz for bicone;
for others
245.7 MHz
410.4 MHz
609.0 MHz
1415.5 MHz
2695.0 MHz
4965.5 MHz
8829.7 MHz
15421.0 MHz
Radio Solar Telescope Network (RSTN) San Vito Solar Observatory
50 WS
715 Kepler Ave., Suite 60
Falcon AFB, CO 80912-7160
Phone: (719) 567-6211
DSN: 560-6211
(50WS/DO)
Contact: Maj. Charles A. Koehler
Sponsor: U.S. Air Force
Location: San Vito de Normanni, Italy
Latitude: 40.40248 N
Longitude: 17.43248 E
Altitude: 11.1 m
Telescope: Fixed semi-bicone antenna with 34 elements; 3 tracking paraboloid antennas
Diameter: 300-m separation for bicone; 8.5, 2.4, and 0.9 m for others
Area: n/a for bicone; 57.2, 4.67, and 0.66 m2 at 0.50 eff. for others
Height: 6.1 m for bicone; 10.8, 2.3, and 2.3 m
Coverage: ±23° az., 0°-180° el.
Remarks: Operational facility
Observation Type: Solar
Frequency band(s):
50 MHz for bicone;
for others
245.32 MHz
389.84 MHz
609.62 MHz
1415.72 MHz
2695.67 MHz
4967.74 MHz
8834.9 MHz
15427.76 MHz


Smithsonian Astrophysical Observatory--Center for Astrophysics
60 Garden Street
Cambridge, MA 02138
Phone: (617) 495-7342
Contact: E.S. Palmer
Sponsor: Smithsonian Center for Astrophysics
Reference: Dame, T.M., Thaddeus, P.
Location: Cambridge, MA
Latitude: 42° 22.8' N
Longitude: 71° 07.8' W
Altitude: 24 m
Telescope: Steerable Cassegrain
Diameter: 1.2 m
Area: 1.1 m2
Height: 2 m
Coverage: 0°-360° az., 0°-85° el.
Remarks: Small telescope with a very sensitive receiver which has produced 22 PhDs and more than 100 papers since 1975.
Observation Type: Spectral line
Frequency band(s):
105-116 GHz
Radio Astronomy Institute, Stanford University
Space, Telecommunications and Radioscience Laboratory
Stanford University
Stanford, CA 94305-4035
Contact: R.N. Bracewell
Reference: Proc. IEEE 61, 1249 (1973)
Latitude: 37° 23.9' N
Longitude: 8h 08min 45.2s
Altitude: 80 m
Telescope: Five collinear paraboloids
Diameter: 18 m
Area: 650 m2
Coverage: Full
Remarks: Dormant facility
Frequency band(s):
10.68 GHz