Archived webcast of the Summit on Social and Behavioral Sciences for National Security
held October 4-5, 2016.


To learn more about the decadal survey please visit our
website
. If you would like to be notified of upcoming events, please contact us at
SBSDecadalSurvey@nas.edu
.
To purchase or download of a copy of the Summit proceedings, please visit the National Academies Press (NAP) website (http://www.nap.edu/24710).



Social and Behavioral Sciences for National Security: Proceedings of a Summit (2017)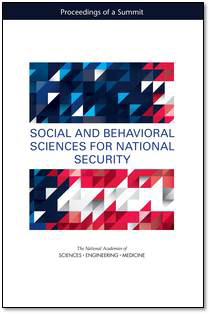 We would like to extend a warm thank you to everyone who helped to make this event such a success. This includes all guests who took time out of their busy week to attend both in person and via webcast, our dedicated Summit Planning Committee, participating members of the National Academies staff, and all of our outstanding speakers. We would also like to take this opportunity to thank our sponsor, The Office of the Director of National Intelligence, for providing us the opportunity to carry out this innovative and important project.

The Summit was Phase I of the Decadal Survey of Social and Behavioral Science for Applications to National Security. Decadal surveys are a signature type of study conducted through the National Academies of Sciences, Engineering, and Medicine, with a rich history of success in the physical sciences. These surveys gather ideas and feedback from the research community in order to develop a plan that shapes future research initiatives. This is the first such survey undertaken for the social and behavioral sciences (SBS).

Phase II of the decadal survey began with an open session meeting on March 23, 2017. As part of the committee's initial information gathering activities, we have issued a call for brief white papers to identify current and emerging research concepts, methods, tools, techniques, and ideas in the social and behavioral sciences. The deadline to submit a paper is June 12, 2017. For more information about this study please visit our decadal survey website (http://nas.edu/SBSDecadalSurvey).







Summit Planning Committee


(use links for the committee members' bios)

Sallie Keller (Chair), Virginia Polytechnic Institute and State University
Thomas Fingar, Stanford University
Steven Hyman (NAM*), Harvard University
Valerie F. Reyna (NAM*), Cornell University
Philip E. Tetlock, University of Pennsylvania


*NAM=National Academy of Medicine



Summit Speakers

(We will post additional presentations as they become available.)

Marcia McNutt, President, National Academy of Sciences
David Honey, Director of Science and Technology at the Office of the Director of National Intelligence
Charles Gaukel, National Intelligence Council
Geoffrey Strayer, Defense Intelligence Agency
George Gerliczy, Office of Strategic Programs, Central Intelligence Agency
Paul Glimcher, New York University
Read Montague, Virginia Tech (Presentation)
Elizabeth Phelps, New York University (Presentation)
Joshua Epstein, Johns Hopkins University (Presentation)
Susan Fiske, Princeton University (Presentation)
David Cesarini, New York University (Presentation)
Benjamin Neale, Harvard University (Presentation)
David Broniatowski, George Washington University (Presentation)
Paul Slovic, University of Oregon (Presentation)
Jeremy Wolfe, Brigham and Women's Hospital, Harvard Medical School (Presentation)
Robert Fein, member, Intelligence Community Studies Board, National Academies
Mathew Burrows, Atlantic Council


Date: October 4-5, 2016

Location:
National Academy of Sciences Auditorium
2101 Constitution Avenue, NW
Washington, DC

Agenda


#SBSDecadalSurvey
#SBSforNatlSecurity

Decadal Survey Project Page

---

Sponsor

Office of the Director of National Intelligence


---
Mailing Address
Keck Center, 1117
500 Fifth Street, NW
Washington, DC 20001