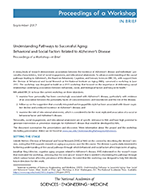 Get the Publication
This publication from the Board on Behavioral, Cognitive, and Sensory Sciences summarizes a June 2017 workshop that examined how personality, social engagement, and educational attainment are associated with Alzheimer's disease. Participants discussed mechanisms that may underlie these associations and research strategies to further understanding of the pathways through which social and behavioral factors affect the prevalence of Alzheimer's disease.

Sponsor: National Institute on Aging of the National Institutes of Health.

---

Workshop — held on June 12-13, 2017

Agenda
Speaker Bios
---
Understanding Pathways to Successful Aging: How Social and Behavioral Factors Affect Health at Older Ages: Workshop in Brief
(2015)

Research has identified many behavioral, social, and biological factors that are associated with healthy aging. Less well understood are possible causal relationships between such factors and positive aging outcomes or the mechanisms through which these factors may influence the aging process. Improved understanding of these relationships is needed to support the design of interventions to promote healthy outcomes at midlife and older ages.
Planning Committee Members

Arthur Kramer, Northeastern University
Roger Dixon, University of Alberta
Jennifer Manly, Columbia University
School of Medicine
Angelina Sutin, College of Medicine,
Florida State University
Adrienne Stith Butler, Senior Program
Officer
Tina Winters, Associate Program Officer
Renée L. Wilson, Senior Program
Assistant