Board on Environmental Change and Society Inaugurated
10 May 2012 -- During its first meeting, the members of the Board on Environmental Change and Society (BECS) and guests commemorated the establishment of BECS with remarks from invited speakers and light refreshments.
William Reilly (Senior Advisor to TPG, and formerly the Administrator of the U.S. EPA), Robert Simon (Staff Director for the U.S. Senate Committee on Energy and Natural Resources), and Ralph Cicerone (President of the National Academy of Sciences) offered their observations on the timeliness of the establishment of BECS. Robert Hauser, Executive Director of the National Research Council's Division on Behavioral and Social Sciences and Education (DBASSE), welcomed the guests via a video presentation (view the video). Richard H. Moss, Chair of BECS, acted as Master of Ceremonies.
The inaugural event was held at the Marian Koshland Science Museum, in the Earth Lab. This was particularly appropriate, because current and former members of BECS or its predecessor (the Committee on Human Dimensions of Global Change) were involved in the design of that exhibit.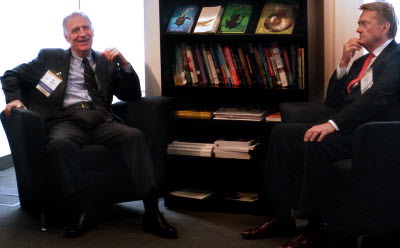 Ralph Cicerone
(left) and William Reilly (right) share memories during the BECS inaugural event.
Ralph Cicerone, himself a highly esteemed climate scientist, noted in his remarks (download an MP3) that the centrality of the human role was recognized right from the beginning of that scientific specialty, by the scientists who were the very first to point out rising levels of carbon dioxide and resulting increases in average Earth temperatures. He went on to say that to be able to estimate future scenarios, the social sciences simply must be included, and that part of the challenge for BECS will be to find social scientists who have already concluded that there are issues that are interesting to them in the area of environmental change.
William Reilly recalled in his remarks (download an MP3) that during his Senate confirmation hearing to be EPA Administrator, he was asked what his goal would be during his time in that office. He said that it would be to work to bring public attitude and perception of risk into alignment with the best scientific information about the seriousness and priorities that ought to be assigned to those risks. At the BECS event, he said that it is his view that BECS also has essentially this task. Reilly also made the point that, to date, insufficient attention has been paid to the fact of ongoing adaptation to environmental change being done by cities.
Robert Simon, a former National Research Council Board Director, related (download an MP3) the four key questions about energy that the Senate Committee on Energy and Natural Resources always has before it, and noted that these questions also provide fertile ground for BECS. The social sciences, he said, have a great deal to contribute in understanding the actual operation of markets, energy security, environmental security, and about how to get different groups of people to come together to work on a balance between energy and environmental concerns. Citing a recent PCAST report that strongly calls for the integration of the social sciences into Department of Energy research and operations, he said that BECS may be the one place where these topics can be integrated into our ability to both use and save energy, and to structure energy markets.

Following the talks, the thirteen members of BECS who were present, as well as its Director and other DBASSE staff, thanked the speakers and interacted with them and other guests for the time remaining.