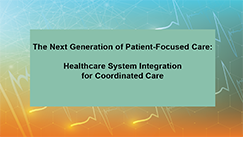 November 1, 2018

(1:00 - 5:00 pm EDT)

The Keck Center, Room 100
500 5th Street, NW
Washington, DC 20001


Patients today, whether being treated for an acute issue or a complex health condition, often have multiple providers within multiple systems across multiple locations, presenting a number of coordination challenges that negatively impact the quality of care, patient safety, and the patient's experience.

This seminar will explore these challenges that exist across the span of care for children, adults, and the elderly and also affect their caregivers. Discussions will be focused on the next generation of patient care, in an increasingly electronically mediated health care environment, that will need to address multiple spatial-temporal system issues to seamlessly provide care and optimize patient well-being and that will also have to be adaptive to diverse patient populations and contexts.
Meeting Resources

Agenda
Join from PC, Mac, Linux, iOS or Android:
https://nasem.zoom.us/j/555512286
Register for this event
---
Staff

Toby Warden
, Board Director
Tina Latimer, Program Coordinator