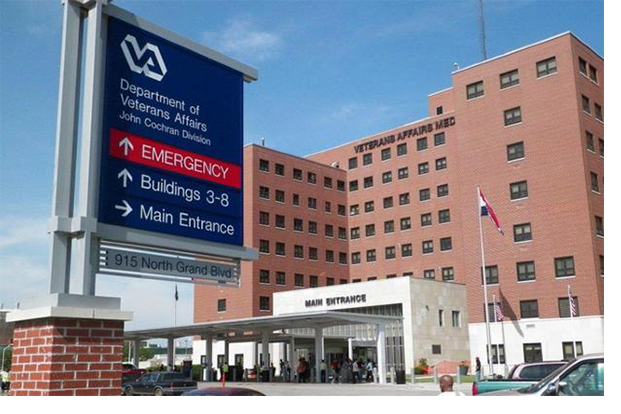 A committee will prepare a comprehensive resource planning and staffing methodology guidebook for VHA Facility Management (Engineering) Programs. The resource and staffing methodology must take into account all significant parameters and variables involved in the VHA Engineering Programs. The methodology should yield customized outputs based on site specific input data, to enable specification of the optimal budget and staffing levels for each site.

Read the complete statement of work
---
Publications


This publication summarizes the workshop held in January 2019 that considered approaches in workforce modeling by examining methodologies and inputs for facilities staffing models. Both health care and non-health-care industries. Providing a survey view of modeling techniques and considerations.

The workshop is one of several data-gathering sessions by the Committee on Facilities Staffing Requirements for the Veterans Health Administration that are part of the overarching goal of helping the VHA assess the overall resource needs of its Facilities Management Program and to develop budget and staffing methodologies. Such methodologies provide better justification for ensuring that local VHA programs are adequately and consistently staffed to accomplish the mission and meet all requirements.

The VHA is the largest integrated health care system in the United States, providing care at 1,250 facilities, including 172 medical centers and 1,069 outpatient sites of care of varying complexity, serving 98 million enrolled veterans each year. This portfolio is spread across 18 Veterans Integrated Service Networks and includes 5,639 buildings covering more than 150 million total gross square feet and more than 16,000 acres. Read full description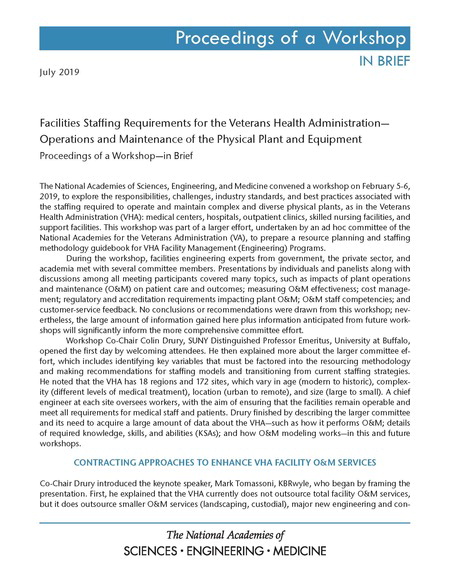 This publication looks at a workshop convened in February 2019 that was held to explore the responsibilities, challenges, industry standards, and best practices associated with the staffing required to operate and maintain complex and diverse physical plants, as in the Veterans Health Administration: medical centers, hospitals, outpatient clinics, skilled nursing facilities, and support facilities. This workshop is part of a larger effort to prepare a resource planning and staffing methodology guidebook for VHA Facility Management (Engineering) Programs.
Download the publication
---
Past Meeting Presentations
Includes:
September 26-27, 2018
- Committee Meeting 1
December 13-14, 2018
- Committee Meeting 2
January 29-30, 2019
- Type B Workshop: Resourcing, Workforce Modeling, and Staffing
February 5-6, 2019
- Small Workshop 1: Operations and Maintenance of the Physical Plant and Equipment
February 19-20, 2019
- Small Workshop 2: Capital Asset Inventory Database Management, Strategic Capital
March 5-6, 2019
- Small Workshop 3: Engineering Administration
March 12-13, 2019
- Committee Meeting 3
May 8-9, 2019
- Small Workshop 4: Performance Management and Finance
June 11-12, 2019 -
Committee Meeting 4
Committee Members

Committee Member Bios

Colin G. Drury, State University of New York at Buffalo
Brig. General James B. Smith, U.S. Ambassador
Robert Anselmi, Retired
Alberto J. Galue, Dallas/Fort Worth International Airport
Robert L. Goodman, The Innova Group
Wesley L. Harris, Massachusetts Institute of Technology
Eugene Hubbard, RiVdium, Inc.
William S. Marras, The Ohio State University
Kimberley O'Keefe, United States Army
Cheryl Paullin, HumRRO
Fred S. Switzer, III, Clemson University
Brian Yolitz, Minnesota State University, Moorhead

---
Upcoming Meetings

August 15-16, 2019 (Meeting #5), Irvine, CA (this meeting is closed in its entirety)
Early December, 2019 (Workshop #5), Keck Center


---
Sponsor


Veterans Health Administration

---
Staff

Cameron C. Oskvig, Director, Board on Infrastructure and the Constructed Environment, DEPS
Toby Warden, Director, Board on Human-Systems Integration, DBASSE
Daniel Talmage, Program Officer, Board on Human-Systems Integration, DBASSE
Kelly Arrington, Senior Program Assistant, DBASSE
Heather Kreidler, Associate Program Officer, DBASSE
Joseph Palmer, Senior Project Assistant, DEPS
Erik Svedberg, Senior Program Officer, DEPS


---
Contact


Daniel Talmage, dtalmage@nas.edu
(202) 334-2326