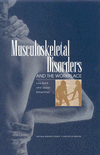 Download:
There is no doubt that musculoskeletal disorders of the lower back and upper extremities are an important and costly national health problem. The size and complexity of the problem and the diversity of interests and perspectives—including those of medical and public policy professionals, behavioral researchers, ergonomists, large and small businesses, labor, and government agencies—have led to differing interpretations of the evidence regarding the work-relatedness of musculoskeletal disorders of the lower back and upper extremities and the impact of interventions. As a result, Congress requested a study overseen by the Board on Human-Systems Integration covering the scientific literature on the causation and prevention of these disorders.
The study committee was composed of 19 experts representing the fields of biomechanics, epidemiology, hand surgery, human factors engineering, internal medicine, nursing, occupational medicine, orthopedics, physical medicine and rehabilitation, physiology, psychology, quantitative analysis, and rheumatology. Based on a comprehensive review and analysis of the evidence the committee reached important conclusions concerning the number of individuals affected, the work-related cost, work and individual risk factors, the necessity of approaching such disorders in the context of the whole person, appropriate interventions, and the changing nature of work.
The report also contains a series of recommendations aimed at preventing musculoskeletal disorders, extending the knowledge bases surrounding them, developing uniform definitions of musculoskeletal disorders for use in clinical diagnosis, epidemiologic research and data collection for surveillance systems, and pursuing a new research agenda.