Webinar Series on English Learners in STEM Subjects
Related Reports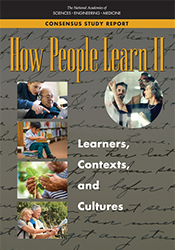 How People Learn II: Learners, Contexts, and Cultures (2018)
This publication from the Board on Behavioral, Cognitive, and Sensory Sciences and the Board on Science Education summarizes research on the science and nature of learning. The report identifies new findings related to neurological processes involved in learning, individual and cultural variability related to learning, and educational technologies. In addition to expanding scientific understanding of the mechanisms of learning and how the brain adapts throughout the lifespan, there have been important discoveries about influences on learning, particularly sociocultural factors and the structure of learning environments. Finally, the report offers specific research objectives in two broad areas to serve as a guide for researchers and funding entities to spur investigations in to levels of analyses, methods, and theoretical frameworks across diverse disciplines to contribute to the study of how people learn.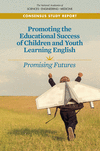 Promoting the Educational Success of Children and Youth Learning English: Promising Futures
(2017)
This report examines how evidence based on research relevant to the development of DLLs/ELs from birth to age 21 can inform education and health policies and related practices that can result in better educational outcomes. This report makes recommendations for policy, practice, and research and data collection focused on addressing the challenges in caring for and educating DLLs/ELs from birth to grade 12.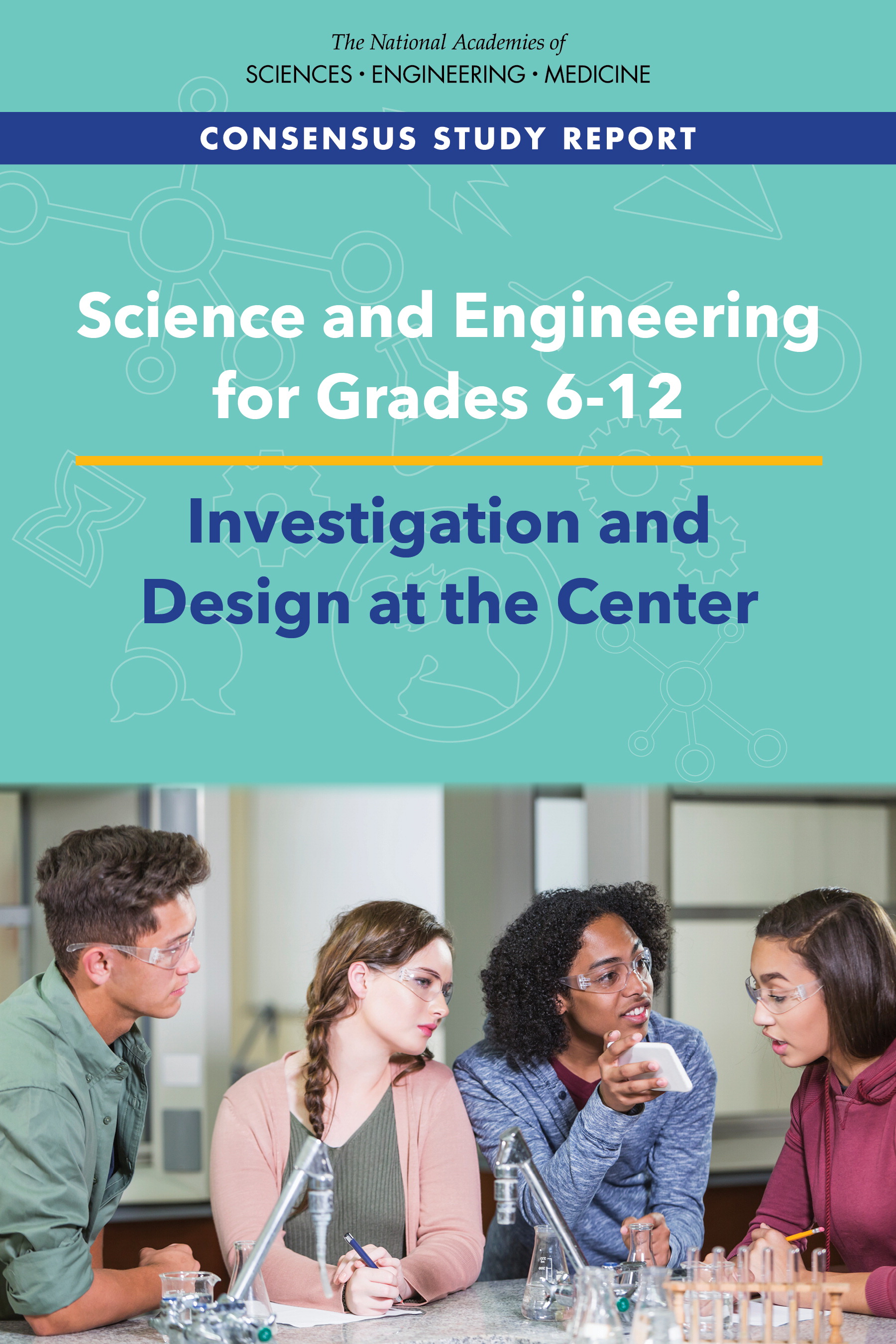 Science and Engineering for Grades 6-12: Investigation and Design at the Center
This report reviews research on science investigations and engineering design problems for middle and high school students and explores promising models of innovative investigations and experiences both inside and outside the classroom. Through published research, this report provides ideas for teaching and learning, and incorporates the new vision for science education embodied in the Framework and the NGSS. The resulting report will provide guidance for designing science investigations and engineering design problems for middle and high school students that align with this vision.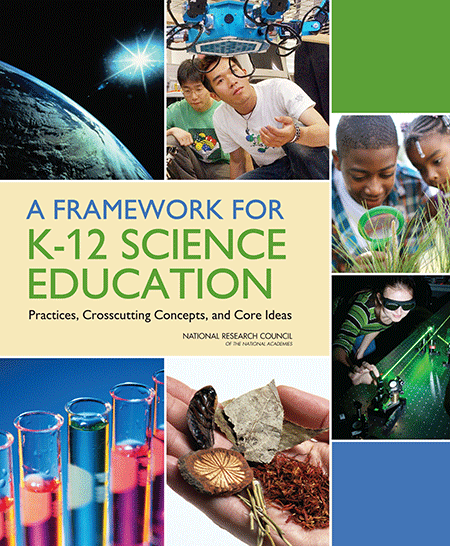 A Framework for K-12 Science Education: Practices, Crosscutting Concepts, and Core Ideas
(2012)
The framework identifies the key scientific ideas and practices all students should learn by the end of high school. Designed to make science education more closely resemble the way scientists work and think, the framework envisions that students will gradually deepen their understanding of scientific ideas over time by engaging in practices that scientists and engineers actually use.

The framework is also designed to be useful for curriculum and assessment designers, teacher educators, and others who work in K-12 science education.







Upcoming Events

Webinar #4:
Building Capacity for Schools and Districts
January 24, 2019
2:00 PM EST
Register Now

Public Event (agenda forthcoming):
Washington, DC - NAS Building
February 12, 2019
Register Now

Webinar #5:
Large-scale and Classroom-level Assessment
February 22, 2019
12:00 PM EST
Register Now

---
Commissioned Papers

Teacher's Knowledge and Beliefs about English Learners and their Impact on STEM Learning - Julie Bianchini, University of California, Santa Barbara
Read Now
K-12 English Learner's Science and Math Education: A Question of Curricular Equity
Rebecca M. Callahan, University of Texas, Austin
Read Now
EL STEM Committee Report: Secondary Science Education for English Learners
Sara Tolbert, University of Arizona
Read Now
The Role of the ESL Teacher in Relation to Content Teachers - Sultan Turkan, Educational Testing Services
Read Now
Mathematics Education and Young Dual Language Learners - Sylvia Celedon-Pattichis, Univeristy of New Mexico
Read Now
---

Committee Information
Committee Biographies

David J. Francis (Chair), University of Houston
Alison Bailey, University of California, Los Angeles
Hyman Bass, University of Michigan
Cory Buxton, Oregon State University (Began committee, University of Georgia)
Kathryn Chyal, University of Missouri
Marta Civil, University of Arizona
Christine M. Cunningham, Museum of Science
Leslie Herrenkohl, University of Michigan (Began committee, University of Washington)
Megan Hopkins, University of California, San Diego
Okhee Lee, New York University
Judit Moschkovich, University of California, Santa Cruz
K. Renae Pullen, Caddo Parish Public Schools
Maria Santos, WestEd
Mary Schleppegrell, University of Michigan
Guillermo Solano-Flores, Stanford University


Amy Stephens, Study Director
Kenne Dibner, Program Officer
Suzanne Le Menestrel, Senior Program Officer, BCYF
Margaret Kelly, Senior Program Assistant
Tiffany Taylor, Research Associate
Heidi Schweingruber, Director, BOSE

Mailing Address
Keck Center
500 Fifth Street, NW
Washington, DC 20001