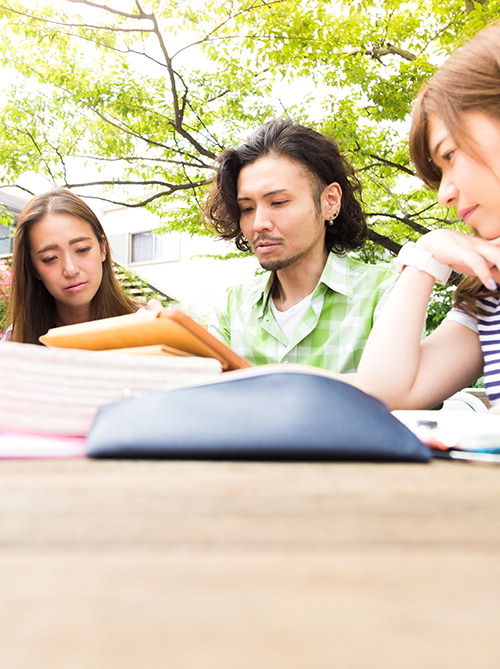 Read or download for free:
Report
Report Brief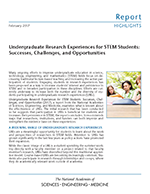 Undergraduate research has a rich history, and many practicing researchers point to undergraduate research experiences (UREs) as crucial to their own career success. There are many ongoing efforts to improve undergraduate science, technology, engineering, and mathematics (STEM) education that focus on increasing the active engagement of students and decreasing traditional lecture-based teaching, and UREs have been proposed as a solution to these efforts and may be a key strategy for broadening participation in STEM. In light of the proposals questions have been asked about what is known about student participation in UREs, best practices in UREs design, and evidence of beneficial outcomes from UREs.

Undergraduate Research Experiences for STEM Students provides a comprehensive overview of and insights about the current and rapidly evolving types of UREs, in an effort to improve understanding of the complexity of UREs in terms of their content, their surrounding context, the diversity of the student participants, and the opportunities for learning provided by a research experience. This study analyzes UREs by considering them as part of a learning system that is shaped by forces related to national policy, institutional leadership, and departmental culture, as well as by the interactions among faculty, other mentors, and students. The report provides a set of questions to be considered by those implementing UREs as well as an agenda for future research that can help.

Sponsor: National Science Foundation

Press Release

---
Related Reports
Service-Learning in Undergraduate Geosciences: Proceedings of a Workshop
summarizes a workshop held in April 2016 that explored the current and potential role of service-learning in undergraduate geosciences education. The term "service-learning" generally refers to projects planned as components of academic coursework in which students use knowledge and skills taught in the course to address real needs in their communities. This kind of learning experience, which allows students to focus on critical, reflective thinking and civic responsibility, has become an increasingly popular component of undergraduate science education.

Barriers and Opportunities for 2-Year and 4-Year STEM Degrees
reviews research on the roles that people, processes, and institutions play in 2-and 4-year STEM degree production. This study pays special attention to the factors that influence students' decisions to enter, stay in, or leave STEM majors—quality of instruction, grading policies, course sequences, undergraduate learning environments, student supports, co-curricular activities, students' general academic preparedness and competence in science, family background, and governmental and institutional policies that affect STEM educational pathways.

In the News

---
Project Related Resources
Committee Members
Member Bios
James Genile
(Chair), Hope College
Ann Beheler, Collin County Community College, TX
Janet Branchaw, University of Wisconsin-Madison
Deborah F. Carter, Claremont Graduate University
Melanie Cooper, Michigan State University
Edward J. Coyle, Georgia Institute of Technology
Sarah C.R. Elgin, Washington University at St. Louis
Mica Estada, University of California
Eli Fromm, Drexel University
Ralph Garruto, State University of New York,
Binghamton
Eric Grodsky, University of Wisconsin-Madison
James Hewlett, Finger Lakes Community College
Laird Kramer, Florida International University
Marcia C. Linn, University of California, Berkeley
Linda A. Reinen, Pomona College, Claremont, CA
Heather Thiry, University of Colorado, Boulder
Kerry Brenner
, Study Director
Jay Labov, Senior Scientist
Amy Stephens, Program Officer
Miriam Scheiber, Program Assistant