Project Scope
This committee is charged with assessing and prioritizing strategies and policies to effectively reform the juvenile justice system building on the recommendations from the 2013 report, Reforming Juvenile Justice: A Developmental Approach. The committee will assess the federal Office of Juvenile Justice and Delinquency Prevention's (OJJDP) activities and internal capacities to implement its legislative mandates on juvenile justice systems, policies, and practices; and, consult with experts and practitioners in the field of juvenile justice. The committee will also examine existing literature in three areas; implementation science, cross-agency collaboration and appropriate criteria for prioritization in the context of juvenile justice reform, including cost-benefit and cost-effectiveness analysis where applicable.
The study will conclude with a report documenting the committee's findings and proposing recommendations for OJJDP and, where appropriate other federal agencies, to implement a reform plan using a developmental approach. The committee may address budgetary considerations and recommendations from other OJJDP plans.

Report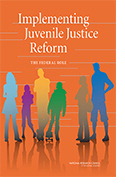 Implementing Juvenile Justice: The Federal Role
Meetings
Meeting #1: January 21-22, 2014.
Meeting #2: February 13-14, 2014. In the second meeting's open session, the committee discussed access to and the quality of counsel, the role of State Advisory Groups, family engagement, and racial and ethnic disparities. The meeting also discussed the role of OJJDP within the larger OJP/DOJ, and the JJDPA Reauthorization. ? Agenda
Meeting #3: March 26-27, 2014. In the third meeting's open session, he committee will hear practitioner's perspectives on the Federal Role in Reforming the Nation's Juvenile Justice System. There will also be inputs from state assembly leaders who have lead reform as well as state judges. The committee will also see presentations on racial and ethnic disparities and on data collection. ? Agenda