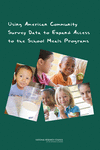 Download:
Description of School District Database
School District Database (Excel file)
The National School Lunch and School Breakfast Programs, administered by the Food and Nutrition Service (FNS) of the U.S. Department of Agriculture (USDA), are key components of the nation's food security safety net, providing free or low-cost meals to millions of schoolchildren each day. To qualify their children each year for free or reduced-price meals, many families must submit applications that school officials distribute and review. To reduce this burden on families and schools and to encourage more children to partake of nutritious meals, USDA regulations allow school districts to operate their meals programs under special provisions that eliminate the application process and other administrative procedures in exchange for providing free meals to all students enrolled in one or more school in a district.
FNS asked the National Academies' Committee on National Statistics and Food and Nutrition Board to convene a panel of experts to investigate the technical and operational feasibility of using data from the continuous American Community Survey (ACS) to estimate students eligible for free and reduced-price meals for schools and school districts. The ACS eligibility estimates would be used to develop "claiming percentages" that, if sufficiently accurate, would determine the USDA reimbursements to districts for schools that provided free meals to all students under a new special provision that eliminated the ongoing base-year requirements of current provisions.
The Panel on Estimating Children Eligible for School Nutrition Programs Using the American Community Survey conducted its work in two phases. It first issued an interim report (National Research Council, 2010), describing its planned approach for assessing the utility of ACS-based estimates for a special provision to expand access to free school meals. The report Using American Community Survey Data to Expand Access to the School Meals Programs (National Research Council, 2012) is the final phase which presents the panel's findings and recommendations.
The panel prepared and used an extensive school district level database in support of its work. The database is described in Chapter 3 of the report, and was used in preparing the school district analyses in Chapter 4. This database, an excel 2007 file, is available for public use. Each row in the data base is for one of the 13,527 school districts in the U.S. for which the panel received estimates from the US Census Bureau. Each column is for one of 721 variables described here. A brief overall description of the data base can be found here.