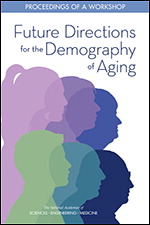 GET THE REPORT
This publication from the Committee on Population features papers originally presented and discussed at a workshop held in August 2017. The workshop featured discussions of new advances in the demography of aging and new trends and research directions that call for innovative conceptual, design, and measurement approaches. The workshop reviewed recent demographic trends and discussed future direction for research on a range of topics that are central to research in the demography of aging.

Sponsor: National Institute on Aging

Workshop Description
The goal of this workshop is for participants to draw on recent developments in social demography, social epidemiology, sociology, and economics and related fields to identify and explore future directions that have significant promise and are expected to have major influences on research on aging. The product of the workshop will be a volume of selected papers that will be published by National Academies Press. These papers are intended to stimulate new research approaches and new collaborations with neighboring disciplines, and to set a research agenda for years to come.

Workshop Steering Committee

Mark D. Hayward (Chair), Population Research Center, The University of Texas at Austin
Vicki A. Freedman, Institute for Social Research, University of Michigan
Linda J. Waite, Population Research Center, University of Chicago
David R. Weir, Institute for Social Research, University of Michigan
Rebeca Wong, University of Texas Medical Branch


---
Project Staff

Malay K. Majmundar, Study Director
Mary Ghitelman, Senior Program Assistant