Cognitive, affective, and behavioral disorders incur high psychosocial and economic costs for the young people who experience them, for their families, and for the communities in which they live, study, and will work. The Forum on Promoting Children's Cognitive, Affective, and Behavioral Health (C-CAB) was established as an outgrowth of the 2009 National Research Council-Institute of Medicine report Preventing Mental, Emotional, and Behavioral Disorders Among Young People: Progress and Possibilities which called on the nation to make the prevention of such disorders and the promotion of mental health of young people a high priority.
The Forum engages in dialogue and discussion to connect the prevention, treatment, and implementation sciences with settings where children are seen and cared for, including health care settings, schools, social service and child welfare agencies, and the juvenile justice system, and to create systems that are effective and affordable in addressing children's needs. Members of the forum include representatives from the sponsors and additional experts in the implementation and evaluation of mental and behavioral health interventions for youth.

---

Training the Future Health Care Workforce to Improve Behavioral Health Outcomes for Children, Youth, and Families
An ad hoc committee will plan and conduct an interactive public workshop that will focus on the development and training of an integrated healthcare workforce that promotes family-focused behavioral health and wellbeing of children and youth...

Read More
Implementing Evidence-Based Prevention By Communities To Promote Cognitive, Affective, And Behavioral Health In Children: A Workshop
Communities represent the front line in addressing many mental and behavioral conditions experienced by children, young adults, and their families. Almost half of Americans will meet one or more clinical criteria for mental and behavioral health...

Read More
---

Implementing Evidence-Based Prevention by Communities to Promote Cognitive, Affective, and Behavioral Health in Children: Proceedings of a Workshop
Communities provide the context in which programs, principles, and policies are implemented. Their needs dictate the kinds of programs that community organizers and advocates, program developers and implementers, and researchers will bring to bear on a problem. Their characteristics help determine whether a program will succeed or fail. The detailed workings of programs cannot be separated from the communities...(Read More)
---
Ensuring Quality and Accessible Care for Children with Disabilities and Complex Health and Educational Needs: Proceedings of a Workshop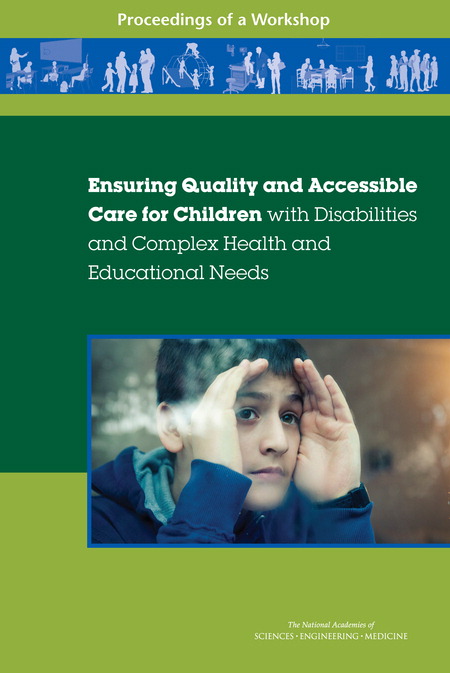 Children with disabilities and complex medical and educational needs present a special challenge for policy makers and practitioners. These children exhibit tremendous heterogeneity in their conditions and needs, requiring a varied array of services to meet those needs. Uneven public and professional awareness of their conditions and a research base marked by significant gaps have led to programs, practices, and policies...(
Read More
)
---
Workforce Development to Enhance the Cognitive, Affective, and Behavioral Health of Children and Youth: Opportunities and Barriers in Child Health Care Training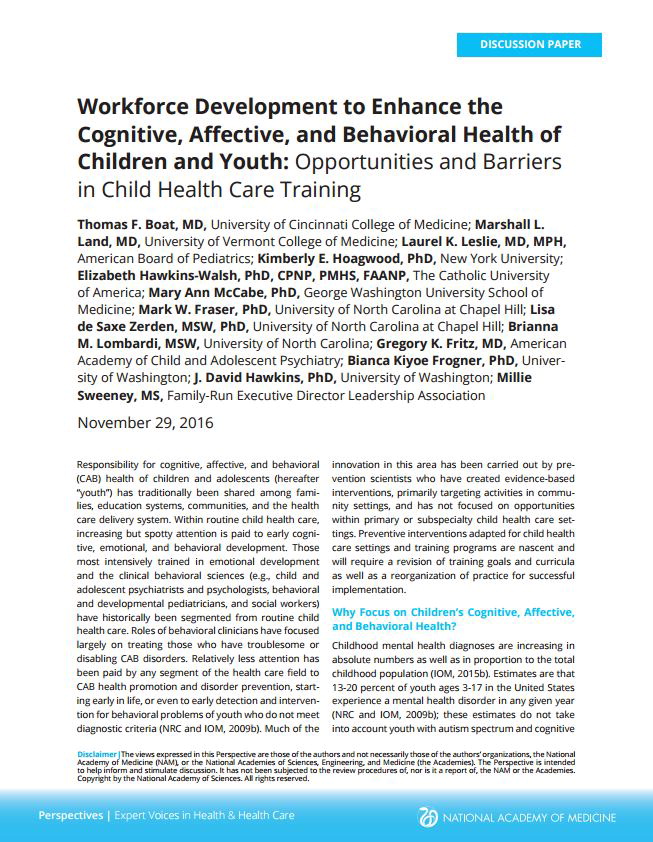 Responsibility for cognitive, affective, and behavioral (CAB) health of children and adolescents (hereafter "youth") has traditionally been shared among families, education systems, communities, and the health care delivery system. Within routine child health care, increasing but spotty attention is paid to early cognitive, emotional, and behavioral development. Those most intensively trained in....(
Read More
)