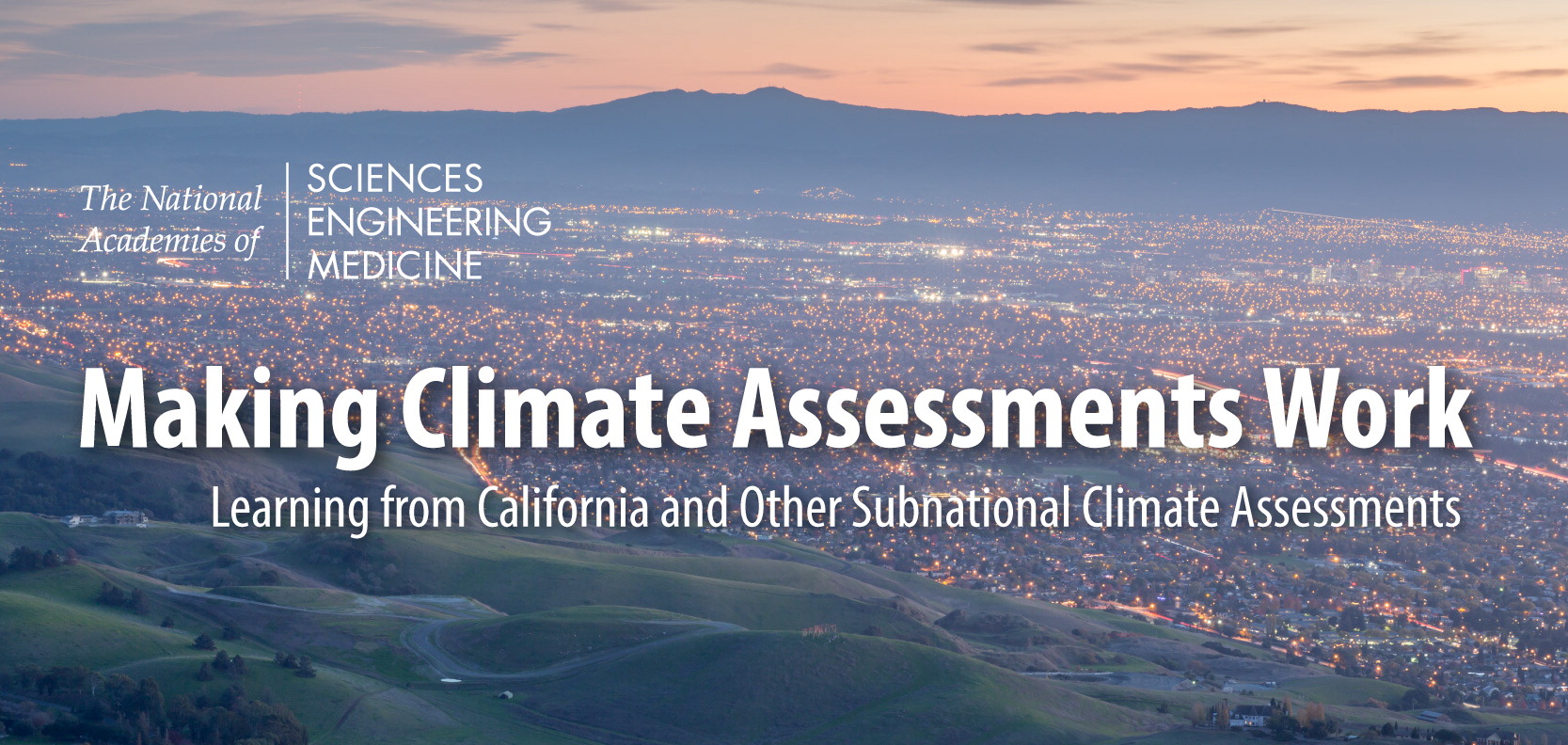 Exploring California and Other Subnational Climate Assessments
August 14-15, 2018
National Academy of Sciences Building
Lecture Room
2101 Constitution Ave. N.W.
Washington, DC 20418

Register to attend in person or online
Download the agenda (PDF)

Description
States, counties, cities, and local stakeholders are increasingly taking the lead on climate change assessments. The state of California is currently releasing its Fourth Climate Change Assessment, which is based on nearly 50 independent research projects spanning topics ranging from wildfires and habitat loss to electricity and natural gas system resilience. Join this 2-day workshop to engage with people involved in all aspects of the California assessment (Day 1) as well as those involved in assessment efforts in other states (Day 2). What are the key elements of success? What challenges do decision makers face in implementing proposed interventions? What strategies are most effective in engaging utilities and other key stakeholders? Sponsored by the California Energy Commission and the Electric Power Research Institute, this event is free and open to the public. Register today!

Learn more about California's Climate Assessments
Event Webcast
The webcast will run on August 14 from 8:30am-5pm (minus lunch and breaks) and August 15 from 8:30am-4pm (minus breaks, lunch, and breakout sessions). Be sure to refresh your browser if the video stream doesn't play.
If you have questions for the speakers, we encourage you to send them to Ben Wender at bwender@nas.edu who will ask them if time permits.
Tweet about the event using #ClimateAssessment. We are @theNASEM.
Webcast videos will be posted 2-3 weeks after the event. If you register for the workshop, you'll receive an email when the videos are available.
Workshop Planning Committee
| | |
| --- | --- |
| Chair | |
| | Paul A. DeCotis is Senior Director and East Coast Lead in the Energy and Utilities practice at West Monroe Partners. Formerly, he was Managing Director at Long Island Power Authority where he oversaw utility operations and services, and compliance management. Before that, Mr. DeCotis was Vice President of Power Markets where he oversaw integrated electric resource planning, including all fuels and sources; fuel, energy and capacity purchases and sales into wholesale markets; power project development and management; and FERC policy. Prior to this Mr. DeCotis was Energy Secretary in New York, serving as senior energy advisor to Governor Eliot Spitzer and Governor David Paterson. Mr. DeCotis was also Chair of the State Energy Planning Board and a member of the NYC Energy Planning Board. He previously served as Director of Energy Analysis for the New York State Energy Research and Development Authority where he oversaw corporate strategy and planning, forecasting and analysis, and energy efficiency, renewable energy, and R&D program evaluation. Prior to this, he was Chief of Policy at the State Energy Office. Until his appointment by Governor Spitzer, Mr. DeCotis was a management consultant specializing in executive and Board development, strategy, and mediation. Since 1985, he has served as an adjunct faculty member at several colleges and universities including Cornell University, Rochester Institute of Technology, and Sage Graduate School. Mr. DeCotis is a past 7-year member of the Board on Energy and Environmental Systems of the National Academy of Sciences in Washington, DC; current Editorial Board member of the Springer Energy Efficiency Journal and Wiley's Natural Gas and Electricity Journal; and a member of Montclair Publishing LLC. "Who's Who in North America". Mr. DeCotis is most recent past Board member of the US Offshore Wind Collaborative; past Board member of the Clean Energy States Alliance; past Executive Committee member of the New York State Reliability Council; and past representative from New York representing Governor Andrew Cuomo, to the Eastern States Interconnection Planning Council, among other boards and committees. He has served on and chaired many professional organizations and associations and has extensive community service experience. Mr. DeCotis has published dozens of articles and professional papers on energy and industry matters. Mr. DeCotis received his Bachelor of Arts in International Business Management from the State University College at Brockport, his Master of Arts in Economics from the University at Albany, and his Master of Business Administration in Finance from the Sage Graduate School at Russell Sage College. |
| Members | |
| | Dr. Kit Batten is a recognized expert in climate change policy with fifteen years of sustainability leadership. As part of the Corporate Sustainability team at Pacific Gas and Electric Company (PG&E), Dr. Kit Batten leads a company-wide initiative to increase the climate resilience of PG&E's operations and infrastructure, as well as the resilience of the communities PG&E serves. Prior to her role at PG&E, Dr. Batten served as Executive Director at the University of California, Davis Policy Institute for Energy, Environment, and the Economy, where she leveraged the university's expertise to inform California's energy, climate and transportation policies―bringing together scientific researchers and policy-makers. Dr. Batten also served as the Global Climate Change Coordinator at the U.S. Agency for International Development (USAID), where she led the agency's efforts to implement climate-resilient, low-carbon sustainable development programs in more than 40 countries. Dr. Batten has also served as senior science and policy fellow and program director at the H. John Heinz III center for Science, Economics and the Environment; as science advisor to the Deputy Secretary of the U.S. Department of the Interior; and as senior fellow/managing director for energy and environmental policy at the Center for American Progress. She has also held positions in the offices of Senator Dianne Feinstein and Senator Joe Lieberman. Dr. Batten earned a bachelor's degree in chemistry from Oberlin College and master's and doctoral degrees in ecology from U.C. Davis. |
| | Dr. W. Michael Hanemann (NAS) joined the Arizona State University Department of Economics and the Center for Environmental Economics and Sustainability Policy in 2011 where he is a Wrigley Chair in Sustainability. He came to ASU from the University of California, Berkeley, where he was a Chancellor's Professor in the Department of Agricultural and Resources Economics and the Goldman School of Public Policy. His research interests include non-market valuation, the economics of water and of climate change, environmental policy, adaptive management, and demand modeling for market research. Dr. Hanemann has served on many NRC committees and was elected to the National Academy of Sciences in 2011. He was a lead author and a contributing lead author for Working Group III of the IPCC Fifth Assessment Report on Climate Change. Dr. Hanemann received his B.A. degree from Oxford University in philosophy, politics, and economics, his M.S. from the London School of Economics in development economics, and his M.A. and Ph.D. from Harvard University in Public Finance and Decision Theory and Economics. He received an honorary Ph.D from the Swedish University of Agricultural Sciences and the Lifetime Award for Outstanding Achievement from the European Association of Environmental & Resource Economists. He is an inaugural Fellow of the Association of Environmental and Resource Economists and a Fellow of the American Association of Agricultural Economics. |
| | Dr. Jennifer Jurado is the Chief Resilience Officer and Director of the Environmental Planning and Community Resilience Division for Broward County in Florida. She is responsible for county-wide coordination of water resources policy, planning and management activities; advancement of the County's regional climate initiatives; administration of beach and marine resources programs; implementation of the County's urban lands enhancement program; and environmental monitoring activities. Significant initiatives have included development and implementation of Broward's county-wide integrated water resources and climate change action plans, the convening of regional water and climate change task forces, and coordination of multi-jurisdictional initiatives focused on water conservation, alternative water supply planning, environmental sustainability and community resilience to the impacts of climate change. Program efforts include a strong focus on state and federal policy as well as comprehensive planning. Dr. Jurado's current program efforts for Broward County include integration of climate change and sea level rise in planning tools and processes; renewable energy initiatives; advancement of diverse regional water projects; and activities relating to the implementation of the four-county Southeast Florida Regional Climate Change Compact (Compact) and the Southeast Florida Regional Climate Action Plan. Dr. Jurado is an active and original member of the Compact's Staff Steering Committee where she has led the Built Environment Work Group and currently serves as co-chair of the Economic Resilience and Water Resources Work Groups. Dr. Jurado earned her Ph.D. in marine biology and fisheries from the University of Miami. |
| | Dr. John C. Wall (NAE) has more than 35 years of industry experience in internal combustion engine technology, fuels and emissions, and in global engineering organization development. Most recently, Dr. Wall served as Chief Technical Officer of Cummins Inc., the world's largest independent manufacturer of diesel engines and related technologies, retiring in 2015. As he progressed from research and product engineering into engineering leadership, Dr. Wall remained directly involved in the most critical technology programs for low emissions, powertrain efficiency and alternative fuels. He also led the growth of Cummins technical organization from 1000 engineers, mostly centered in the U.S., to more than 6000 engineers globally, establishing new technical centers in India and China. Prior to joining Cummins in 1986, Dr. Wall led Diesel and Aviation Fuels Research for Chevron, where his team was first to discover the important contribution of fuel sulfur to diesel particulate emissions. He is currently an advisor to the DOE Joint BioEnergy Institute and Co- Optima Program, the Cyclotron Road energy incubator at Lawrence Berkeley Laboratory, to the International Council of Clean Transportation and to the Institute of Transportation Studies at the University of California – Davis. He is active in a number of roles with the National Academies, including the Board on Energy and Environmental Systems, and is a member of the Board of Directors of Achates Power. He has been recognized for his technical contributions by election to the National Academy of Engineering and as a Fellow of the Society of Automotive Engineers. He has received the SAE Horning Memorial Award and Arch T. Colwell Merit Award for research in the area of diesel fuel effects on emissions, the SAE Franz F. Pischinger Powertrain Innovation Award, the ASME Soichiro Honda Medal for significant engineering contributions in the field of personal transportation, and the California Air Resources Board Haagen-Smit Clean Air Award and US EPA Thomas W. Zosel Individual Achievement Award for career accomplishments in diesel emission control. Dr. Wall studied mechanical engineering at the Massachusetts Institute of Technology, where he received his SB and SM degrees from the Mechanical Engineering Honors Program in 1975 and ScD in 1978. |
| | Dr. Cathy Whitlock (NAS) is a professor of Earth Sciences at Montana State University and a fellow of the Montana Institute on Ecosystems. Dr. Whitlock's research interests include Quaternary environmental change, paleoecology and paleoclimatology with a focus on vegetation, fire, and climate history. She is nationally and internationally recognized for her scholarly contributions and leadership activities in the field of past climatic and environmental change, and she has published over 190 reviewed journal articles and book chapters on this topic. Her current research sites extend from Yellowstone and the western U.S. to New Zealand, Tasmania, and Patagonia. Since her arrival at MSU in 2004, Dr. Whitlock has built a successful research and teaching program, and the MSU Paleoecology Lab supports post-docs, graduate students, and undergraduates and visiting scientists from around the world. Her research has been funded by grants from the National Science Foundation, Joint Fire Sciences Program, National Park Service, Department of Energy, USDA Forest Service, and US Geological Survey. She is past President of the American Quaternary Association and has served on national and international advisory and review committees concerned with climate change. Dr. Whitlock is also the lead author of the 2017 Montana Climate Assessment. She earned her Ph.D. in geological sciences from the University of Washington in 1983 and her BA from Colorado College in 1975. |