Inspired by Rising Above the Gathering Storm: Energizing and Employing America for a Brighter Economic Future (2005) and Rising Above the Gathering Storm, Revisited: Rapidly Approaching Category 5 (2010), the ability of the states to drive innovation was the impetus behind a major workshop held in Madison, Wisconsin, on September 20-22, 2011. The workshop brought together leaders in education, government, economic development, and industrial innovation to discuss state and regional initiatives to boost competitiveness through science, technology, and innovation. The conference was organized around four major themes:
- Revitalizing K-12 Science and Mathematics Education
- Strengthening Undergraduate Education in Science and Engineering
- Building Effective Partnerships Among Governments, Universities, Companies, and Other Stakeholders
- Fostering Regional Technology Development and Entrepreneurship
Rising Above the Gathering Storm: Developing Regional Innovation Environments: A Workshop Summary gives an overview of the presentations, observations, and recommendations made during the workshop.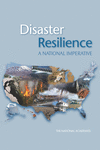 No person or place is immune from disasters or disaster-related losses; statistics for 2011 alone indicate economic damages from natural disasters in the United States exceeded $55 billion, with 14 events costing more than a billion dollars in damages each. Disaster Resilience: A National Imperative addresses the broad issue of increasing the nation's resilience to disasters. This book defines "national resilience", describes the state of knowledge about resilience to hazards and disasters, and frames the main issues related to increasing resilience in the United States. It provides goals, baseline conditions, or performance metrics for national resilience; outlines additional information, data, gaps, and/or obstacles that need to be addressed to increase the nation's resilience to disasters; and the book's authoring committee makes recommendations about the necessary approaches to elevate national resilience to disasters in the United States.
The workshop "Assessing National Resilience to Hazards and Disasters" was held to review the effects of Hurricane Katrina and other
natural and human-induced disasters on the Gulf Coast of Louisiana and Mississippi and to learn more about the resilience of those areas to future disasters. Topics explored ranged from insurance, building codes, and critical infrastructure to private-sector issues, public health, nongovernmental organizations and governance. This workshop summary provides a rich foundation of information to help increase the nation's resilience through actionable recommendations and guidance on the best approaches to reduce adverse impacts from hazards and disasters.
On April 18-19, 2011, the Board on Science, Technology, and Economic Policy (STEP) and the Committee on Science, Engineering and Public Policy (COSEPUP), held a workshop to examine a question that has been asked for decades: Can the impacts and practical benefits of research to society be measured either quantitatively or qualitatively? Motivated by a 2009 letter from Congressman Rush Holt (D-New Jersey) the workshop investigated issues such as the short-term and long-term economic and non-economic impact of federal research funding, factors that determine whether federally funded research discoveries result in economic benefits, and quantification of the impacts of research on national security, the environment, health, education, public welfare, and decision making.
Measuring the Impacts of Federal Investments in Research provides the key observations and suggestions made by the speakers at the workshop and during the discussions that followed the formal presentations.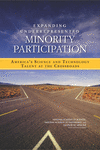 Expanding Underrepresented Minority Participation explores the role of diversity in the science, technology, engineering and mathematics (STEM) workforce and its value in keeping America innovative and competitive. According to the book, the U.S. labor market is projected to grow faster in science and engineering than in any other sector in the coming years, making minority participation in STEM education at all levels a national priority. Although minorities are the fastest growing segment of the population, they are underrepresented in the fields of science and engineering. Expanding Underrepresented Minority Participation suggests that the federal government, industry, and post-secondary institutions work collaboratively with K-12 schools and school systems to increase minority access to and demand for post-secondary STEM education and technical training.

Ensuring the Integrity, Accessibility, and Stewardship of Research Data in the Digital Age examines the consequences of the changes affecting research data with respect to three issues - integrity, accessibility, and stewardship - and finds a need for a new approach to the design and the management of research projects. The report recommends that all researchers receive appropriate training in the management of research data, and calls on researchers to make all research data, methods, and other information underlying results publicly accessible in a timely manner. The book also sees the stewardship of research data as a critical long-term task for the research enterprise and its stakeholders. Individual researchers, research institutions, research sponsors, professional societies, and journals involved in scientific, engineering, and medical research will find this book an essential guide to the principles affecting research data in the digital age.
This third edition of On Being a Scientist reflects developments since the publication of the original edition in 1989 and a second edition in 1995. A continuing feature of this edition is the inclusion of a number of hypothetical scenarios offering guidance in thinking about and discussing these scenarios. On Being a Scientist is aimed primarily at graduate students and beginning researchers, but its lessons apply to all scientists at all stages of their scientific careers.

Rising Above the Gathering Storm Two Years Later: Accelerating Progress Toward a Brighter Economic Future summarizes a convocation held in April 2008 to commemorate the release of the original Gathering Storm report. The convocation featured participation by Members of Congress, Cabinet Secretaries, leaders from industry and academia, and other experts. The discussions reviewed progress made thus far in implementing the Gathering Storm recommendations to strengthen K-12 education in math and science, research, higher education, and the environment for innovation. Participants also noted that much additional work is needed to ensure that America remains a leader in science and engineering in the long term.
---
Hardcopies of all reports are available from the National Academy Press
2101 Constitution Avenue, N.W., Box 285, Washington, D.C. 20055
Tel: 1-800-624-6242 or 202-334-3313 (in the Washington metropolitan area)
Book Ordering Information