What We Do
---
Hosted by
The National Academies of Sciences, Engineering, and Medicine's


Resilient

America

Roundtable in partnership with
Puget Sound Regional Council

January 26, 2018
Seattle, WA


The

Resilient

America

Roundtable and the Puget Sound Regional Council (PSRC) have been working together to better understand and address future climate impacts in the Central Puget Sound region, and to help local decision makers identify and integrate actions to build climate resilience into current plans and efforts.


Leading up to this knowledge exchange, the Roundtable facilitated a survey of local jurisdictions across the four counties in the Central Puget Sound Region (King, Snohomish, Pierce, and Kitsap) to better understand:
climate risks and impacts that local decision makers face;

inclusion of climate resilience or adaptation policies in local planning processes and documents

challenges that decision makers face incorporating climate resilience into their planning;

ways that PSRC could help local decision makers address their climate risks; and

actions that could be taken at the regional level to mitigate climate impacts
After the survey, the Roundtable and the PSRC met with seven jurisdictions to obtain a more in-depth, local perspective about communities' key priorities and challenges in addressing their climate risks and ways they think the PSRC could support local decision makers.

The culminating activity was the Puget Sound Knowledge Exchange which brought together experts and community representatives from across the Central Puget Sound region to learn and share information
about their challenges and successes related to implementing resilience efforts to address climate impacts and other hazards in their communities. This event had two main sessions:
Peer-to-Peer Knowledge Exchange

: Representatives from local jurisdictions shared their resilience-related initiatives.

Funding Resilience

: Representatives from federal, state, and local government and other organizations discussed funding opportunities and other resources available to communities for building resilience to climate risks and other hazards.
After the workshop, attendees were provided a document, Resources for Building Resilience in the Puget Sound Region, WA, that listed resources for building resilience available to communities, and also included information about resources specific to communities in the Puget Sound.

Keynote Address: Setting the Stage for Resilience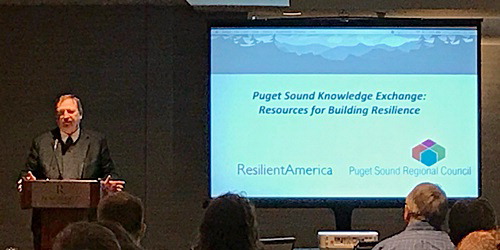 (Above) Keynote speaker Dave Somers, the Snohomish County Executive and President of the Puget Sound Regional Council

The keynote speaker, Snohomish County Executive and Puget Sound Regional Council President Dave Somers, spoke about the resilience work in the Puget Sound region, what still needs to be done, and what he hopes for in the future. Highlights of his talk include:
The key to recovery is strong organizations and connections that can pull together. The PSRC can provide that.

The PSRC is putting a lot of resources into updating and maintaining the transportation system for the area, but there is still more to do.

Priority projects include a regional assessment or inventory of most vulnerable infrastructure, landslide hazard mapping, and better sea level rise mapping

Survey Results of PSRC Member Jurisdictions on Climate Adaptation

Sherrie Forrest, Senior Program Officer with the Resilient America Roundtable at the National Academies of Sciences, Engineering, and Medicine, presented the results of the Climate Adaptation Survey that was distributed to the PSRC's member-jurisdictions. The goals of the survey were to 1) gain a better understanding of how PSRC member jurisdictions are assessing their future climate risks, 2) learn about ways they are prioritizing and preparing for future climate change, and 3) identify ways that the PSRC could support the region and their member jurisdictions in being prepared for future climate risks. (Forrest's PowerPoint presentation)



Initiatives and Approaches to Climate and Hazard Resiliency in the Central Puget Sound Region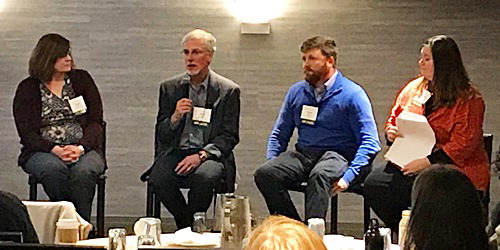 (Above, left to right) Kelly McGourty (PSRC), Ken Creager (University of Washington), Ryan Dicks (Pierce County), and Jennifer Sutton (City of Bainbridge Island)

Moderated by Kelly McGourty, Senior Program Manager of Transportation Planning at Puget Sound Regional Council, this panel explored resilience work being done in the region and featured representatives from local organizations and jurisdictions to share their resilience-related initiatives and projects.

Ken Creager, Professor and Associate Chair in Earth and Space Sciences at the University of Washington, talked about ShakeAlert, and developing an earthquake early warning system for the west coast. Currently there are 200 stations in operation along the Washington coast, and the goal is to install another 300. Creager urged the audience to think about what uses they and jurisdictions could have for the information provided by earthquake early warnings, and mentioned that they are looking to begin more pilot projects. (Creager's PowerPoint presentation)

Ryan Dicks, Sustainability Manager for Pierce County, talked about the climate change impacts Pierce County has already begun to experience, and their recent development of a Climate Resilience Plan. As part of the development process, they thought about what changes they should expect in the future, what those changes mean for the Pierce County government, and what they were doing already that was working well. Ryan also spoke about ongoing and future projects associated with their Floodplains for the Future project. Some of Ryan's major takeaways were: (1)
Climate change forces us to plan and prepare for things that have historically not been problems; (2)
True engagement is difficult, but if you stay together, you usually come out stronger and with a better project; and (3)
Resilience work takes a lot of commitment and time to get started; many people are already doing great work, they just might not be calling it climate resilience or adaptation. (Dicks' PowerPoint presentation)
Jennifer Sutton
, Senior Planner for the City of Bainbridge Island, talked about the city's recent comprehensive plan update and how they took what was previously "an aspirational plan that just sat on the shelf" to one that contained action statements and fully integrated climate change into all elements of the plan. Part of their process was to partner with EcoAdapt who completed a climate impact assessment and lead the city through the process of integrating the results into the comprehensive plan. The city formed a Climate Change Citizen Advisory Committee that is helping city staff prioritize actions from the comprehensive plan. (Sutton's PowerPoint presentation)



Funding Resilience - Federal Resources: What is available and how can we work together to leverage resources and find creative solutions for resilience?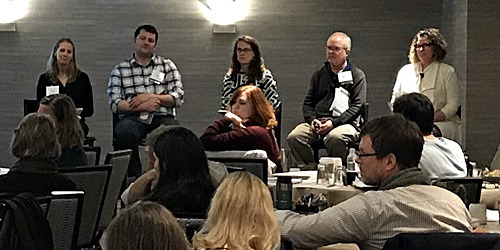 (Above, left to right) Kris Ludwig (USGS), Travis Ball (USACE), Abby Hall (EPA), and Steven Randolph (FEMA), and Gwen Shaughnessy (NOAA)

Moderated by Kris Ludwig, Staff Scientist at the U.S. Geological Survey (USGS), this panel explored the resources and funding opportunities available from federal agencies. Before introducing the panel, Ludwig talked about resources that will soon be available through USGS including the Puget Sound Coastal Storm Modeling System (PS-CoSMoS), and a risk assessment of different threats to Department of Interior (DOI) public lands, a project just getting underway in partnership with the DOI.

Travis Ball, Hydraulic Engineer at the U.S. Army Corps of Engineers (USACE), facilitates the Washington Silver Jackets program, an interagency group of federal and state agencies that identifies and prioritizes flood risk issues. He discussed the recent project partnership between the USACE and the Climate Impacts Group (CIG) at the University of Washington. FEMA funded CIG to study the integration of climate resilience in flood risk management. The result of this partnership was a work plan for the Washington Silver Jackets Team on integrating climate resilience into flood risk management. Ball also discussed a few USACE programs that are accessible to communities including the Continuing Authorities Program (CAP), the Planning Assistance to States program, and the Flood Plain Management Services.

Abby Hall, from the Office of Sustainable Communities at the Environmental Protection Agency, shared information about the partnership between FEMA and the EPA and smart growth strategies for disaster resilience and recovery. Hall discussed the Association of Bay Area Governments Resilience Program, an example of the kind of work that the Smart Growth Implementation Assistance program can help with. (Hall's PowerPoint presentation)

Steven Randolph, Senior Hazard Mitigation Programs Specialist at the Federal Emergency Management Agency, discussed the Hazard Mitigation Grant Program. In order to apply, applicants must have a hazard mitigation plan and the proposed project must be in the plan or consistent with the plan. Randolph talked about less well-known issues that can be addressed in hazard mitigation projects including sea level rise (e.g., elevating public buildings or retrofitting roads and utility systems), green infrastructure (e.g., rain gardens, bio-swales, or porous pavement), and wildfire mitigation (e.g., retrofits for existing homes and neighborhoods, ignition resistant construction). He also suggested that take a look at FEMA's Mitigation Ideas: A Resource for Reducing Risk to Natural Hazards. (Randolph's PowerPoint presentation)

Gwen Shaughnessy, Climate Adaptation Specialist in NOAA's Office of Coastal Management Engagement, Training, and Education, talked about NOAA's Digital Coast. This NOAA-sponsored website is focused on helping communities address coastal issues and has become one of the most-used resources in the coastal management community. The Digital Coast Partnership, whose members represent the website's primary user groups, keeps the effort focused on customer needs. A great place to start is by visiting the Topics page.



Funding Resilience - State and Local Resources: What is available and how can we work together to leverage resources and find creative solutions for resilience?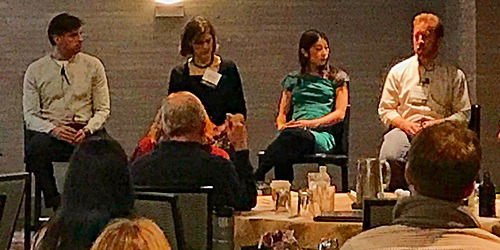 (Above, left to right) Steve Dunk (Department of Commerce), Marnie Boardman (Department of Health), Jennifer Lee (Puget Sound Partnership), and Guillaume Mauger (Climate Impacts Group)

Moderated by Steve Moddemeyer, Principal at CollinsWoerman, this panel explored resources and funding opportunities available from state and local agencies or organizations.

Marnie Boardman, Climate and Health Coordinator for the Office of Environmental Public Health Sciences at the Washington State Department of Health, spoke about available public health resources that are related to climate and public health. The Washington Tracking Network is "designed to help communities assess a wide range of factors that influence health outcomes and mobilize action to improve health." She also discussed the Drinking Water State Revolving Fund which recently added criteria for resilience projects. (Boardman's PowerPoint presentation)

Steve Dunk, Outreach Program Manager at the Washington Department of Commerce, discussed a few of the more than 110 programs that support communities across the state (see the 2018 Agency Resource Book). The Department of Commerce's Leadership Team has identified three key areas around which to focus these programs: 1) Affordable Housing and Homelessness, 2) Rural and Underserved Communities, and 3) Improving Community Resilience, namely helping the local and tribal communities build greater resilience to the hazards that affect them. (Dunk's PowerPoint presentation)

Jennifer Lee, Director of Policy and Planning at the Puget Sound Partnership, talked about a number of programs the Puget Sound Partnership runs including the Washington Water and Salmon Fund Finder. The mission of the Puget Sound Partnership is to "accelerate and advance the collective effort to recover Puget Sound." To do this, they "enable and encourage partners to come together to develop and implement priority actions needed to accelerate ecosystem recovery." The agency takes a holistic approach towards the recovery of Puget Sound, approaching it from a resilience perspective. Lee discussed the resilience of the Puget Sound ecosystem and what it means for this ecosystem. (Lee's PowerPoint presentation)

Guillaume Mauger, Research Scientist with the Climate Impacts Group (CIG) at the University of Washington, discussed CIG's interests in collaborating with communities and helping with climate and resilience proposals. He highlighted a few examples collaborative projects including the Washington Coastal Resilience Project as well as a project researching the impact of alternate forest treatment strategies on fire behavior and post-fire recovery in the Okanogan-Wenatchee National Forest. (Mauger's PowerPoint presentation)






This website contains unedited papers/verbatim presentations by individuals and is not an official report of the National Academies of Sciences, Engineering, and Medicine. Opinions and statements included in this material are solely those of the individual authors. They have not been verified as accurate, nor do they necessarily represent the views of other meeting participants or the National Academies of Sciences, Engineering, and Medicine.