The U.S. National Committee for the International Union of Geological Sciences (USNC/IUGS) serves as a focal point for U.S. discussions on how to best maintain the viability and relevance of the geological sciences internationally. The committee provides guidance and input to the IUGS on these issues, and plans and implements U.S. participation in furthering the goals and work of the IUGS. The USNC/IUGS works in cooperation with scientific societies and seeks their input on nominations to the committee.
What's New

Science Diplomacy Workshop: Transcending Academic and National Boundaries and Advancing Scientific Discovery
If you are a graduate student, postdoc, or early career scientist planning to attend the 2018 AGU Fall Meeting and are interested in exploring careers with facets complementing academic research and/or understanding how science diplomacy should be a part of your scientific work, make sure to register for the Science Diplomacy Workshop to be held on Tuesday, December 11, from 8:00 a.m. to 12:20 p.m at the Grand Hyatt in Washington, DC. The workshop is co-organized by science diplomacy experts from AGU, the National Academy of Sciences, and Tufts' Science Diplomacy Center. Experts from both academic and diplomatic circles will speak at this event. During the workshop, participants will:
Learn about the vital role of science diplomacy in facilitating international relations while simultaneously advancing scientific discovery
Identify opportunities to advance science diplomacy in their respective fields of research
Develop skills to effectively navigate the science-diplomacy nexis, and
Engage directly with science diplomacy experts from academic and diplomatic fields during roundtable discussions and a networking break
For more information, please contact Katia Kontar at Yekaterina.Kontar@tufts.edu.

Remembering Eldridge Moores
Geologist and longtime USNC/GS member Eldridge Moores passed away on October 29, 2018, on a geological field trip. Dr. Moores was Distinguished Professor Emeritus at University of California, Davis, and was a member of the U.S. National Committee for IUGS from 2001 to 2008. He also served on multiple U.S. delegations to the International Geological Congress.

Dr. Moores will be deeply missed by his USNC/GS and BISO colleagues. For more on his extraordinary life and achievements, please visit the UC Davis memorial page.

Upcoming USNC/IUGS Town Hall
The U.S. National Committee for IUGS will be hosting a town hall on geoheritage at the Geological Society of America (GSA) meeting this November. The meeting, conducted jointly by the U.S. Geoheritage and Geoparks Advisory Group and the Association of American State Geologists (AASG) will take place on Monday, November 5, from 2:00-4:00 p.m.

For more on GSA 2018, visit https://community.geosociety.org/gsa2018/home.

5th International YES Conference: Now Accepting Abstracts
The German chapter of YES invites earth scientists to submit abstracts for the 5th International YES Conference by February 1, 2019. The conference theme is "Rocking Earth's Future," and it will be held from September 9--13, 2019, in Berlin, Germany.

The YES Congress in 2019 will be a special opportunity for young scientists from all over the world to share their experiences, their science and culture and to expand their skills. YES additionally offers numerous summer schools and a Workshop on Global Geochemical Baselines and Resourcing in the period before and after the congress. Different events, ranging from invited keynote lectures across "elevator pitches" to a "market of opportunities" offer young talents the possibility to introduce themselves to potential future employers from industry, business, universities and public authorities and to discover opportunities for training and research in Germany.

To submit an abstract, visit the YES conference site.

Celebrating America's Geoheritage in 2018
The U.S. Geoheritage and Geoparks Advisory Group is a development activity of the U.S. National Committee for Geological Sciences. These dedicated geological scientists promote the preservation of National Parks, Landmarks, Monuments, and other treasured parts of our nation. Most recently, the Advisory Group collaborated with the American Geosciences Institute (AGI) to feature "Our Shared Geoheritage" as the 2016 Earth Science Week (http://www.earthsciweek.org/) theme.

The Advisory Group continues to broadly promote the concept of geoheritage and the crucial links between geology and American history at locations ranging from Appalachian coal mines to Michigan's copper-rich Keweenaw Peninsula. The benefits of developing such a program include improved public awareness of America's geological heritage and increased geotourism visitation and economic development in these locations.

For more information on Geopark applications and educational outreach, please visit www.americasgeoheritage.com.

Congratulations to the 2016 Geological Society of America (GSA) Travel Grant Winners!
The GSA Foundation, the American Geosciences Institute (AGI), and the USNC/IUGS awarded twenty award travel grants for students and young scientists to attend the 2016 Congress. The USNC/IUGS extends its sincerest congratulations to the recipients, listed below in alphabetical order:

1. Karin Abrahamsson (University of Kansas)
2. Jaclyn Baughman (University of Colorado, Boulder)
3. Natalia Bykova (Virginia Tech)
4. Megan Derrico (Stanford University)
5. Eric Gottlieb (Stanford University)
6. Neil Griffis (University of California, Davis)
7. Sandra Hardy (The University of Texas at El Paso)
8. Daniel Kelley (The Ohio State University)
9. Katherine Kuklewicz (University of Kansas)
10. Bailey Lathrop (University of Nebraska, Lincoln)
11. Tarryn Lee (Towson University)
12. Sophie Lehmann (The Johns Hopkins University)
13. Abniel Machin (Universidad del Turabo)
14. Ryan McKenzie (University of California, Riverside)
15. Michael Meyer (Virginia Tech)
16. A. Drew Muscente (Virginia Tech)
17. Demian Nelson (University of California, Santa Barbara)
18. Qing Tang (Virginia Polytechnic Institute and State University)
19. Isabel Villaneda-van Vloten (University of Kansas)
20. Yang (Wendy) Zhang (Purdue University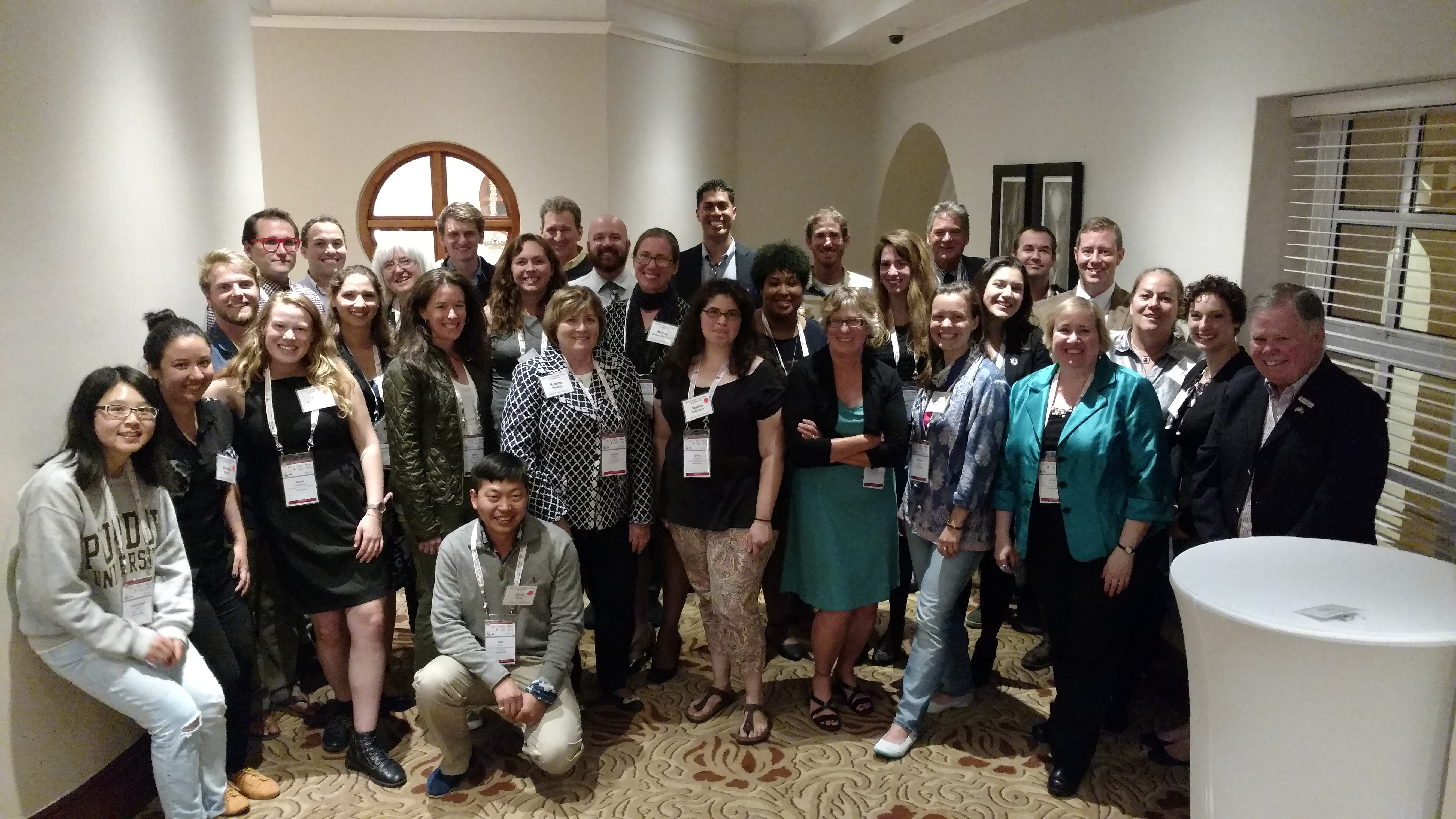 Mentors and award recipients at the Travel Award Mentoring Dinner, IUGS Congress in Cape Town, August 28, 2016


Contact the USNC/IUGS

Ester Sztein, Assistant Director
Pam Gamble, Administrative Associate
SYMPOSIA AND PRESENTATIONS
2016 AGU Session (PDF):
"The U.S. Government Role in Preserving Geoscience Sample and Data Collections" by Ester Sztein

---
December 16, 2015 AGU Session (PDF):
"Arctic Science Diplomacy: Opportunities for International Collaboration and Policy-Engaged Scholarship" by Ester Sztein and Melody Brown Burkins

---
February 15, 2014 AAAS Session: "Santa's Revenge: The Impacts of Arctic Warming on the Mid-Latitudes"

---
December 12, 2013 AGU Session (PDF): "Science Diplomacy in the Geosciences"

---
February 15, 2013 AAAS Session: "U.S. Climate and Weather Extremes: Past, Present, and Future"

---
December 7, 2012 AGU Town Hall (PDF): "International Geoscience"

---
February 19, 2012 AAAS Session: "Causes and Effects of Relative Sea-Level Changes in the Northeast Pacific"

---
February 17, 2012 AAAS Session: "Toward Stabilization of Net Global Carbon Dioxide Levels"

---
February 20, 2011 AAAS Session: "The Practice of Science Diplomacy in the Earth Sciences"

---
February 19, 2010 AAAS Session: "Dust in the Earth System"

---
December 17, 2009 AGU Poster Sessions: "Extreme Natural Hazards: Risk Assessment, Forecasting, and Decision Support"

---
February 16, 2009 AAAS Session: "Global Sea Level Rise: Observation, Causes, and Prediction"

---
September 25, 2008 BISO Symposium (PDF): "Global Connections among Earth Sciences, Health, and Policy"

---
February 15, 2008 AAAS Session (PDF): "Planet Earth: Lessons Ignored, Lessons Learned"