The U.S. National Committee for the International Union of Geological Sciences (USNC/IUGS) serves as a focal point for U.S. discussions on how to best maintain the viability and relevance of the geological sciences internationally. The committee provides guidance and input to the IUGS on these issues, and plans and implements U.S. participation in furthering the goals and work of the IUGS. The USNC/IUGS works in cooperation with scientific societies and seeks their input on nominations to the committee.
What's New

AGI Calls For Entries to "Life as a Geoscientist" Photo Contest
Click on the flyer below for more information.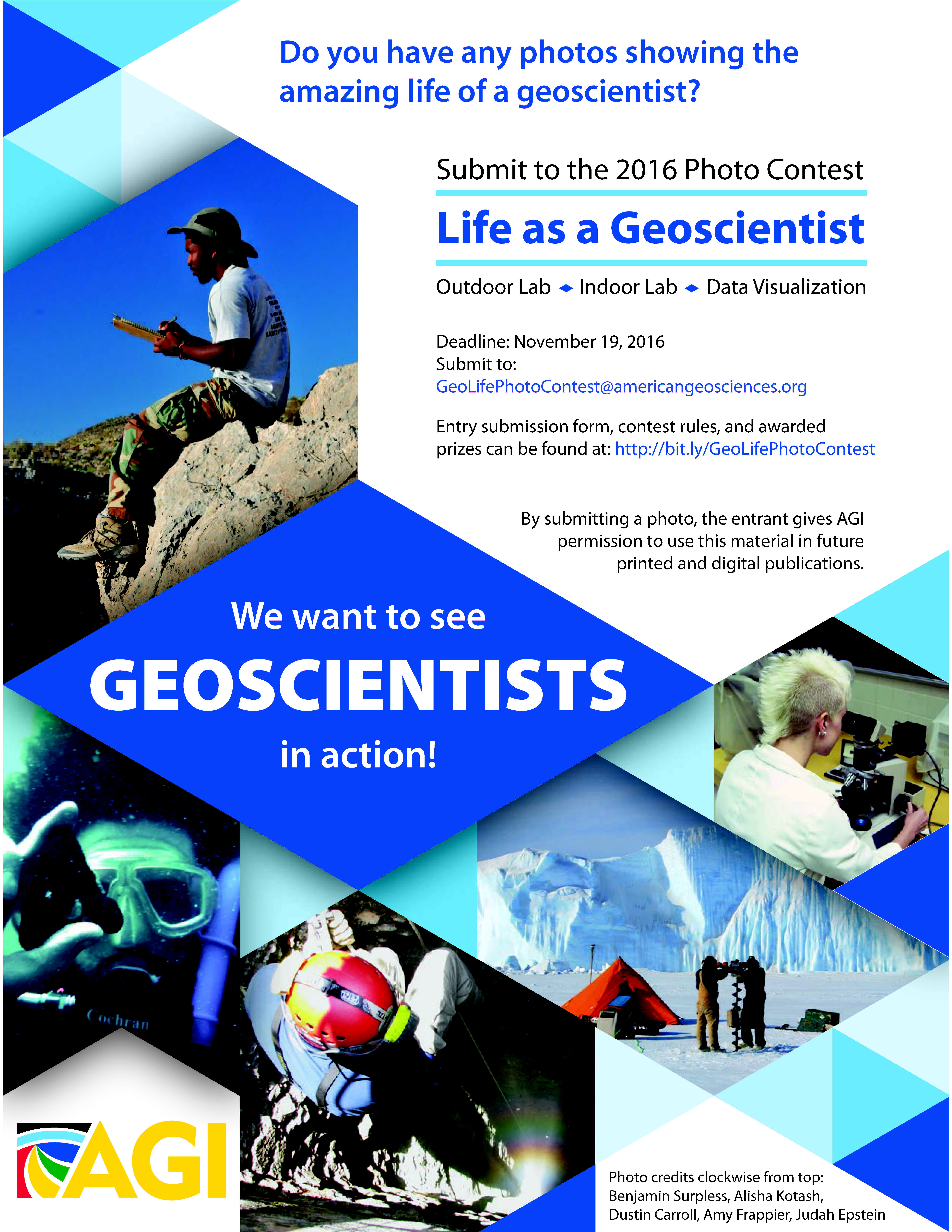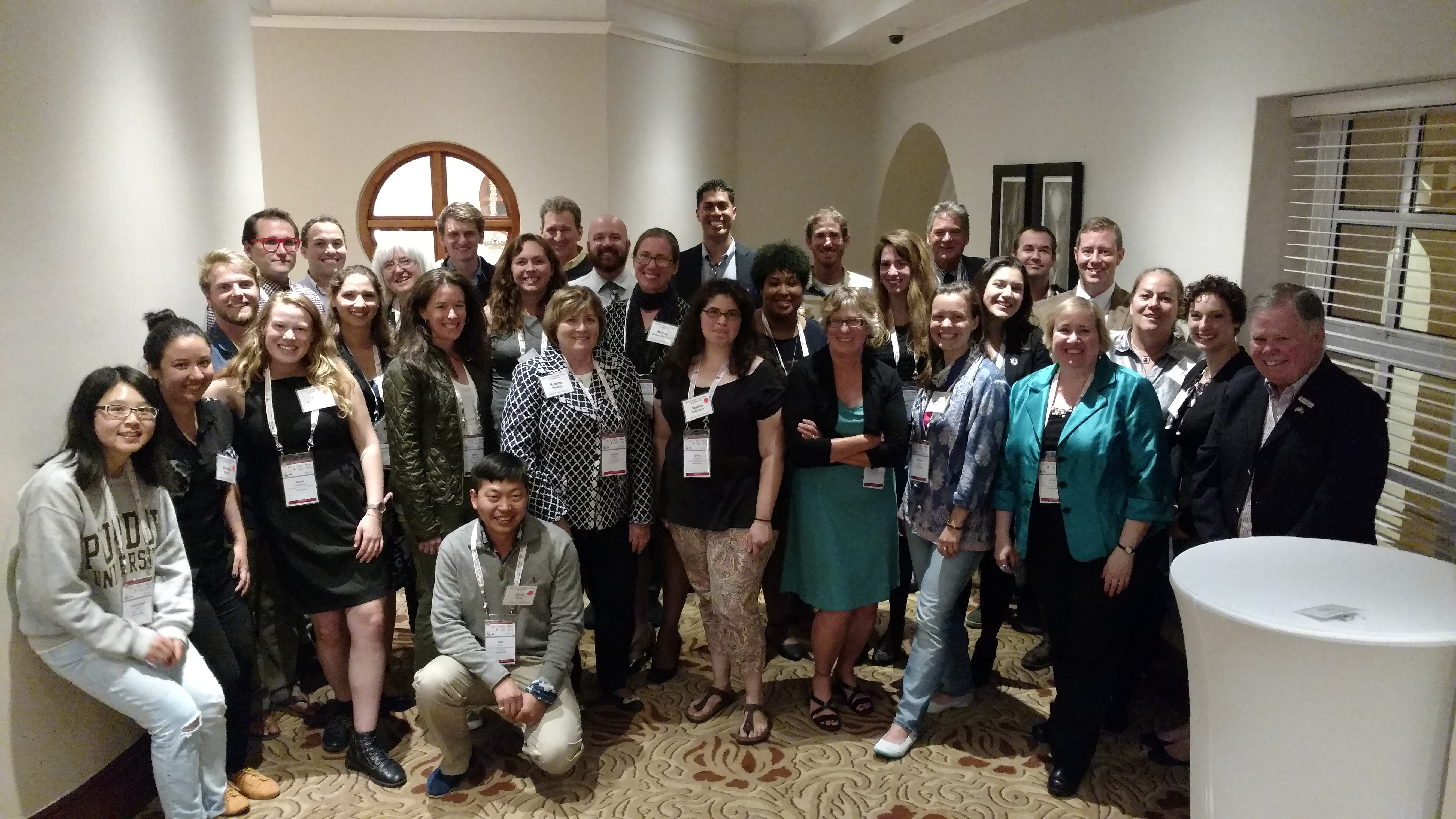 Mentors and award recipients at the Travel Award Mentoring Dinner, IUGS Congress in Cape Town, August 28, 2016

Congratulations to the 2016 Geological Society of America (GSA) Travel Grant Winners!
The GSA Foundation, the American Geosciences Institute (AGI), and the USNC/IUGS have awarded twenty award travel grants for students and young scientists to attend the 2016 Congress. The USNC/IUGS extends its sincerest congratulations to the recipients, listed below in alphabetical order:

1. Karin Abrahamsson (University of Kansas)
2. Jaclyn Baughman (University of Colorado, Boulder)
3. Natalia Bykova (Virginia Tech)
4. Megan Derrico (Stanford University)
5. Eric Gottlieb (Stanford University)
6. Neil Griffis (University of California, Davis)
7. Sandra Hardy (The University of Texas at El Paso)
8. Daniel Kelley (The Ohio State University)
9. Katherine Kuklewicz (University of Kansas)
10. Bailey Lathrop (University of Nebraska, Lincoln)
11. Tarryn Lee (Towson University)
12. Sophie Lehmann (The Johns Hopkins University)
13. Abniel Machin (Universidad del Turabo)
14. Ryan McKenzie (University of California, Riverside)
15. Michael Meyer (Virginia Tech)
16. A. Drew Muscente (Virginia Tech)
17. Demian Nelson (University of California, Santa Barbara)
18. Qing Tang (Virginia Polytechnic Institute and State University)
19. Isabel Villaneda-van Vloten (University of Kansas)
20. Yang (Wendy) Zhang (Purdue University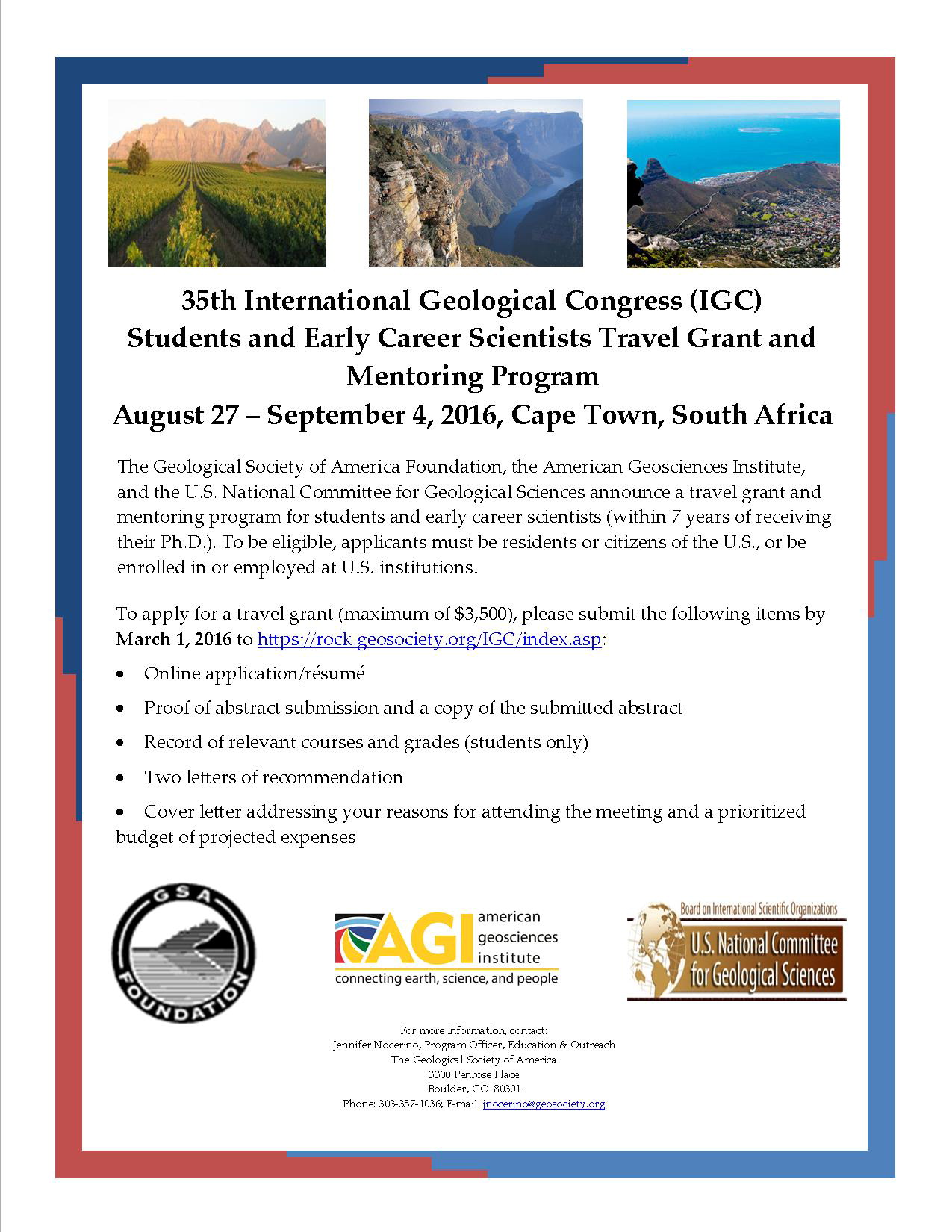 2016 International Geological Congress: Cape Town, South Africa
From August 27th to September 4th, 2016, the International Geological Congress will be held in the southern African sub-continent for the first time since 1929. Three main conference themes have already been identified for the 35th IGC: Geology in Society, Geology in the Economy, and Geology in Science. For more details, please visit the 2016 IGC website.





IUGS Invites Proposals for Resourcing Future Generations (RFG) Activities
Resourcing Future Generations (RFG), an IUGS initiative, calls for grant proposals relating to one of RFG's three themes. The deadline for submission closed on May 31, 2016.

Since 2013, RFG has brought "world attention to the challenges of sustaining resource supplies," operating through an interdisciplinary team of "geoscientists, economists, and environmental and social scientists." The three themes it currently supports are:
Balancing resource supply and demand in the 21st century
The challenges of mineral supply: Accessing new resources from the Earth
Building additional capacity to facilitate responsible development in less developed nations
Grants will be awarded for an average of $3,000 per activity. All activities must begin by August 1, 2016 and run no later than January 31, 2017, by which conclusory reports are also due. Applications, questions, and requests for additional information should be sent to edmund@geosoc.org.uk. For complete award details, please download the RFG Proposal PDF document.


AGI Opens "One Shared Place" Video Contest to Students All Over the World
To kick off the celebration of Earth Science Week later in 2016, the American Geosciences Institute (AGI) welcomes educators and students to enter its "One Shared Place" video contest. The deadline for all eligible entries to be submitted has been extended to October 14, 2016 via the official entry website. Judging will take place on October 28, and the results will be announced October 31.

Teams of 4-10 students of any age, led by a "team captain" who is an educator at least 21 years old, should submit a 30-90 second original video highlighting the geoheritage and geoscience of a particular place. Suggestions for "One Shared Place" entries include "schoolyards, nature center grounds, parks, recreation areas, cultural landmarks, past industrial sites, and other locations." Each team should choose a place that they are familiar with and have explored in detail.

All qualifying video entries will be available online for public viewing, which AGI hopes will "enhance public understanding of geoheritage and geoscience." Entries are being accepted from now until October 14, after which AGI will announce the winners and prizes, which are sponsored by the TGS-NOPEC Geophysical Company. For additional information, please visit the contest guidelines page, view the "One Shared Place" introduction video on YouTube, or contact Celia Thomas, AGI's Center for Geoscience & Society, Program Associate, at cthomas@agiweb.org.

70 years of Geoscience at UNESCO
By Pat Leahy, member of the U.S. National Commission, for the UNESCO February 2016 Update

In recognition of the 70th anniversary of the UNESCO, a symposium entitled "70 years of Geoscience at UNESCO: Past, Present, and Future" was held as part of the Geological Society of America Annual Meeting in Baltimore, Md. in November 2015. Jack Hess and Pat Leahy, who serve on the U.S. National Commission for UNESCO, convened the session which was sponsored by the American Geosciences Institute, the Geological Society of America, and the U.S. National Committee for Geological Sciences of the U.S. National Academies.

The full symposium summary can be found on the February 2016 Commission Update webpage.

UNESCO Global Geoparks Program Approved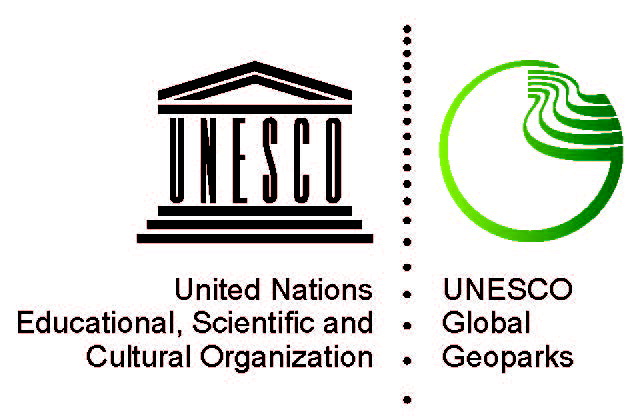 On November 17 at the 38th General Conference in Paris, UNESCO's 195 Member States ratified a formal label for the existing 120 Global Geoparks. This program has been a long time in the making, beginning in 2001 as an ad hoc effort to conserve sites and bolster geotourism. Since its inception, Global Geoparks has grown to include sites in
33 countries under subsequent regional networks. China currently holds most of the world's geoparks (33 total), while Spain holds 11.

"Geoheritage: Preserving Earth's Legacy," an article featured in the July 2015 edition of Earth Magazine, is an excellent resource for learning more about Global Geoparks. Science writer Terri Cook and University of Colorado - Boulder professor Lon Abbott examine the evolution of UNESCO's efforts to form a global community of parks, including what the future may hold for the United States. Click here to download the full article PDF.

UNESCO-Paris has also released their new Global Geoparks Booklet. You may download the vibrant, full 20-page PDF here.

America's Geologic Heritage Invitational Workshop: Meeting Summary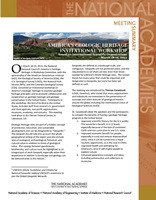 The USNC/IUGS, with the sponsorship of the American Geosciences Institute, the Geological Society of America, the U.S. Geological Survey, the Bureau of Land Management, the U.S. Forest Service, the Association of American State Geologists, and the National Park Service, convened this workshop in March 2013 in Lakewood, CO, to examine geologic heritage principles and to promote collaboration and cooperation on geologic heritage and geologic conservation in the United States.
The objectives of this workshop were to begin a dialogue about key principles, share experiences, increase awareness, and improve flow of information. The keynote talks were given by Tim Badman, Director of IUCN's World Heritage program, and by José Brilha, President of ProGEO and UNESCO advisor to the Global Geoparks Network. The workshop was structured in five thematic panels: Values and Relevance; Inventory and Monitoring; Stewardship and Sustainability; Museums and Collections; and Education and Outreach.
A PDF of this meeting summary can now be
found online
.
2013-2014 IUGS Report Now Available For Download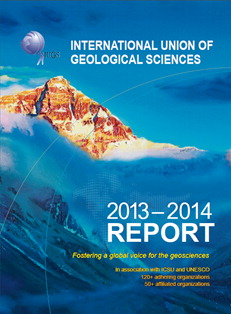 Following the 2012 redefining of IUGS goals, the Union has released a report covering the activities of 2013-2014. This report includes words from prominent IUGS officers, various highlights from the last two years, and lists of publications, affiliated organizations, collaborative projects, and important upcoming dates. The IUGS also looks to the future within the report's final pages, summarizing plans for the 2016 Congress in Cape Town, Africa, the 2018 Resources for Future Generations (RFG) conference in Vancouver, Canada, and the 2020 Congress in Delhi, India. Download the 29-page report PDF
here
.
Earth and Space Science News Article Examines IAVCEI Geoheritage Initiative
Following the 2015 IUGG General Assembly in Prague, Earth and Space Science News (EOS) has released an article detailing the IAVCEI's particular attention to volcanic landscapes.
The article
explores various goals of the newly-formed Commission on Volcano Geoheritage and Protected Volcanic Landscapes (VGPL), including the creation of a volcanic science "knowledge hub" and protection of designated UNESCO World Heritage sites.
IUGS's Resourcing Future Generations Initiative
The IUGS Executive Committee has appointed a New Activities Strategic Implementation Committee to scope a proposed initiative, entitled Resourcing Future Generations. This initiative will address the goal of ensuring a supply of mineral, energy, and water resources for the global society in the next century. Achieving this goal requires four fundamental actions by the geoscience community:
Comprehensive evaluation and quantification of 21st century supply and demand;
Enhanced understanding of the subsurface as it relates to resource deposits;
Assessment of where new resources are likely to be found; and
Building needed and advanced skills capacity, particularly in lesser developed nations, to discover and responsibly develop mineral resources.
The Resourcing Future Generations initiative will provide a bridge between industry, academia, and national geological surveys. In addition, other Unions within ICSU will be invited to participate. For more information, please consult the IUGS Resourcing Future Generations webpage.

Facilitating International Cooperation: The IGCP Provides Grants to Scientists


The USNC for Geological Sciences functions as the U.S. focal point for the International Geoscience Program (IGCP), a cooperative enterprise of UNESCO and the International Union of Geological Sciences (IUGS).
The IGCP is and has been stimulating comparative studies in the Earth Sciences since 1972 and facilitates international cooperation by providing small grants to scientists from developing countries, allowing them to work with colleagues from the United States and other, developed nations.
For more information, consult background materials on the IGCP homepage on the UNESCO Website or send an e-mail to IGCP@usgs.gov.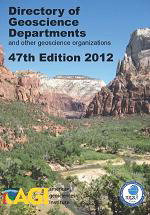 47th Edition of Geoscience Departments
The Directory of Geoscience Departments 47th Edition (2012) is the most comprehensive directory and source of information about geosciences departments and researchers available. It is an invaluable resource for individuals working in the geosciences or must identify or work with specialists on the issues of Earth, Environmental, and related sciences and engineering fields.

The Directory of Geoscience Departments 47th Edition provides a state/country-sorted listing of over 2300 geoscience departments, research departments, institutes, and their faculty and staff. Information on contact information for departments and individuals is provided, as well as details on department enrollments, faculty specialties, and the date and source of faculty and staff's highest degree. Description taken from the American Geosciences Institute website.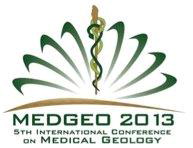 The Fifth International Conference on Medical Geology, Second Symposium on Advances in Geospatial Technologies for Health: August 25-29, 2013 in Arlington, Virginia

MEDGEO conferences bring together researchers and decision makers from the physical sciences and the medical sciences who are interested in solving health problems caused by natural materials and processes. Details on this event can be found on the
MedGeo 2013 website
.

2014 AAAS Symposium - "Santa's Revenge: The Impacts of Arctic Warming on the Mid-Latitudes" - February 15, 2014
This symposium examined high-latitude changes linked to mid-latitude weather and the effect of these complex phenomena on freshwater resources, food availability, and national security. This event was spearheaded by the U.S. National Committee for Geodesy and Geophysics, and co-sponsored by the U.S. National Committees for INQUA, Soil Sciences, and Geological Sciences. An audio file of the symposium, the presentations given by each speaker, and a list of media coverage can be found on the 2014 Santa's Revenge archive page.

Contact the USNC/IUGS

Ester Sztein, Assistant Director
Pam Gamble, Administrative Associate
SYMPOSIA AND PRESENTATIONS
December 16, 2015 AGU Session (PDF):
"Arctic Science Diplomacy: Opportunities for International Collaboration and Policy-Engaged Scholarship" by Ester Sztein and Melody Brown Burkins

---
February 15, 2014 AAAS Session: "Santa's Revenge: The Impacts of Arctic Warming on the Mid-Latitudes"

---
December 12, 2013 AGU Session (PDF): "Science Diplomacy in the Geosciences"

---
February 15, 2013 AAAS Session: "U.S. Climate and Weather Extremes: Past, Present, and Future"

---
December 7, 2012 AGU Town Hall (PDF): "International Geoscience"

---
February 19, 2012 AAAS Session: "Causes and Effects of Relative Sea-Level Changes in the Northeast Pacific"

---
February 17, 2012 AAAS Session: "Toward Stabilization of Net Global Carbon Dioxide Levels"

---
February 20, 2011 AAAS Session: "The Practice of Science Diplomacy in the Earth Sciences"

---
February 19, 2010 AAAS Session: "Dust in the Earth System"

---
December 17, 2009 AGU Poster Sessions: "Extreme Natural Hazards: Risk Assessment, Forecasting, and Decision Support"

---
February 16, 2009 AAAS Session: "Global Sea Level Rise: Observation, Causes, and Prediction"

---
September 25, 2008 BISO Symposium (PDF): "Global Connections among Earth Sciences, Health, and Policy"

---
February 15, 2008 AAAS Session (PDF): "Planet Earth: Lessons Ignored, Lessons Learned"