WHAT'S NEW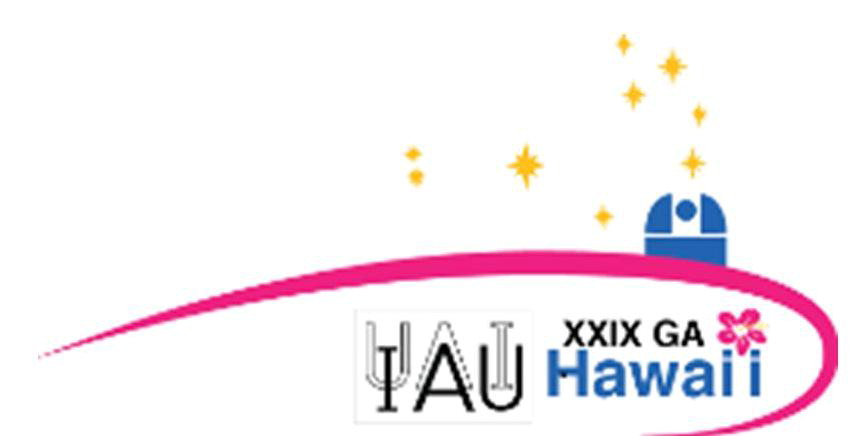 Gearing Up for the XXIX IAU General Assembly
The United States will be hosting the XXIX IAU General Assembly in Honolulu, Hawaii from August 3-14, 2015. Information about the meeting and registration links can be found at astronomy2015.org. The website contains information about the scientific program, provides travel advice, and lists tour opportunities. Tours of telescope facilities in Hawaii will be offered before, before, during and after the GA but will not conflict with the scientific sessions.

The IAU GA will be an exciting opportunity to further collaboration and networking while enhancing scientific understanding through shared discourse. See you there!



The Young Astronomers Luncheon Event at the XXIX IAU GA


The Young Astronomers Luncheon (YAL) was first introduced at the 2006 IAU General Assembly (GA), with the aim of stimulating networking opportunities between senior astronomers and those young astronomers (YAs) at the start of their careers. The 'Young Astronomers Luncheon' event is sponsored by the U.S. National Academy of Sciences and the Norwegian Academy of Sciences and Letters (NASL). The event is also sponsored by the IAU Office of Astronomy for Development (OAD). The event will take place on Wednesday, August 12, from 12:30 to 2:00 p.m.

Around 180 young astronomers will have the opportunity to meet with astronomers from prestigious institutions from around the world, members of the IAU Executive Committee and Council members of the American Astronomical Society. The YAL features roundtable discussions involving one to two senior astronomers and eight to nine young astronomers. Discussions focus on topics of interest to young astronomers such as career paths, research funding, successful job strategies, fellowships opportunities, the future of astronomy, and job prospects. This venue permits informal discussions with networking. The invited senior astronomers have a wide ranger of expertise and areas of interest. This is a great chance for young astronomers to meet with experts and to network with other young astronomers with similar interests.

This is a closed event that requires prior registration.

Women in Astronomy Lunches and Early Career Events at the XXIX IAU GA
The XXIX IAU GA will proudly host a number of events specifically for women and students in astronomy. Titles, dates, and locations are as follows:

The Women in Astronomy Luncheon, Sponsored by the U.S. National Academy of Sciences and the International Astronomical Union
Presentations by: Meg Urry (Yale University, current President of AAS), Bob Williams (Space Telescope Science Institute, past President, IAU), and Silvia Torres-Peimbert (incoming President, IAU)
Tuesday, August 4, 2015, 12:30 - 2:00 p.m.
Room 323, Registration required (currently sold out)

The Student Welcome Reception, Sponsored by the American Astronomical Society
Tuesday, August 4, 2015, 5:00 - 7:00 p.m.
The Student Pavilion (smoothies will be served)

Scattered Lunch Talk #1: The CSWA Survey on Workplace Climate
Presenter: Christina Richey, NASA HQ and SDSE
Friday, August 7, 2015, 12:30 - 2:00 p.m.
Room 318A
Please bring lunch with you.

Scattered Lunch Talk #2: Inclusive Astronomy 2015
Presenter: Meredith Hughes, Wesleyan University
Monday, August 10, 2015
Room 318A
Please bring lunch with you.

Scattered Lunch Talk #3: Unconscious Bias
Presenter: Patricia Knezek, National Science Foundation
Thursday, August 13, 2015
Room 318B
Please bring lunch with you.

Meet the Mentor Events at the IAU Student Pavilion
A chance for early career members to meet with leaders in the field. Students who wish to participate should sign up at the Student Pavilion starting Tuesday, August 4 at 5:00 p.m. (during the student reception). Sign-up sheets will remain throughout the two weeks and each meet-up is capped at 15 students. Please note that all dates, times, and mentors listed are currently tentative:


Wednesday, August 5 @ 10:00 a.m. - Bob Williams
Wednesday, August 5 @ 2:00 p.m. - Kathryn Johnson and Lisa Storrie-Lombardi
Thursday, August 6 @ 10:00 a.m. - Kate Brooks and Neil Gehrels
Thursday, August 6 @ 2:00 p.m. - Markus Kissler Patig
Friday, August 7 @ 10:00 a.m. - Corinne Charbonnel
Friday, August 7 @ 2:00 p.m. - Debbie Elmegreen and Magda Arnaboldi
Monday, August 10 @ 10:00 a.m. - Nadine Neumayer
Monday, August 10 @ 2:00 p.m. - Andrea Dupree and Francesca Primas
Tuesday, August 11 @ 10:00 a.m. - Francoise Combes and Patricia Whitelock
Tuesday, August 11 @ 2:00 p.m. - Duilia De Mello and Paola Caselli
Wednesday, August 12 @ 10:00 a.m. - Meredith Hughes and Birgitta Nordstroem
Wednesday, August 12 @ 2:00 p.m. - Matthew Colless

Questions or comments? Please contact IAU WIA Chair Francesca Primas (fprimas@eso.org) or AAS CSWA Member Christina Richey (christina.r.richey@nasa.gov).

XXIX IAU GA Draft Resolutions Announced
The IAU has announced four resolutions that will be presented at the IAU General Assembly. Although still in draft form, the resolutions are as follows:



Resolution B1

addresses the 10-year

IAU Strategic Plan

for astronomy in the developing world. This strategic plan extends from 2010 to 2020, and this resolution looks to confirm the continuing pursuit of these goals, as well to plan for what comes next, in the form of an extended strategic plan, addressing the future of the Office of Astronomy for Development and its activities beyond 2021.

Resolution B2 is on the recommended zero points for the absolute and apparent bolometric magnitude scales. This is a problem in astronomical literature, with pervasive variance in the zero points for bolometric magnitudes and bolometric corrections. This resolution seeks to adopt a standardised absolute and apparent bolometric magnitude scale that acts independently of the Sun.


Resolution B3 is on recommended nominal conversion constants for selected solar and planetary properties. It recommends the adoption of nominal values for the solar radius, total solar irradiance, solar luminosity, solar effective temperature, heliocentric gravitational constant, and solar mass. These nominal values would function as conversion factors only, allowing a uniform conversion to SI units. The resolution recommends the same be done for the equatorial and polar radii of the Earth and Jupiter, as well as for the geocentric and jovicentric gravitational constants.


Resolution B4 addresses the protection of radio astronomy observations in the frequency range 76–81 GHz from interference caused by car radars, which have various applications, like determining distances and relative speeds of objects in front of, beside, or behind a car. It seeks to request that the World Radio Communication Conference 2015 takes all possible steps to protect radio astronomy observations in this frequency band that suffer as a result of car radars. Separating the observatories geographically from the radiation would seem the the most effective method of protection, but in a world of ever-expanding technology that requires different wavelengths to operate, this is a pressing concern for astronomy.

Voting will occur at the second General Assembly session on Thursday, August 13. For the complete wording of the resolutions and more information, please see

http://www.iau.org/news/announcements/detail/ann15023/

.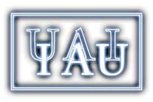 IAU Individual Membership




Applications for individual membership in the IAU are accepted once every three years. The most recent application period for U.S. applicants closed in December 2014. U.S. applications were reviewed by the USNC/IAU in January 2015. Final decisions on membership will be made at

IAU's XXIX General Assembly

in August 2015. Applicants will be notified of their new status after the General Assembly.

The next application period for U.S. applicants will open in Fall 2017. More information on individual membership in the IAU, can be found on the

IAU Membership webpage

.

Open Call for 2015 IAU - OAD Proposals




The IAU Office of Astronomy for Development (OAD) has issued its 4th annual call for proposals for astronomy-for-development projects. The IAU has earmarked €110 000 for OAD projects to be selected in 2015 and implemented in 2016. This is an open call for project proposals, with individual project grants ranging from about €500 to about €15,000.

The three focus areas of the call are:

1. Astronomy for Universities and Research

2. Astronomy for Children and Schools

3. Astronomy for the Public

This year a new format for the call is being used which will streamline the applications process and allow for greater interaction with the OAD through an optional "Expression of Interest" channel. The OAD looks forward to engaging with potential proposers and helping develop and realize ideas relating to using astronomy to stimulate global sustainable development.

For more information, visit the OAD website at

www.astro4dev.org

or the proposal call page at

www.astro4dev.org/cfp

. The deadline for expressions of interest is July 15, 2015, while the deadline for full proposals is September 15, 2015.




IAU Press Release -- Cosmic Light Programme


As part of the worldwide celebrations of the International Year of Light 2015, the IAU is launching a series of Cosmic Light cornerstone projects to help foster light pollution awareness and education. The projects include a free iPhone app that allows users to monitor the quality of the night sky, a kit of activities and resources for teachers around the world, and a Galileoscope kit currently available for pre-order. To read the complete press release on IAU.org, click here.



Name ExoWorlds: An IAU Worldwide Contest


The IAU is the only body that officially names stars. The IAU generally names stars using a numbering system that defines a star's position in the sky. The IAU has two excellent pages on its website that talk about the process of naming astronomical objects and buying star names.

The IAU now is organizing a worldwide contest, aimed at giving popular names to selected exoplanets, along with their host stars. The proposed names will be submitted by astronomy clubs and non-profit organizations interested in astronomy and votes will be cast by the public. A list of 305 well-characterized exoplanets has been selected for naming. This list is now published at: www.NameExoWorlds.org. The Exoplanet names will be announced at a special public ceremony, during the IAU XXIX General Assembly in August, 2015.



Celebrating the International Year of Light



The IAU and the U.S. National Committee for the IAU are celebrating the International Year of Light (IYL) in 2015. IYL has been endorsed by the United Nations and UNESCO, as was the International Year of Astronomy (IYA) in 2009.

IAU and the worldwide astronomical community are participating in IYL through the Cosmic Light cornerstone project. The Cosmic Light project has 3 component parts:
Cosmic Light Awareness: A Cosmic Light Educational Kit will be made available with simple tools to teach about the nature of light, the impact of light in our understanding of the universe, and the importance of light for our existence.
Galileoscope: First made available during IYA in 2009, Galileoscopes have returned. These are optically excellent but inexpensive telescopes, and the goal is to manufacture and distribute at least 100,000 Galileoscopes to teachers and students throughout the world.
Light – Beyond the Bulb: This project seeks to bring the science of light to lay audiences. An online repository of high-quality, easy-to-reproduce images and caption will allow individuals worldwide to build exhibits and host outreach events. This project builds on the success of the "From Earth to the Universe" project during IYA in 2009.
Further information about each of these projects can be found on the IAU webpage at http://www.iau.org/iyl.



IAU Strategic Plan: "Teaching Astronomy for Development"


The IAU operates under a strategic plan, adopted in 2009, which calls for expanding astronomy development programs over the next decade. The plan builds on the past success of IAU education, teaching and outreach programs as well as the International Year of Astronomy.
Major points of the 2010-2020 Strategic Plan
The complete Strategic Plan, with 2012 update on implementation