WHAT'S NEW


DASER Discussion Forum on the International Year of Light: Presentation Videos Now Available
Surgical goggles that see invisible light, the use of light as an artistic medium, the deployment of powerful new space telescopes, and soil powering LED lights were all topics explored at the DC Art and Science Evening Rendezvous (

DASER

) held at the National Academies of Sciences, Engineering, and Medicine on October 15, 2015. Samuel Achilefu (Washington University), Aviva Presser Aiden (Baylor College of Medicine), Evelyn Hankins (Smithsonian), and Michelle Thaller (NASA) gave presentations, and Kathie Bailey, BISO Director, gave the opening remarks. The U.S. national committees for optics and astronomy have been particularly involved in the International Year of Light.


Each presentation is now available on the Cultural Programs of the National Academy of Sciences' YouTube channel, organized in a DASER playlist and individually listed below:

Kathie Bailey: International Year of Light (3:32)
Aviva Presser Aiden: Dirt Power: Soil Microbes to Power LED Lights, Cell Phones, and Other Devices (10:31)
Samuel Achilefu: Making the Invisible Visible with NIR Surgical Goggles (13:57)
Evelyn Hankins: When Light Becomes Material in Contemporary Art (13:26)
Michelle Thaller: First Light: Opening New Eyes on the Universe (13:35)



NSF Introduces New Optics and Photonics (OP) Crosscutting Program


In response to the growing need for optics and photonics research, The National Science Foundation announces its new OP program. Over 30 programs in 9 divisions are currently involved with OP, including those housed within the Directorate for Mathematical and Physical Sciences (MPS), the Directorate for Engineering (ENG), the Directorate for Biological Sciences (BIO), and the Directorate for Computer and Information Science and Engineering (CISE).

NSF invites research proposals on topics related to one or more divisions in the directorates listed above, which will be reviewed by the crosscutting OP working group. For more information on OP and proposal guidelines, please visit http://www.nsf.gov/publications/pub_summ.jsp?ods_key=nsf16004.

National Academies of Sciences, Engineering, and Medicine Hosts International Year of Light (IYL 2015) Symposium

The International Year of Light symposium Light for a Better World: A Celebration of U.S. Innovation was held Saturday, September 12, at the NAS Building in Washington, DC. NSF Director France Córdova gave opening remarks, which were followed by presentations from Shuji Makamura, Eric Betzig, Gerald Duffy, and Michael Liehr. A complete video of the event is available for download, and individual presentations can be viewed at SPIE.org.

SPIE Photonics West and SPIE Photonics Europe Conference Dates Announced
SPIE Photonics West
was held at the
Moscone Center
in San Francisco, CA, USA, February 13 through February 18, 2016, and will be held at the same location in 2017 from January 28 through February 2.
SPIE Photonics Europe
will be held at the
Square Meeting Centre
in Brussels, Belgium, April 4 through April 7, 2016.
Photonics West is the #1 laser, photonics, biomedical optics conference: 20,000 attendees, six renowned symposia, and 4,800 R&D presentations covering a wide range of papers on biomedical optics, biophotonics, translational research, industrial lasers, 3D printing, optoelectronics, microfabrication, and more. SPIE Photonics West also has two of the most important laser (Photonics West) and biomedical optics (BiOS Expo) exhibitions in the industry
with more than
1,250 exhibiting companies and a variety of new product. Photonics West includes the entire spectrum of light-driven technologies and attracts researchers, companies, and product developers from around the world.
Photonics Europe is the foremost European photonics R&D event, connecting photonics industry innovators with leading researchers in the conference rooms and on the exhibition floor. SPIE Europe Photonics Europe 2016 will feature the highest quality conferences in commercially important areas such as nanophotonics, metamaterials, organic, bio-, and neurophotonics, photonics for solar energy systems, high-power lasers, and much more. The 2016 programme continues its focus on giving attendees access to developers and visionaries from universities and institutes. This is a great meeting to team with others interested in developing prototypes and commercializing technology.
For complete conference details, visit the
SPIE Photonics West page
and
SPIE Photonics Europe page
.
Celebrate the International Year of Light and Light-based Technologies (IYL 2015)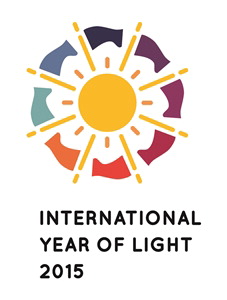 2015 has been designated as the
International Year of Light and Light-based Technologies
(IYL 2015). In proclaiming an International Year focusing on the topic of light science and its applications, the United Nations recognized the importance of raising global awareness about how light-based technologies promote sustainable development and provide solutions to global challenges in energy, education, agriculture and health.
In the United States, SPIE and the Optical Society of America (OSA), two of the sponsoring societies of the USAC-ICO, are helping to organize and coordinate U.S. participation in the International Year of Light. Information can be found on the
SPIE
and
OSA
webpages.
The International Astronomical Union (IAU) is also heavily involved in IYL and is sponsoring a cornerstone project IYL: Cosmic Light. The American Astronomical Society is working with SPIE, OSA, and U.S. astronomers on IYL activities. To learn more, please visit the
USNC/IAU webpage
.
ICO-23: General Congress of the International Commission for Optics
The International Commission for Optics held its triennial General Congress in Santiago de Compostela, Spain from August 26-29, 2014. This congress is ICO's most important scientific and technical meeting. The U.S. Delegation to the General Congress included H. Philip Stahl (chair), Duncan T. Moore, James Harrington, Erich Ippen, and Joseph J. Niemela. Reports from ICO members, international societies, and the ICO Bureau were received and discussed. In addition, the ICO/ICTP initiative for Central America, the Winter College on Optics and Photonics at the International Centre for Theoretical Physics (ICTP), and ICO co-sponsorship and endorsement of various international conferences and schools were reviewed. Further information on all of these are all contained in
Towards ICO-23
.
The U.S. was also pleased that Jim Harrington was reelected as ICO Treasurer, and that Joseph Niemela, a U.S. physicist currently working at ICTP, was elected Vice President. Duncan Moore will serve as Past President for the next three years.
Light Our Future: The National Photonics Initiative
The U.S. Advisory Committee for Optics, through its participating societies,continues to support the
National Photonics Initiative
, which grew out of the NRC report, Harnessing Light II,
Optics and Photonics: Essential Technologies for our Nation
, released in 2013. The committee was instrumental in the early stages of the report, writing a white paper which outlined the need to update the original
Harnessing Light
report (1998). The white paper eventually served as the basis for the study.
Harnessing Light II provides a current assessment of optics, photonics, and optical engineering in the United States, prioritizes research grand-challenge questions to fill technological gaps, and recommends actions to support global leadership in photonics-driven industry. The report, conducted by the NRC Board on Manufacturing and Engineering Design, recommended that the federal government develop a "National Photonics Initiative" to bring together academia, industry, and government to steer federal research and development funding and activities.

Following one of the report's key recommendations, SPIE and four other photonics and optics societies launched the National Photonics Initiative (NPI), a collaborative alliance among industry, academia and government. The NPI effort is being led by founding sponsors SPIE, the international society for optics and photonics, and
The Optical Society
(OSA), and sponsored by three additional societies -- the
American Physical Society
(APS), the
IEEE Photonics Society
, and the
Laser Institute of America
(LIA). As noted on the NPI website, the goals of the Initiative are to: • raise awareness of photonics and the impact of photonics in our everyday lives • increase cooperation and coordination among US industry, government and academia to advance photonics-driven fields • drive US funding and investment in areas of photonics critical to maintaining US economic competitiveness and national security.