46th World Chemistry Congress, Brazil, July 2017

The application for the 2017 IUPAC Young Observer program is now closed. Decisions on selected Young Observers will be announced by mid-March. For more details, please see the 2017 program page.

The 46th World Chemistry Congress will be held in São Paulo, Brazil, July 9-14, 2017. The 49th IUPAC General Assembly will overlap with the congress, July 7-13. For more information, visit the Congress website.

In collaboration with the American Chemical Society, the USNC/IUPAC held a webinar about the Young Observer Program on December 7, 2016. To learn more about the Young Observer program, you may access the recorded webinar and slides at https://global.acs.org/international-center-events/acs-international-center-archives/.

IUPAC Centenary Logo Competition
In 2019 IUPAC will celebrate its 100th anniversary. IUPAC is holding a logo design competition open to students in three categories: college, secondary, and primary school. The logo should be original and simple, submitted with a brief description, and should symbolize and represent the relevance of chemistry to society and/or the relevance of a common language of chemistry. Deadline is 1 February 2017. More information.

IUPAC Announces the Names of the Elements 113, 115, 117, and 118
On 28 November 2016, the International Union of Pure and Applied Chemistry (IUPAC) approved the name and symbols for four elements: nihonium (Nh), moscovium (Mc), tennessine (Ts), and oganesson (Og), respectively for element 113, 115, 117, and 118.

For more information, see https://iupac.org/iupac-announces-the-names-of-the-elements-113-115-117-and-118/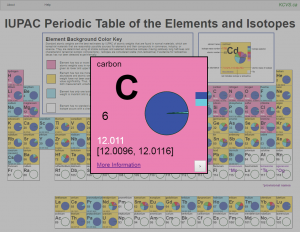 Isotopes Matter!! New Interactive Periodic Table
In partnership with researchers at the King's Centre for Visualization in Science, a team of IUPAC scientists and educators has created new IUPAC interactive electronic periodic table. The accompanying educational materials inform students and the general public about the many uses of isotopes in our lives. Following the global launch on August 17, 2016, the new IUPAC interactive electronic periodic table and accompanying resources can be accessed at www.isotopesmatter.com. A print version of the periodic table of the isotopes and elements is available at http://ciaaw.org/periodic-table-isotopes.htm. Further details will be published in the peer-reviewed IUPAC Journal, Pure and Applied Chemistry.