WHAT'S NEW

IUPAP Working Group on Women in Physics: Supporting Women in Physics in Developing Countries
USLC/IUPAP is working closely with the APS on a new round of the IUPAP Travel Grants Program. This program was created to help fund women from developing and low income countries -- who may not have another opportunity -- to attend a regional or international conference, workshop, or school. We expect to be able to fund approximately 20-25 women between $700 & $800 US each at a maximum.
Grant applications should be received no later than May 28, 2015. Recipients will be selected by the IUPAP Working Group on Women in Physics during the latter part of June, and all applicants will be notified before June 30, 2015 of the outcome. Only women physicists from low income developing countries may apply. Due to limited funding, those who have received a grant in the past, under this program, are not eligible for a second grant.

Those interested in applying for a grant should submit the following information via e‑mail as a Microsoft Word document only or as text within the e‑mail. PLEASE DO NOT SEND AS A PDF FILE. If you attach Word documents, please include your last name on all files.

Please include all of the following items/information in your application:
1. Complete contact information including your name, address, e‑mail and phone number.
2. Number of years since your Ph.D (or undergraduate degree for graduate students) was granted.
3. A brief description of the conference, school, or workshop you wish to attend (including the conference date, location, and website if available) and if you will be making a presentation.
4. A brief statement on how attending the conference will enhance your career.
5. A list of all regional or international conferences you have attended, if any.
6. A breakdown of the amount of money (maximum $700/800 US) required for you to attend (including airfare, registration fee, meals etc.).
7. A list of your publications from the last five years.
8. One letter of recommendation from someone who is familiar with your work.
Send all information to Jackie Beamon‑Kiene at
beamon@aps.org
by close of business (5:00 p.m. EDT) on May 28, 2015.
2015 USNC/IUPAP Meeting

The most recent meeting for USNC/IUPAP was held in the National Academies' Keck Center in Washington, D.C. on Wednesday, June 3, 2015.
CAM 2015
The 2015 Canadian-American-Mexican Physics Graduate Student Conference (CAM2015) will be held in Oaxaca, Oaxaca, Mexico on September 10-12, 2015. The conference will focus on the research done by graduate students. Plenary contributions from established scientists will also give the student participants exposure to ongoing research in diverse sub-fields. Students share the results of their research with senior scientists and international peers in their own field, as well as with those focused on other disciplines within physics.
The aim of the CAM Conference is to provide an outstanding opportunity for students to develop professional skills, learn a broad range of physics topics, and initiate interactions across geographical borders. Furthermore, it will foster communication and exchange of ideas among students of various backgrounds and interests. CAM2017 will be held in the United States, and CAM 2019 will be held in Canada.
International Year of Light and Light-based Technologies (IYL 2015)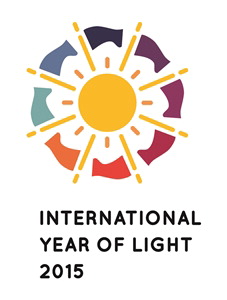 IYL 2015 is a global initiative which will highlight to the citizens of the world the importance of light and optical technologies in their lives, for their futures, and for the development of society. The International Year of Light and Light-based Technologies will consist of coordinated activities in science, education and development. These will ensure that people of all ages and all backgrounds from all countries appreciate the central role of light as the key cross-cutting scientific discipline of the 21st century. More information can be found on the website of the
International Year of Light and Light-based Technologies (IYL 2015)
.