WHAT'S NEW

2016 USNC/IUPAP Meeting
The USNC/IUPAP will meet Wednesday, June 8, 2016 at the National Academies' Keck Center in Washington, DC. The last annual meeting for USNC/IUPAP was held in the same location on June 3, 2015.

ASESMA 2015 in Johannesburg, South Africa
Materials scientists are positioned to take on some of the greatest challenges on the African continent -- food production, water access and quality, and green energy production. However, as most research and development is centered in Europe and America, local scientists are in constant need of development opportunities. The African School on Electronic Structure Methods and Applications, or ASESMA, provides young professionals with the tools to address these issues.

IUPAP commissions C13 and C20 made a ten-year commitment to ASESMA in 2010. The most recent ASESMA was held January 19-30, 2015 at the University of the Witwatersrand (Wits) in Johannesburg, South Africa. Forty-one participants from ten African countries attended the program, which lasted for two weeks. Students attended morning lectures on the optical properties of materials and completed more hands-on projects during the afternoon. Evening seminars were held on more specialized topics, including local networking in Africa, women in the sciences, and career development skills. Participants were provided with PCs containing several open source codes such as Quantum Espresso, YAMBO and Casino. These tutorials helped prepare input files for further intensive calculations in the supercomputer at the Centre for High Performance Computing (CHPC, Cape Town), which has offered generous support to previous ASESMA programs.

The next ASESMA will be in June 2016 at University of Ghana in Legon, Ghana. Kennedy Reed, member of the USLC/IUPAP and IUPAP President-Elect, is currently involved in the planning. For more details, please read the American Physical Society Forum on International Physics Newsletter.

CAM 2015
The 2015 Canadian-American-Mexican Physics Graduate Student Conference (CAM2015) was held in Oaxaca, Oaxaca, Mexico on September 10-12, 2015. The conference focused on the research done by graduate students. Plenary contributions from established scientists also gave student participants exposure to ongoing research in diverse sub-fields. Students shared the results of their research with senior scientists and international peers in their own field, as well as with those focused on other disciplines within physics.
The aim of CAM is to provide an outstanding opportunity for students to develop professional skills, learn a broad range of physics topics, and initiate interactions across geographical borders. Furthermore, the conference fosters communication and exchange of ideas among students of various backgrounds and interests. CAM2017 will be held in the United States, and CAM 2019 will be held in Canada.
International Year of Light and Light-based Technologies (IYL 2015)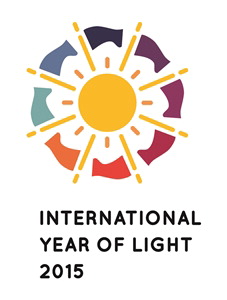 IYL 2015 is a global initiative which will highlight to the citizens of the world the importance of light and optical technologies in their lives, for their futures, and for the development of society. The International Year of Light and Light-based Technologies will consist of coordinated activities in science, education and development. These will ensure that people of all ages and all backgrounds from all countries appreciate the central role of light as the key cross-cutting scientific discipline of the 21st century. More information can be found on the website of the
International Year of Light and Light-based Technologies (IYL 2015)
.
USLC/IUPAP Member Kennedy Reed Becomes IUPAP President-Elect
The USLC/IUPAP would like to congratulate its ex-officio member, Kennedy Reed, on his appointment as president-elect of IUPAP. He will serve a three-year term as president-elect, followed by a three-year term as the president of IUPAP and a three-year term as past-president. President-Elect Reed has served on the IUPAP Commission on Physics for Development for nine years and was the chair of that commission for three years. More information on his election can be found on the
website of the Lawrence Livermore National Laboratory
.
At the General Assembly, two resolutions that were presented by the USLC/IUPAP were passed. These resolutions were to form a new IUPAP Commission on Accelerator Science, and to create an IUPAP Working Group on the Newtonian Constant of Gravitation G.

#MySTEMStory and HERStories: Initiatives to Support Women in Physics
Over 215 participants from 49 countries attended the 5th International Conference on Women in Physics at Wilfrid Laurier University in Waterloo, Canada, from August 5-8, 2014. As a result of the conference, several initiatives were developed to broaden support for women in STEM fields. #MySTEMStory, a trending topic on Twitter, allows women to share both positive and negative elements of their experiences. HERStories, a video compiled by the American Association of Physics Teachers, the American Physical Society and the Society of Physics Students, features physics professionals discussing their love of the field. November 7 was also approved as the new International Women in Physics Day.