BISO Home > About the Board on International Scientific Organizations > BISO Involvement with the International Council for Science

BISO Involvement with the International Council for Science

The National Academy of Sciences (NAS) was a founding member of the International Council for Science (ICSU), a non-governmental organization created in 1931 to advance, serve, and enable science. ICSU provides a wide spectrum of scientific expertise, enabling members to address major international, interdisciplinary issues. Membership in ICSU is divided into two categories: national members (multidisciplinary scientific academies or research councils) and scientific union members (international, disciplinary organizations).

For more information on the membership of BISO, please consult the BISO membership webpage.

BISO represents the NAS as the U.S. national member of ICSU and fulfills its membership responsibilities through:
sharing information about ICSU programs and activities with the U.S. scientific community
sending the U.S. delegation to the triennial General Assembly of ICSU,
responding to requests from ICSU,
nominating individuals to serve on committees and as officers of ICSU,
alerting ICSU to important new issues, and
monitoring the activities of ICSU.

ICSU-Related News and Events

Integrated Risk and Disaster Reduction (IRDR) Releases New Brochure
IRDR has released a new brochure of their mission and various research projects, available for view here. The decade-long IRDR program examines transdisciplinary methods in researching "how science is used to shape social and political decision-making in the context of hazards and disasters." ICSU, along with the International Social Science Council (ISSC) and the United Nations International Strategy for Disaster Reduction (UN-ISDR), sponsors IRDR.

Additionally, IRDR has published The Forensic Investigations of Disasters (FORIN) Project: A Conceptual Framework and Guide to Research. FORIN is an IRDR research program that focuses on "uncovering root causes of disaster."




Resources on the Future Earth Research Program


As the Future Earth program moves forward, we will be updating our BISO Future Earth page with all the latest information on the complex systems approach to research on global sustainability. You may also want to visit the official Future Earth website, http://www.futureearth.org, particularly the Get Involved page. This page features useful information on how to find out about upcoming events, subscribe to news feeds, and potentially partner with Future Earth.


Urban Health and Wellbeing: A Systems Approach


One of ICSU's flagship initiatives is Urban Health and Wellbeing.

In this YouTube introduction

, Franz Gatzweiler (Executive Director), Yong-Guan Zhu (IUE Director), and Yi Zhang (Science Officer) describe how the program approaches the particular challenges of sustaining growing urban communities around the world.

ICSU's Google+ Hangout on Air on Urban Research, Now Viewable on YouTube


On February 24, 2016, ICSU hosted a

Hangout on Air

featuring a discussion with Eugenie Birch, Lawrence C. Nussdorf Professor of Urban Research at the University of Pennsylvania. The goal was to understand more on how science is shaping the UN's agenda for the future of the cities we inhabit, and how you can contribute your own research and knowledge to the process.

In the next few decades, more than 1 million people every week will need to be housed in urban areas. Seventy percent of the urban infrastructure that will exist in 2050 has not yet been built. This means that there is an opportunity to create new cities that take into account the interrelationships of the social, ecological, and technological dimensions of urban systems -- identifying healthy constellations of factors impacting the quality of life in cities.

Habitat III is the first UN conference to be held after the passage of the SDGs and the completion of COP21. It will have a negotiated outcome document: The New Urban Agenda (representing a global consensus on the topic of housing and sustainable urban agenda).

The complete

Hangout on Air

is

available on YouTube

.

ICSU Response to External Review

Following the external review conducted in 2014, the ICSU Executive Board has released a

detailed response

.

View the full 17-page PDF document here

(updated January 2016).

Open Data in a Big Data World

One of the major recommendations in the 2014 ICSU external review was that ICSU should work more with closely allied organizations, such as the InterAcademy Partnership (IAP), the International Social Science Council (ISSC), and The World Academy of Sciences (TWAS). A series of joint meetings fostering this cooperation, called Science International, focus on topics of common concern. At the first Science International meeting in early December 2015, the four organizations agreed on a collective statement concerning big data/open data. A four-page summary of

Open Data in a Big Data World can be found here

. For the full version,

click here

.

2014 ICSU General Assembly: August 31 - September 3 in Auckland, New Zealand

The last ICSU General Assembly was held August 31 - September 3, 2014 in Auckland, New Zealand. This event was hosted by the ICSU National Scientific Member in New Zealand, the Royal Society of New Zealand. The U.S. Delegation to the General Assembly included delegates Melody Brown Burkins and C. Bradley Moore and was chaired by former NAS foreign secretary Michael Clegg, who was elected Vice President for External Relations.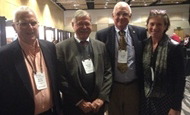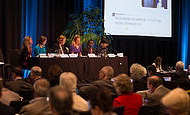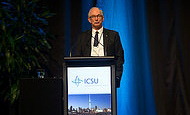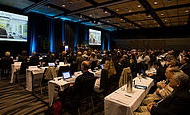 More information can be found on the
ICSU General Assembly website
.
This material is based upon work supported by the National Science Foundation under Grant Number IIA-1332689. Any opinions, findings, and conclusions or recommendations expressed in this material are those of the author(s) and do not necessarily reflect the views of the National Science Foundation.

ICSU General Assembly Photo Credit: Bruce Alberts with the U.S. Delegation; Early Career Scientists Panel (Source: https://www.flickr.com/photos/icsu/14946102940); ICSU President, Gordon McBean (Source: https://www.flickr.com/photos/icsu/15132341262); General Assembly meeting (Source: https://www.flickr.com/photos/icsu/14946081729)
To comment on this webpage or report an error, please send feedback to the
BISO Site Manager
.