THE BOARD ON INTERNATIONAL SCIENTIFIC ORGANIZATIONS
The Board on International Scientific Organizations (BISO) strengthens U.S. participation in international scientific cooperation through overseeing a network of U.S. national committees (USNCs) and working with a variety of projects connected to the International Institute for Applied Systems Analysis (IIASA), the International Council for Science (ICSU), and ICSU-related unions. More details can be found in the BISO Background Section.

WHAT'S NEW

Summer 2016 International Scientific Congresses and General Assemblies
Travel Grants Awarded to American Attendees of International Scientific Congresses/General Assemblies

U.S.--Finland Workshop on Mathematics Education to be Held Summer 2016 in Helsinki
Workshop on Supporting Mathematics Teachers and Teaching in the United States and Finland, a bilateral meeting of U.S. and Finnish mathematics educators, will be held July 31--August 2 at the University of Helsinki in Helsinki, Finland. Approximately 15 American professionals and 15 Finnish professionals are expected to attend. The meeting will be webcast and online participants will have opportunities to engage remotely.

CLICK HERE to visit the U.S.--Finland Workshop subpage for more information.

CLICK HERE to register for virtual participation in the workshop webinar.

U.S. Department of State Recommends All Passport Holders with 2016 Expiration Dates to Renew As Soon As Possible
A New York Times article published January 26 urges everyone with a U.S. passport expiring in 2016 to renew quickly, citing an expected increase in passport demand. According to the U.S. Department of State, many countries are also now enforcing six months' validity before allowing entry. Read the complete article here.

Explore the New BISO Infographic
After much planning and designing, BISO is proud to unveil a colorful new infographic that illustrates how our board functions. The infographic features all sixteen disciplines represented by a U.S. National Committee, an explanation of what the international scientific unions do, and a list of ways that academics, industry professionals, and policymakers can get involved. A fully interactive version of the infographic will be available soon. For now, click on the image below to view or download the PDF file.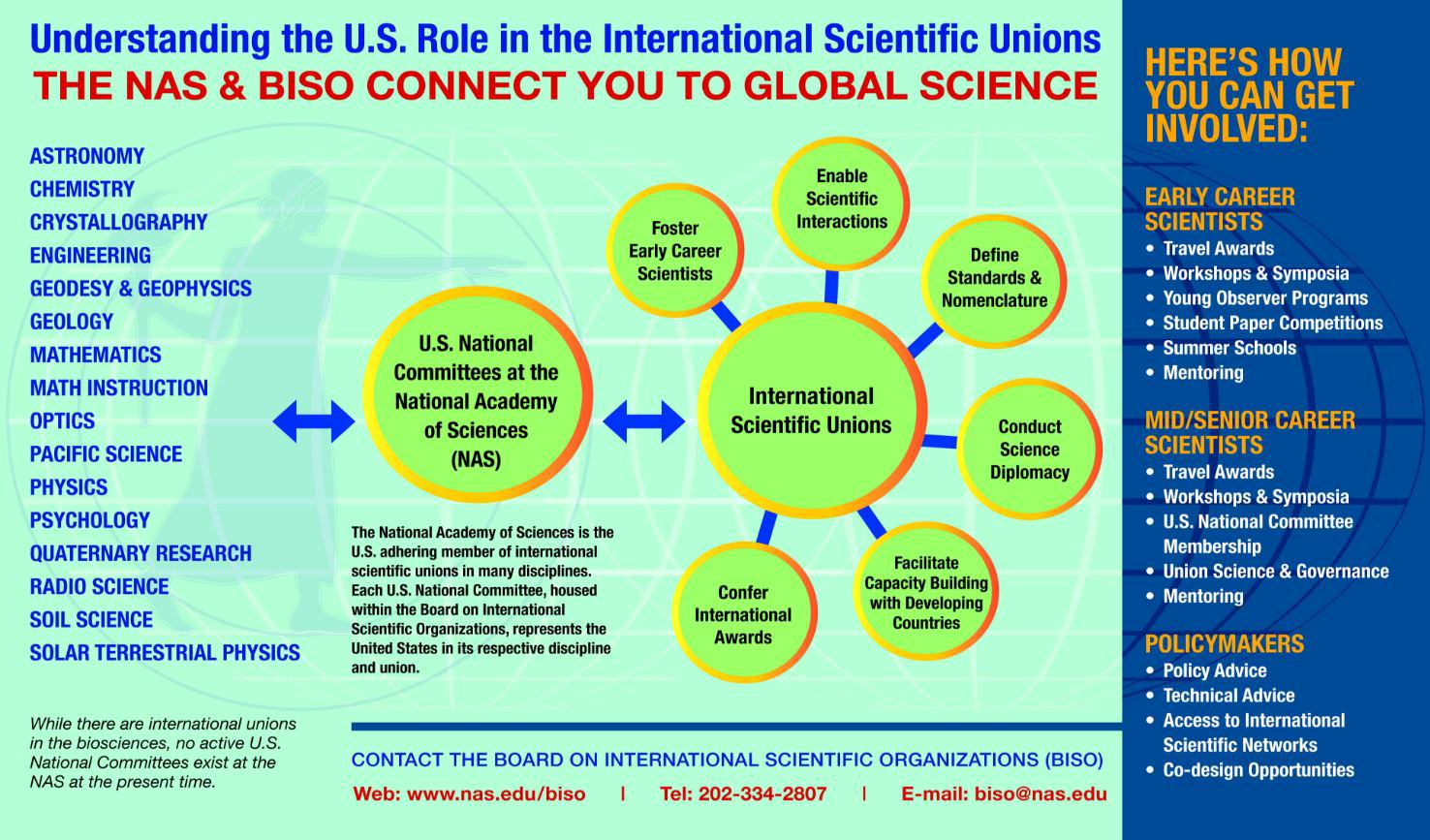 Follow BISO on Twitter
The Board on International Scientific Organizations' official Twitter account is up and running. Click here to view the BISO account, and follow us for the latest news on our U.S. national committees and the programs, events, and opportunities they sponsor.

2016 National Academy of Sciences Election Results
On May 3, 2016, the National Academy of Sciences elected 84 new members and 21 foreign associates from 14 countries, which join the 2,207 current members and 444 current foreign associates. The Board on International Scientific Organizations extends its warmest congratulations to all.

Two new NAS members and one new foreign associate are affiliated with BISO-associated organizations: Megan Urry (Ex-Officio Member of USNC/IAU and President of AAS) and Abhay Ashtekar (Member of IUPAP), and Wolfgang Lutz (Program Director of World Population, IIASA).