Contact Us
Board on Research Data and Information
Policy and Global Affairs Division
The National Academies of Sciences, Engineering, and Medicine
500 Fifth Street, NW
Washington, DC 20001
USA
Email: gstrawn@nas.edu
Phone: (202) 334-2616

New Project

Toward an Open Science Enterprise (July 2017)

This study will identify the challenges of broadening access to the results of scientific research, described as "open science." Open science is defined, for the purposes of this study, as public access to scholarly articles resulting from research projects, the date that support the results contained in those articles, computer code, algorithms, and other digital products of publicly funded scientific research, so that the products of this research are findable, accessible, interoperable, and reusable, with limited exceptions for privacy, proprietary business claims, and national security. Visit the project page for more information.

The mission of the Board on Research Data and Information (BRDI) is to improve the stewardship, policy, and use of digital data and information for science and the broader society. The Board does this through the following tasks:

Address emerging issues in the management, policy, and use of research data and information at the national and international levels;
Through studies and reports of the National Academies, provide independent and objective advice, reviews of programs, and assessment of priorities concerning research data and information activities and interests of its sponsors;
Encourage and facilitate collaboration across disciplines, sectors, and nations with regard to common interests in research data and information activities;
Monitor, assess, and contribute to the development of U.S. government and research community positions on research data and information programs and policies;
Initiate or respond to requests for consensus studies, workshops, conferences, and other activities within the Board's mission, and provide oversight for the activities performed under the Board's auspices; and
Broadly disseminate and communicate the results of the Board's activities to its stakeholders and to the general public.

BRDI also represents the U.S. National Committee for CODATA.


What's New:

Call for Proposals: SciDataCon 2018: The Digital Frontiers of Global Science
SciDataCon 2018 will address the theme of 'The Digital Frontiers of Global Science.' In a hyperconnected world where the internet is pervasive and web technologies are driving major changes in our lives, research has become more than ever before digital and international. SciDataCon 2018 seeks to explore the digital frontiers of global science by bringing together research and practice papers from a wide range of perspectives. The deadline for proposals is February 2, 2018. More information on the conference and proposal themes can be found here.

New Proceedings of a Workshop - in Brief: International Coordination for Science Data Infrastructure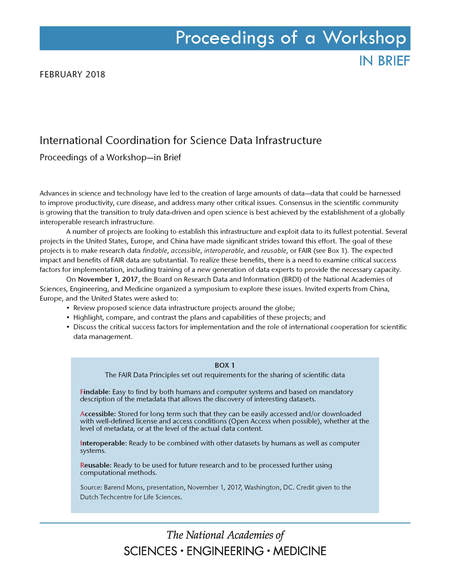 Advances in science and technology have led to the creation of large amounts of data—data that could be harnessed to improve productivity, cure disease, and address many other critical issues. Consensus in the scientific community is growing that the transition to truly data-driven and open science is best achieved by the establishment of a globally interoperable research infrastructure.

A number of projects are looking to establish this infrastructure and exploit data to its fullest potential. Several projects in the United States, Europe, and China have made significant strides toward this effort. The goal of these projects is to make research data findable, accessible, interoperable, and reusable, or FAIR. The expected impact and benefits of FAIR data are substantial. To realize these benefits, there is a need to examine critical success factors for implementation, including training of a new generation of data experts to provide the necessary capacity. On November 1, 2017, the National Academies organized a symposium to explore these issues. This publication briefly summarizes the presentations and discussions from the symposium.