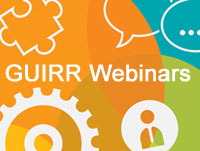 Fostering the Culture of Convergence in Research
July 25th, 1pm ET

GUIRR will host a webinar to discuss how to deliberately foster the culture of convergence in research with Ann Arvin, Professor of Pediatrics and Microbiology and Immunology at Stanford University. Convergence-based research approaches are critical in solving many scientific challenges. The 2014 report Convergence: Facilitating Transdisciplinary Integration of Life Sciences, Physical Sciences, Engineering, and Beyond describes the term "convergence" as a multidisciplinary approach that melds divergent areas of expertise to form conclusions that are inaccessible otherwise. However, establishing an organization where convergence can take root involves characteristics of leadership, researchers, organizational structures, criteria to measure success, and models of funding that can pose complex structural and organizational challenges.

A new proceedings summarizes an October 2018 workshop that explored efforts to promote cultures that support convergence-based approaches to research. The 2014 Convergence report served as a foundation for this workshop, allowing participants to further explore convergence as a valuable and adaptable approach to organizing research, to identify examples of progress over the past few years, and to identify a number of suggestions for future actions to strengthen convergence efforts. Please join us for a discussion on the new proceedings and to share your experiences with cultures of convergence in research.
Free and open to the public.
REGISTER