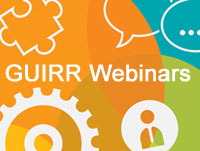 March 27, 2019; 1pm ET
QED-C: An Industry-Government Partnership to Grow a Competitive U.S. Quantum Industry

The Government-University-Industry Research Roundtable will host a webinar to discuss the Quantum Economic Development Consortium (QED-C), which was established in 2018 by the National Quantum Initiative Act. With support from the National Institute for Standards and Technology (NIST) and more than 50 companies with a stake in quantum technologies, the QED-C mission is to strengthen U.S. leadership in the quantum technology industry. QED-C is focused on identifying and addressing enabling technology gaps, prioritizing needs for standards and performance metrics; and understanding workforce requirements. A purpose of the consortium is to inform government and academic members of the quantum community of industry priorities and needs. QED-C will also facilitate connections to enhance quantum-related research, innovation, education, and technology transfer.
This webinar will provide an overview of the QED-C in the context of the National Quantum Initiative through a presentation from Celia Merzbacher, the Associate Director of the Quantum Economic Development Consortium.

Free and open to the public.
REGISTER