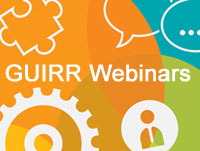 November 29, 2018, 1pm ET
REACH for Commercialization™: A Program for Women Inventors

Recent data reveal that fewer than 20% of issued U.S. patents name at least one woman inventor and less than 8% of issued U.S. patents list a woman as the primary inventor. Research out of The Ohio State University shows that the pipeline of inventors is more gender balanced, but that women drop out of the commercialization process because of systemic barriers that can be addressed. GUIRR will host a webinar with Mary Juhas, director of the REACH for Commercialization™ program, and Ohio State ADVANCE Entrepreneur-in-Residence, Caroline Crisafulli to discuss how to dismantle these systemic barriers for women innovators and to address this persistent gender gap across academia, industry, and government.
REACH for Commercialization™ is a program developed at The Ohio State University. The cohort-based model was first introduced in 2010 under the support of the National Science Foundation's ADVANCE Institutional Transformation program. The program has been expanded and refined to offer personalized consultation. The engagement of an entrepreneur-in-residence and development of a close partnership with Rev1Ventures, an investor startup studio, have resulted in a significant increase in commercialization activity.

Free and open to the public.
REGISTER