An ad hoc committee of experts with industrial, financial, academic, and public policy backgrounds will undertake a consensus study to determine whether and how federal policies can accelerate the market adoption of advanced energy efficiency and low- or non-polluting energy technologies. As part of the study the committee will hold workshops, commission research, and prepare a report with recommendations. The committee will consider technologies for the generation, transmission, and storage of electric power and for energy efficiency such as renewable and advanced nuclear and fossil fuel sources, storage and transition technologies, and building heating and lighting technologies. The study will consider market conditions that may advantage traditional technologies and disadvantage technologies with lower external costs to the environment, public health, and national security. It will focus on the post-R&D stages of the energy supply chain, including scaled-up deployment and widespread adoption. It may consider policy instruments such as subsidies, tax incentives, demonstration projects, loan guarantees and other financial instruments, procurement, and regulation. Although the focus will be on developing recommendations for consideration by Congress, the White House, Department of Energy, and other federal agencies, recommendations may also address actions by States and regional entities.


---
Meetings & Events
Committee Meeting 6: September 12-13, 2014 (closed)
Committee Meeting 5: June 16-17, 2014 (closed)
Roundtable on Barriers to Financing Energy Innovation: April 8, 2014
Workshop on Barriers to Financing Energy Innovation: February 28, 2014
Committee Meeting 4: January 21-23, 2014 (View Public Agenda)
Committee Meeting 3: December 2, 2013 (closed audioconference)
Committee Meeting 2: September 30, 2013 (closed audioconference)
Committee Meeting 1: July 26, 2013 (closed)
Workshop on Accelerating Deployment of Clean Energy Technologies: July 25, 2013
View agenda and presentations. Listen to panelists' remarks.
---
Report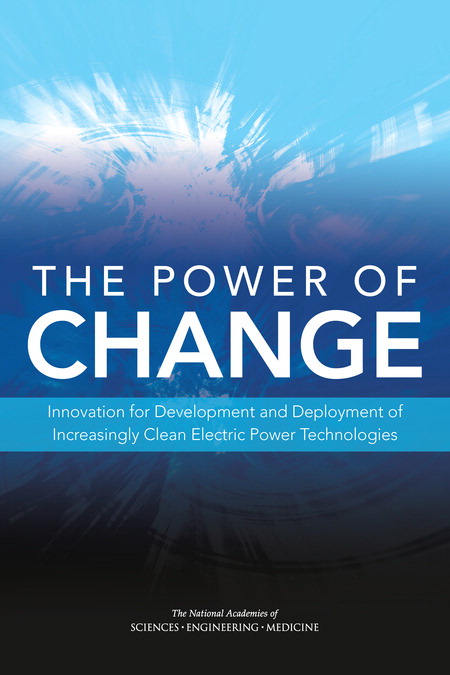 Electricity, supplied reliably and affordably, is foundational to the U.S. economy and is utterly indispensable to modern society. However, emissions resulting from many forms of electricity generation create environmental risks that could have significant negative economic, security, and human health consequences. Large-scale installation of cleaner power generation has been generally hampered because greener technologies are more expensive than the technologies that currently produce most of our power. Rather than trade affordability and reliability for low emissions, is there a way to balance all three?

The Power of Change: Innovation for Development and Deployment of Increasingly Clean Energy Technologies considers how to speed up innovations that would dramatically improve the performance and lower the cost of currently available technologies while also developing new advanced cleaner energy technologies. According to this report, there is an opportunity for the United States to continue to lead in the pursuit of increasingly clean, more efficient electricity through innovation in advanced technologies. The Power of Change: Innovation for Development and Deployment of Increasingly Clean Energy Technologies makes the case that America's advantages—world-class universities and national laboratories, a vibrant private sector, and innovative states, cities, and regions that are free to experiment with a variety of public policy approaches—position the United States to create and lead a new clean energy revolution. This study focuses on five paths to accelerate the market adoption of increasing clean energy and efficiency technologies: (1) expanding the portfolio of cleaner energy technology options; (2) leveraging the advantages of energy efficiency; (3) facilitating the development of increasing clean technologies, including renewables, nuclear, and cleaner fossil; (4) improving the existing technologies, systems, and infrastructure; and (5) leveling the playing field for cleaner energy technologies.

The Power of Change: Innovation for Development and Deployment of Increasingly Clean Energy Technologies is a call for leadership to transform the United States energy sector in order to both mitigate the risks of greenhouse gas and other pollutants and to spur future economic growth. This study's focus on science, technology, and economic policy makes it a valuable resource to guide support that produces innovation to meet energy challenges now and for the future.

Download Free PDF | Read Online
---
Committee Members

Mr. Charles O. Holliday, Jr. - (Chair)
East Meets West Solutions LLC
View Bio | Hide Bio

Chad Holliday is the Founder and Managing Partner of East Meets West Solutions. His background focuses on business leadership, innovating processes for efficiency, sustainability strategy, and coalition building.

Mr. Holliday is Chairman of the Board of Bank of America. He is chairman of the board of directors of E.I. du Pont de Nemours and Co., a position he had held for approximately 10 years. In 1970, prior to serving as chairman of E.I. du Pont de Nemours, Dr. Holliday worked as an engineer for DuPont. He held various positions throughout his tenure there before becoming chief executive officer of DuPont from 1998 until 2008. Under Dr. Holliday's leadership, DuPont established a goal of achieving sustainable growth – increasing shareholder and societal value while simultaneously decreasing DuPont's environmental footprint. As a result, DuPont has shifted from being a chemical company to being a science-based products and services company.

Since 2007, Mr. Holliday has served as a member of the board of directors of Deere & Co. and as a member of the board's audit and corporate governance committees. He is chairman emeritus of Catalyst, a leading nonprofit organization dedicated to expanding opportunities for women and business, and chairman emeritus of the board of the U.S. Council on Competitiveness, a nonpartisan, nongovernmental organization working to ensure U.S. prosperity. Mr. Holliday is a founding member of the International Business Council and a member of the National Academy of Engineering. He also previously served as chairman of the following organizations: the Business Roundtable's Task Force for Environment, Technology and Economy, the World Business Council for Sustainable Development, the Business Council, and the Society of Chemical Industry - American Section.

Mr. Holliday has served on and chaired several Academy committees including the Committee on Research Universities, Committee on America's Climate Choices, Committee on Prospering in the Global Economy of the 21st Century, and the Roundtable on Scientific Communication, and National Security. He is chair of the National Academy of Engineering Council.

He received a BS in industrial engineering from the University of Tennessee and honorary doctorates from Polytechnic University in Brooklyn, New York, and Washington College in Chestertown, Maryland.


Dr. Jerome Apt
Carnegie Mellon University
View Bio | Hide Bio

Jay Apt is a Professor at Carnegie Mellon's Tepper School of Business and in the CMU Department of Engineering and Public Policy. He is the Director of the Carnegie Mellon Electricity Industry Center and Director of the RenewElec (renewable electricity) project. He has authored over 80 papers in peer-reviewed scientific journals. He has published op-ed pieces in the Wall Street Journal, the New York Times and the Washington Post. His recent publications have addressed the economics of wind, solar, and hybrid solar-fossil power generation.

Prior to his work at Carnegie Mellon, he was a planetary astronomer at the Jet Propulsion Laboratory, a NASA astronaut on four Space Shuttle Missions, Director of the Carnegie Museum of Natural History, and Managing Director and Chief Technology Officer of iNetworks LLC Venture Capital. Dr. Apt received the Metcalf Lifetime Achievement Award for significant contributions to engineering in 2002 and the National Aeronautics and Space Administration's Distinguished Service Medal in 1997. Dr. Apt has served on two Academy committees: the Committee on the Rationale and Goals of the U.S. Civil Space Program and the Panel on Earth Science Applications and Societal Needs.

He received an AB from Harvard College in 1971 and a Ph.D. in experimental atomic physics from the Massachusetts Institute of Technology in 1976.


Ms. Frances Beinecke
Natural Resources Defense Council
View Bio | Hide Bio

Frances Beinecke is the president of National Resource Defense Council (NRDC), one of the United States' most influential environmental action groups, which uses law and science to advance solutions to the nation's environmental challenges. Under Ms. Beinecke's leadership, the organization has focused on establishing a clean energy future that curbs climate change, revives the world's oceans, defends endangered wildlife and wild places, and ensures safe and sufficient water.

Ms. Beinecke has worked with NRDC for 40 years. Prior to becoming the president in 2006, she served as the organization's executive director for eight years. Under her leadership, NRDC's membership doubled and the staff has grown to more than 400. She also worked as a member of NRDC's Water & Coastal Program, protecting marine ecosystems from offshore oil and gas development and advocating for sound coastal land use.

In addition to her work at NRDC, Ms. Beinecke was appointed by President Obama to the National Commission on the BP Deepwater Horizon Oil Spill and Offshore Drilling. She has played a leadership role in several other environmental organizations and currently serves on the boards of the World Resources Institute, the Energy Future Coalition, and Conservation International's Center for Environmental Leadership in Business. She has been a member of the boards of the Wilderness Society, the China-U.S. Center for Sustainable Development, and the New York League of Conservation Voters.

Ms. Beinecke received a bachelor's degree from Yale College and a master's degree from the Yale School of Forestry and Environmental Studies. She now co-chairs the Leadership Council of the Yale School of Forestry, is a member of the Yale School of Management's Advisory Board and a former member of the Yale Corporation.

Ms. Beinecke has received the Rachel Carson Award from the National Audubon Society, the Distinguished Alumni Award from Yale School of Forestry & Environmental Studies, the Annual Conservation Award from the Adirondack Council, and the Robert Marshall Award from the Wilderness Society. She served on the Academy's Committee on Outer Continental Shelf (OCS) Safety Information from 1982 until 1984.


Ms. Nora Mead Brownell
ESPY Energy Solutions
View Bio | Hide Bio

Nora Mead Brownell is the co-founder of ESPY Energy Solutions, LLC, a women-owned business providing innovative and highly-skilled consulting services.

Prior to this, Nora Mead Brownell was nominated by President George W. Bush to the Federal Energy Regulatory Commission (FERC) on April 30, 2001. She was confirmed by the United States Senate on May 25, 2001, for a term that expired June 30, 2006.

Ms. Brownell's tenure at the FERC reflects her longstanding and unwavering commitment to fostering competitive markets to serve the public interest. She championed the development of independent transmission organizations for wholesale power, which now represent the electricity market structure serving two-thirds of the U.S. $10 trillion economy. As a leading advocate of responsive and effective independent board governance at RTOs and corporations, Ms. Brownell is a strong proponent of FERC policies that promote investment in national energy infrastructure development.

Prior to FERC, Ms. Brownell served as a member of the Pennsylvania Public Utility Commission (PUC) from 1997 to 2001. During her time at the PUC, Ms. Brownell took an active role in the rollout of electric choice in Pennsylvania. In addition to her work in establishing the framework for one of the most successful retail electric markets in the country, she actively supported Pennsylvania's pursuit of competition in the local markets for telecommunications, deployment of advanced services, enhancement of services to rural areas, protection of consumers and advancement of special services. Ms. Brownell has helped craft unique solutions to a number of these industry issues.

Prior to her appointment to the Pennsylvania Commission, she was executive director of the Regional Performing Arts Center in Philadelphia, a $200 million arts and economic development initiative. Additionally, she previously served as the senior vice president for Meridian Bancorp, Inc.'s Corporate Affairs Unit. Prior to joining Meridian in 1987, Ms. Brownell was deputy executive assistant to former Pennsylvania Governor Richard Thornburgh. Ms. Brownell is the former president of the National Association of Regulatory Utility Commissioners (NARUC).

Ms. Brownell serves on the boards of National Grid PLC, ONCOR, Spectra Energy Partners, Tangent Energy, Comverge and TerViva Bioenergy. She also serves on the advisory boards of New World Capital, and CleanHatch. Previously, Ms. Brownell served on the boards of Starwood Energy Fund, GridWise Architecture Council, Millennium Bank, Foundation of Architecture, Philadelphia Free Library and the Philadelphia Regional Performing Arts Center. In addition, Ms. Brownell has lectured at the Vermont Law School's Center for Energy and the Environment, the Michigan State University Institute of Public Utilities, the University of Idaho, and at the Wharton Energy Club, among others.

Ms. Brownell is a native of Erie, Pennsylvania and attended Syracuse University.

Mr. Paul Centolella
Analysis Group
View Bio | Hide Bio

Paul Centolella is Vice President of the Analysis Group, a role in which he advises electric utility companies on business strategy and regulatory issues including how to meet key market, investment, and operational challenges. From 2007-2012, Mr. Centolella served as a commissioner of the Public Utilities Commission of Ohio (PUCO). As PUCO Commissioner, he oversaw a broad range of utility services and pursued a regulatory strategy to take advantage of efficient power markets, advance innovation and grid modernization, improve utility asset utilization, enhance reliability, and provide customers with new tools for managing their energy needs. He has both public and private sector experience in regulation, economic and energy consulting, and public utility and environmental law. Mr. Centolella also has background working with standards development and emerging technologies.

During his 30-year career, he has performed economic assessments of energy markets for power systems operators and has analyzed policies related to energy pricing, investments, innovation, system reliability, and security. He has extensive knowledge about the design of energy and environmental markets as well as the integration of modern information and communications technology into electric power system operations. Mr. Centolella has served on a range of energy-related working groups and task forces, including the Secretary of Energy's Electricity Advisory Committee (EAC), the Electric Power Research Institute's Advisory Council, and the Smart Grid Interoperability Panel Governing Board. He is a member of the Ohio, California, and Washington State Bar Associations, the American Economic Association, and the International Association for Energy Economics.

Mr. Centolella has a BA in Economics from Oberlin College and a JD from the University of Michigan Law School.


Mr. David K. Garman
Decker, Garman, Sullivan and Associates, LLC
View Bio | Hide Bio

David Garman is a principal and managing partner in the consulting firm Decker Garman Sullivan and Associates, LLC, a company with a client base that includes Fortune 500 companies, national laboratories, universities, think tanks and "greentech" startups.

Prior to launching the consulting company, Mr. Garman was Under Secretary of the Department of Energy (2001-2007). As Under Secretary, Garman oversaw a wide spectrum of applied energy research, development and demonstration projects ranging from new types of nuclear power plants to clean coal technologies, hydrogen and fuel cell energy technologies, superconductivity, advanced vehicles and thin-film solar pv technologies, and others. Before serving as Under Secretary, he was nominated by President George W. Bush to serve as Assistant Secretary of Energy Efficiency and Renewable Energy (EERE) in 2001. EERE's $1.2 billion technology portfolio is the largest energy research, development, demonstration and deployment portfolio at the Department of Energy.

As Assistant Secretary, Mr. Garman was instrumental in the development of the FreedomCAR cooperative automotive research partnership and the President's Hydrogen Fuel Initiative. In recognition of his role, he was awarded the National Hydrogen Association's 2002 Meritorious Service Award, and the Electric Drive Vehicle Association's 2003 "E-Visionary" Award. Concurrent with his duties as Assistant Secretary, Mr. Garman also served as Chairman of the FreedomCAR Executive Steering Committee and as Chairman of the Steering Committee for the 15-nation International Partnership for a Hydrogen Economy. Mr. Garman was twice awarded the Department of Energy's highest award, the Secretary's Gold Medal.

Prior to joining the Department of Energy, Mr. Garman served in a variety of positions on the staff of two U.S. Senators and two Senate Committees during a career spanning nearly 21 years, including service on the professional staff of the Senate Select Committee on Intelligence and the Senate Committee on Energy and Natural Resources. Mr. Garman was Chief of Staff to Frank Murkowski, then Chairman of the Energy and Natural Resources Committee. In addition to his normal Senate duties, Mr. Garman represented the Senate leadership at virtually all of the major negotiations under the United Nations Framework Convention on Climate Change from 1995-2000.

Mr. Garman serves on the Advisory Council to the Electric Power Research Institute.

He holds a BA in public policy from Duke University, and an MS in environmental sciences from the Johns Hopkins University.


Mr. Clark W. Gellings
Electric Power Research Institute
View Bio | Hide Bio

Clark Gellings is a Fellow at the Electric Power Research Institute (EPRI) where he is responsible for technology strategy in areas concerning energy efficiency, demand response, renewable energy sources and other clean technologies. Mr. Gellings was named EPRI Fellow in 2009, recognizing his 28+ years of technical innovation and leadership. Mr. Gellings has made significant contributions to development demand-side management (DSM) and smart grid research, among other technical areas. He pioneered smart grid research when EPRI established its IntelliGrid research program in 1999. He has also conducted research in energy utilization, electrotechnologies, power quality, electric transportation, thermal and electrical energy storage and renewables.

Prior to his fellowship at EPRI, Mr. Gellings served in seven vice president positions at EPRI between 1982 and 2009. He has received a number of distinguished awards from various organizations including the Association of Energy Service Professionals and the South African Institute of Electrical Engineers. He was the 2003 recipient of the International Council on Large Electric Systems Attwood Award. He is a member of the University of Minnesota Technology Leadership Institute's board.

Mr. Gellings has experience serving on Academy committees. From 2009-2012, he served on the NAS Panel on Redesigning the Commercial Building and Residential Energy Consumption Surveys of the Energy Information Administration. From 2005-2009, he was a member of the Committee on Enhancing the Robustness and Resilience of Future Electrical Transmission and Distribution in the United States to Terrorist Attack.

He earned his BS in Electrical Engineering from Newark College of Engineering, then earned an MS in Mechanical Engineering from New Jersey Institute of Technology and a MS in Management Science from the Stevens Institute of Technology.


Hon. Barton J. Gordon
K&L Gates LLP
View Bio | Hide Bio

Bart Gordon joined K&L Gates as partner in the Washington, D.C. office after 26 years representing the state of Tennessee in the United States House of Representatives. During his congressional career, Mr. Gordon was known as a bipartisan leader in innovation policy in the U.S. Congress.

As the dean of Tennessee's congressional delegation, Mr. Gordon represented the Sixth District from 1985 through 2011. From 2007 through 2011, he was Chairman of the House Science and Technology Committee. As Chairman, he authored the landmark bipartisan America COMPETES Act. The law created an Advanced Research Projects Agency for Energy (ARPA-E) in the US. Department of Energy, which is tasked with leveraging talent in all sectors — from private industry, to universities, to government labs — to develop next-generation energy sources and technologies. Additionally, he led the effort to enact the Energy Independence and Security Act of 2007, which increased mileage standards, improved vehicle technology, promoted alternative energy research, and improved energy efficiency in a variety of ways.

In addition to his role on the Science and Technology Committee, Mr. Gordon was a senior member of the House Energy and Commerce Committee and served on three subcommittees: the Health Subcommittee; the Commerce, Trade, and Consumer Protection Subcommittee; and, the Communications, Technology, and the Internet Subcommittee.

Prior to his public service, Mr. Gordon was a lawyer in private practice. He earned his BS from Middle Tennessee State University and his JD from the University of Tennessee.


Dr. William W. Hogan
Harvard University
View Bio | Hide Bio

William Hogan is Raymond Plank Professor of Global Energy Policy at Harvard's Kennedy School of Government and Research Director of the Harvard Electricity Policy Group (HEPG), which is exploring the issues involved in the transition to a more competitive electricity market. His current research focuses on major energy industry restructuring, network pricing and access issues, market design, and energy policy in nations worldwide. Dr. Hogan has been a member of the faculty of Stanford University where he founded the Energy Modeling Forum (EMF), and he is a past president of the International Association for Energy Economics (IAEE).

Dr. Hogan has been actively engaged in the design and improvement of competitive electricity markets in many regions of the United States, as well as around the world, from England to Australia. His activities include designing the market structures and market rules by which regional transmission organizations, in various forms, coordinate bid-based markets for energy, ancillary services, and financial transmission rights. This research is also part of the larger activities on the future of energy and energy policy research at Harvard University through the Environment and Natural Resources Policy Program, Environmental Economics Program, Harvard University Center for the Environment, and the Mossavar-Rahmani Center for Business and Government.

He received his undergraduate degree from the U.S. Air Force Academy and his MBA and PhD from UCLA.


Dr. Richard K. Lester
Massachusetts Institute of Technology
View Bio | Hide Bio

Richard Lester is Japan Steel Industry Professor and Head of the Department of Nuclear Science and Engineering (NSE) at MIT, where he is also the faculty chair and founding director of the Industrial Performance Center (IPC). His research focuses on local, national, and international systems of innovation, with an emphasis on the energy and manufacturing sectors. He is also active in research and teaching on nuclear technology management, innovation, and control.

As head of NSE, Dr. Lester works with his faculty colleagues to advance the department's role at the forefront of education and research on energy and non-energy applications of nuclear science and technology. At IPC, Dr. Lester recently directed the Energy Innovation Project, a study of strategies for upgrading the U.S. energy innovation system. In the IPC's Local Innovation Systems Project, he directed an international network of researchers studying the technological transformation of industries in regional economies and the role of universities in that process.

Professor Lester's latest book, Unlocking Energy Innovation: How America Can Build a Low-Cost, Low-Carbon Energy System (MIT Press, 2012), co-authored with David Hart, proposes a new strategy for accelerating innovation in response to the worldwide insecurity over energy supplies and energy-related environmental impacts — most importantly, climate change. He is a co-author of the widely-cited MIT reports on The Future of Nuclear Power (2003) and The Future of Coal (2007), and has published many articles on the management and control of nuclear technology.

Dr. Lester earned his undergraduate degree in chemical engineering from Imperial College London and a doctorate in nuclear engineering from MIT. He has been a member of the MIT faculty since 1979. Prior to joining MIT, he was a Visiting Research Fellow in International Relations at the Rockefeller Foundation (1977-1978). He has served on the Academy's Board on Radioactive Waste Management. Currently, he is a member of the Board on Science, Technology and Economic Policy (STEP).


Mr. William Ritter
Colorado State University
View Bio | Hide Bio

Bill Ritter is founding director of the Center for the New Energy Economy (CNEE) at Colorado State University. The Center provides technical assistance to help officials create the policies and practices to facilitate America's transition to a clean-energy economy.

Mr. Ritter is a member of the board of directors of the Energy Foundation and a senior fellow and member of the board of directors of the Advanced Energy Economy Institute. Before founding CNEE, Mr. Ritter was in public service for several years. He was elected as Colorado's 41st governor in 2006. During his four-year term, he helped Colorado become a leader in clean energy by building a new energy economy. He enacted a business development and job creation agenda, focused on knowledge-based industries: energy, aerospace, biosciences, information technology, and tourism. Before his election in 2006, he served as District Attorney for Denver and prior to that was in the U.S. Attorney's office.

He has a BA in Political Science from Colorado State University (1978) and a law degree from the University of Colorado (1981).


Mr. James Rogers
Duke Energy Corporation
View Bio | Hide Bio

Jim Rogers serves as chairman, president and chief executive officer for Duke Energy. Mr. Rogers is serving in his 25th year as a CEO in the utility industry and plans to retire by the end of 2013. He became president and CEO of Duke Energy following the merger between Duke Energy and Cinergy in 2006. Before the merger, he served as Cinergy's chairman and CEO for more than 11 years. Prior to the formation of Cinergy, beginning in 1988, he was the chairman, president and CEO of PSI Energy.

Mr. Rogers has served as deputy general counsel for litigation and enforcement for the Federal Energy Regulatory Commission (FERC); executive vice president of interstate pipelines for the Enron Gas Pipeline Group; and as a partner in the Washington, D.C., law office of Akin Gump Strauss Hauer & Feld. Prior to those appointments, Mr. Rogers served as assistant to the chief trial counsel at FERC; a law clerk for the Supreme Court of Kentucky; and assistant attorney general for the Commonwealth of Kentucky, where he advocated for the state's consumers in gas, electric and telephone rate cases.

Mr. Rogers has advocated investing in energy efficiency, modernizing the electric infrastructure, and pursuing advanced technologies and nuclear energy to grow the economy and transition to a low-carbon economy. He serves as vice chairman of the World Business Council for Sustainable Development.

Mr. Rogers was chairman of the Edison Electric Institute (EEI) when it changed its position to support federal climate change legislation in 2007 and now serves on the executive committee of EEI. He was also the founding chairman of the Institute for Electric Efficiency, former co-chair and current board member of the Alliance to Save Energy, and past co-chair of the National Action Plan for Energy Efficiency. He serves on the boards of directors of the Institute of Nuclear Power Operations and the World Association of Nuclear Operators. Mr. Rogers also serves on the boards of the Aspen Institute, Brookings Institution, and Duke University's Nicholas Institute for Environmental Policy Solutions and is a lifetime member of the Council on Foreign Relations.

In the course of his career, Mr. Rogers has served on the boards of directors of eight Fortune 500 companies and is currently a director of Cigna Corp. and Applied Materials Inc. Mr. Rogers was the 2013 recipient of the United States Energy Association Award, given in recognition of leadership and contributions to the global understanding of energy issues. In 2010, the World Affairs Council of Charlotte honored Mr. Rogers with its World Citizen Award for his efforts to raise the profile of both Duke Energy and Charlotte on the international stage. He was honored with EnergyBiz magazine's CEO of the Year Award and inducted into the inaugural Energy Efficiency Forum Hall of Fame by the U.S. Energy Association and Johnson Controls Inc.

Mr. Rogers earned a BA in Business Administration and a Juris Doctor from the University of Kentucky.


Mr. Theodore Roosevelt, IV
Barclays Capital
View Bio | Hide Bio

Theodore Roosevelt IV is Managing Director of Investment Banking at Barclays Capital. He currently serves as Chairman of the firm's Clean Tech Initiative. Mr. Roosevelt joined Barclays Capital when it acquired the North American assets of Lehman Brothers in September 2008. Prior to joining Barclay, he was Managing Director at Lehman Brothers. He joined Lehman in 1972 as a general banker in domestic corporate finance. In 1977, following Lehman Brothers' merger with Kuhn Loeb, he was assigned to the International Department and also worked in the firm's Government Advisory Group. He was appointed manager of the Short and Medium Term Corporate Finance Department in 1985 and, by 1991, Mr. Roosevelt was asked to focus on the development of the firm's international business. He was elected Chairman of the Board of Directors of Lehman Brothers Financial Products Inc. in 1994, and Chairman of the Board of Directors of Lehman Brothers Derivative Products Inc. in 1998. In February 2007, he was appointed Chairman of Lehman Brothers' Council on Climate Change.

Mr. Roosevelt is an active conservationist. He is Chair of the Pew Center for Global Climate Change, a member of the Governing Council of the Wilderness Society, and a trustee for the American Museum of Natural History, the World Resources Institute, and the Alliance for Climate Protection. Mr. Roosevelt is Board Chair of the Center for Climate and Energy Solutions and a Co-Vice Chair of The Climate Reality Project. He is a member of the Council on Foreign Relations, the Economic Club of New York, and a Governor of the Foreign Policy Association. He was appointed by Governor Pataki to the New York State, Recreation and Historic Preservation Commission for the City of New York and the Hudson River Park Trust.

Mr. Roosevelt earned his AB from Harvard in 1965 and his MBA in 1972 from Harvard Business School.


Mr. Peter Rothstein
New England Clean Energy Council
View Bio | Hide Bio

Mr. Rothstein is President of the New England Clean Energy Council and has many years of venture, entrepreneurial, executive and deal experience across the cleantech venture market. The New England Clean Energy Council is a non-profit trade association with 300 clean energy member and affiliate companies focused on accelerating the region's clean energy economy. He is co-founder of Advanced Energy Economy (AEE), a national advanced energy business group, and was the interim executive leading AEE during startup in 2011. Since 2010, he has been a board member of Cleantech Open and an Implementation Advisory Board Member of the Global Warming Solutions Act (led by Commonwealth of Massachusetts Executive Office of Energy and Environmental Affairs).

Previously, Mr. Rothstein was part of the Flagship Ventures team, a leading seed and early stage venture capital firm in Cambridge, Massachusetts, that focuses on cleantech, materials, sustainability investments, among other areas. He is founder of Allegro Strategy, a consultant advisor and interim executive with early-stage cleantech start-ups. Mr. Rothstein has been in early-stage deal or executive roles with a number of cleantech companies, including Mascoma, Planar Energy Devices, Ze-gen, Novomer, Boston-Power, and Mechanology. He is actively involved in a range of leading cleantech and entrepreneurial organizations, including the National Renewable Energy Lab's VC Advisory Board and adviser to the MIT Deshpande Center regarding solar and energy storage projects.

Mr. Rothstein earned his BA in Environmental Design from Clark University in 1976 and his MS in Management (with concentrations in Economics and Applied Finance) from MIT Sloan School in 1983.


Mr. Gary Roughead
Stanford University
View Bio | Hide Bio

Admiral Gary Roughead is a retired U.S. Navy Commander and former Commandant of the U.S. Naval Academy. He is currently an Annenberg Distinguished Visiting Fellow at Stanford University's Hoover Institution. Admiral Roughead served several years in various posts in the U.S. Navy. In 2007, he became the twenty-ninth chief of naval operations after holding six operational commands. He is one of only two officers in the navy's history to have commanded both the Atlantic and Pacific fleets. Admiral Roughead served as Chief of Naval Operations from 2007-2011.

The Department of Defense is the largest consumer of energy in the world. During his time in the Navy, Admiral Roughead identified energy policy as a national security priority and established the framework for the Navy's current energy strategy. He was instrumental in directing the Navy's investigation of climate change and renewable energy. Admiral Roughead also played a key role in assessing whether government procurement (FAR) rules and regulations acted as a barrier on deployment.

In 2011, Admiral Roughead became a member of the Defense Policy Board Advisory Committee with the U.S. Department of Defense. He is also Director of Northrop Grumman Corporation's Board of Directors. Admiral Roughead's awards include the Defense Distinguished Service Medal, Navy Distinguished Service Medal, Defense Superior Service Medal, Legion of Merit, Meritorious Service Medal, Navy and Marine Corps Commendation Medal, Navy and Marine Corps Achievement Medal, and various unit and service awards.

Admiral Roughead earned his BS from the Naval Academy in 1973.


Dr. Maxine L. Savitz
Honeywell Inc. [Retired]
View Bio | Hide Bio

Maxine L. Savitz is the retired general manager for Technology Partnerships at Honeywell, Inc., (formerly AlliedSignal) and previously, was the general manager of AlliedSignal Ceramics Components. Dr. Savitz was employed at the U.S. Department of Energy (DOE) and its predecessor agencies from 1974 to1983 and served as Deputy Assistant Secretary for Conservation.

Dr. Savitz has served on several Academy committees including: the Committee to Evaluate Energy-Efficiency and Sustainability Standards Used by the DOD for Military Construction and Repair; Committee on Assessment of Solid State Lighting; Board on Energy and Environmental Systems; Committee for America's Energy Future; Panel on Energy Efficiency (vice-chair); Panel on Redesigning the Commercial Building and Residential Energy Consumption Surveys of the Energy Information Administration; Committee on Review of the Quality of the Management and of the Science and Engineering Research at DOE's National Security Laboratories - Phase 1; Committee on Prospective Benefits of DOE's Energy Efficiency and Fossil Energy R&D Programs, Phase 1 and 2 (chair); Panel on Benefits of Lighting R&D (chair); Committee on Alternatives and Strategies for Future Hydrogen Production and Use; Committee on Benefits of DOE's R&D on Energy Efficiency and Fossil Energy; Charles Stark Draper Prize Committee (chair, vice chair, and member); among others.

Dr. Savitz serves on the board of the American Council for an Energy Efficient Economy and on advisory bodies for Pacific Northwest National Laboratory, Sandia National Laboratories, and Jet Propulsion Laboratory. She serves on the MIT visiting committee for sponsored research activities. In 2009, Dr. Savitz was appointed to the President's Council of Advisors for Science and Technology. She is a fellow of the California Council on Science and Technology. Past board memberships include the National Science Board, Secretary of Energy Advisory Board, Defense Science Board, Electric Power Research Institute (EPRI), Draper Laboratories, and the Energy Foundation.

Dr. Savitz's awards and honors include the Orton Memorial Lecturer Award (American Ceramic Society) in 1998; the DOE Outstanding Service Medal in 1981; the President's Meritorious Rank Award in 1980; recognition by the Engineering News Record for Contribution to Construction Industry in 1979 and 1975; and the MERDC Commander Award for Scientific Excellence in 1967. She is the author of about 20 publications.

Dr. Savitz earned a PhD from MIT in Organic Chemistry in 1961.


Dr. Mark Williams
Shell International
View Bio | Hide Bio

Mark Williams served as Member of the Executive Committee and Downstream Director of Royal Dutch Shell Plc from 2009-2013. He has previously held the positions of Executive Vice President, Supply and Distribution, Executive Vice President, Global Businesses, and Vice President of Strategy, Portfolio and Environment.

Williams joined Shell in 1979 as a research physicist for Shell Oil Exploration & Production in the United States. He served as Engineering Manager for Shell Offshore Inc., Operations Manager for Shell Western EP Inc, Head of EP Staff Planning, and Head of Downstream Strategy for Shell Oil Co, and CEO and Chairman of Equilon Pipeline Co LLC, a Shell and Texaco joint venture. He also served as the Chairman of the Executive Committee of the Athabasca Oil Sands Project, Chairman of Motiva Enterprises LLC, and Chairman of the Downstream Committee of the American Petroleum Institute.

He is currently Chairman of the Board of Hess Corporation. He is a Member of the Board of Visitors McDonald Observatory, University of Texas, and a Trustee of Carleton College.

Williams holds a M.Sc in theoretical physics from Oxford University and a Ph.D is physics from Stanford University.

---
Project Staff

Study Director
Paul Beaton (Email)


---
Sponsor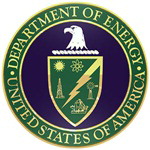 Department of Energy