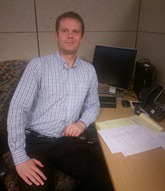 Erik Saari
Senior Program Assistant
Board on Science, Technology, and Economic Policy
National Academies of Sciences, Engineering and Medicine

Erik Saari is a Senior Program Assistant with the Board on Science, Technology, and Economic Policy. He joined STEP in 2016, and has since provided administrative support to projects on clean energy technology and innovation.

Before joining STEP, Erik worked as a contractor at the Academies with the Nuclear and Radiation Studies Board and the Board on Health Sciences Policy. He has also previously worked at the Inter-American Development Bank, the U.S. Coast Guard, and Columbia University, and interned with the German Marshall Fund of the United States and the Woodrow Wilson International Center for Scholars.

Erik holds a B.A. in Regional Studies: East/Central Europe from Columbia University and an M.A. in European Studies from the Jagiellonian University in Poland.