Astronomy and Astrophysics Decadal Survey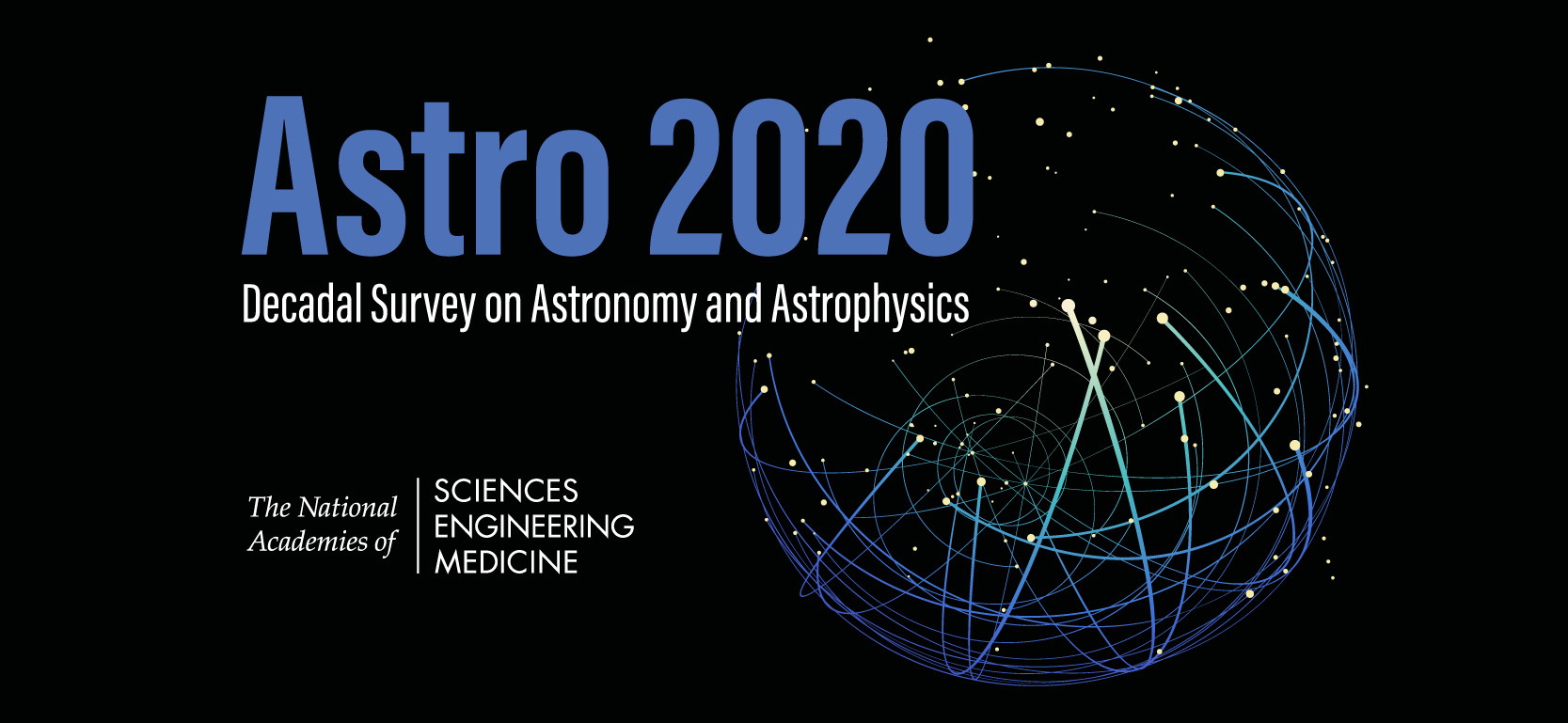 The 2020-2030 Astronomy and Astrophysics Decadal Survey (Astro2020) is a partnership between the National Academies and the astronomical community to survey the field of astronomy and astrophysics and provide priorities for the most important scientific and technical activities of the decade 2020-2030. It serves as a guide for scientists, policy makers, and agencies alike invested in the astronomical sciences. The survey is driven by input from the scientific community and led by a survey committee.

Project Information
If anyone from the research community has comments or questions related to the study, you may send a message to astro2020@nas.edu.


---
The astronomy and astrophysics decadal survey is a large and influential study run jointly between the Board of Physics and Astronomy and the Space Studies Board of the National Academies. The institutional goal of a decadal survey is to consider the past and current research of the field and provide consensus recommendations for the direction of the field over the next decade. These recommendations are made by a survey committee who are directed by the statement of task and informed by community input. Since the first decadal survey in 1964, the decadal survey committee has been charged with surveying the field of astronomy and astrophysics and determining and prioritizing the most important scientific and technological activities for the next decade. The impact of this survey is widespread as it is a useful resource for agencies supporting the field of astronomy and astrophysics, the Congressional committees with jurisdiction over those agencies, the scientific community, and the public. Six surveys have been executed and the community, federal agencies, and National Academies are preparing for the next decadal survey: Astro2020.

Timeline
-- 2018 January AAS Town Hall
– 2018 March Astro 2020 proposal submitted to Agencies
– Summer/Fall: Science White Paper call issued
– 2018 ≤ December Chair selected
– 2019 January AAS Town Hall and other community outreach activities
It will take ~2 years to complete the survey process and release the report.

Statement of Task
The Statement of Task is being negotiated by the Academies and the potential sponsors of the survey. Once the project is funded the Task will be posted here.

Structure
The survey's structure will be determined by the Survey Committee after it is appointed.

Committee Members
Members of the survey committee will be appointed after funding from the sponsors is received. The appointment of the membership of the subpanels will occur after that.

All Meetings and Outreach Events

Upcoming
Past

The call for science white papers is expected to be isued in late summer 2018/early fall 2018 and will close near the end of 2018. Community input is essential to process. Community input will be solicited and accepted via white papers, presentations to the survey committee and subpanels, public comments, and more.
Publications and Dissemination

Once products of the survey become available they will be placed here.