The National Academies' Standing Committee on Advancing Science Communication Research and Practice will bring together science communication practitioners and researchers who span a range of disciplines and expertise across sectors such as health, education, and the environment. Engaging broad networks of stakeholders, they will work to advance the field of science communication around three goals: 1) building a more coherent knowledge base about approaches to communicating science; 2) making it easier for science communication practitioners to access, interpret and use research to inform their practice; and 3) supporting individuals and organizations in communicating science outside the scientific enterprise.



Committee Members

Biographies

Dietram Scheufele (Co-chair), Department of Life Sciences Communication, University of Wisconsin-Madison
Ann Bartuska (Co-chair), Land, Water, and Nature Program, Resources for the Future
Angela Bednarek, Pew Charitable Trust
Georges Benjamin (NAM), American Public Health Association
Cynthia E. Coburn, School of Education and Social Policy, Northwestern University
James Druckman, Institute for Policy Research, Northwestern University
Kirsten Ellenbogen, Great Lakes Science Center, Cleveland, OH
John Gastil, McCourtney Institute for Democracy, Pennsylvania State University
William Hallman, Bloustein School Planning and Public Policy, Rutgers University
Laura Helmuth, National Health, Science, and Environment Editor, Washington Post
Ellen Konar, Science Advisor, Lean In, Palo Alto, CA
David Lazer, Network Science Institute, Northeastern University
Elizabeth Loftus (NAS), Departments of Psychology and Social Behavior, and Criminology, Law & Society,
University of California, Irvine
Annelie Ramirez, Institute for Health Promotion Research, University of Texas, San Antonio
Kasisomayajula "Vish" Viswanath, Harvard T H Chan School of Public Health and Dana-Farber Cancer Institute
Itzhak Yanovitzky, School of Communication and Information, Rutgers University

---
Related Reports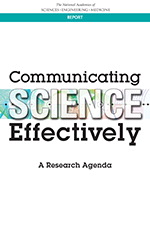 Communicating Science Effectively: A Research Agenda (2017)

This consensus report points to cross-cutting themes for scientists and science communicators to consider in their work, as well as major challenges that should be studied to make science communication more effective. This research agenda should be pursued not only by researchers in academic settings but by researchers and practitioners embedded in various organizations that communicate science.

Upcoming Events


---

Alfred P. Sloan Foundation
Kavli Foundation
Rita Allen Foundation
Science Sandbox - Simons Foundation
National Academy of Sciences W.K. Kellogg Fund
National Academy of Sciences Mellon Fund

---