IIASA Young Scientists Summer Program (YSSP): Application Deadline - January 12, 2015
Each summer, IIASA hosts a selected group of graduate students, primarily doctoral, from around the world in its Young Scientists Summer Program (YSSP). Participants are able to develop and expand their research topics and partake in a worldwide network of specialists with broad interdisciplinary and cross-cultural perspectives. Since the program's conception in 1977, more than 1400 participants from over 70 countries have collaborated with IIASA researchers and engaged in scientific research of regional and global importance.
The 2015 program will be held June 1 - August 31, 2015. Only complete applications received by January 12, 2015 will be considered. More details can be found on IIASA's website.
IIASA is known for its interdisciplinary research, combining natural and social sciences with integrated assessment techniques and advanced mathematical methodologies, with a goal of providing policy insight on issues of regional and global importance in the following fields:
GLOBAL PROBLEM AREAS: Energy and Climate Change, Food and Water, and Poverty and Equity

PROGRAM AREAS: Energy, Transitions to New Technologies, Advanced Systems Analysis, Ecosystem Services and Management, Mitigation of Air Pollution and Greenhouse Gases, Evolution and Ecology, World Population, Risk Policy and Vulnerability, and Water
For the summer of 2014, eleven graduate students from U.S. institutions were selected to take part in the YSSP.?


2014 YSSP Participants and Program Areas
Robert Barron, University of Massachusetts: Energy
Etienne Fluet-Chouinard, University of Madison-Wisconsin: Water
Guilherme De Paula, Yale University: Transitions to New Technologies
Margaret Garcia, Tufts University: Risk Policy and Vulnerability
Jessica Gephart, University of Virginia: Evolution and Ecology
Danielle Haak, University of Nebraska-Lincoln: Advanced Systems Analysis
Jon Nordling, University of Maryland: Ecosystems Services and Management
Adriana Reyes, The Pennsylvania State University: World Population
Thanicha Ruangmas, University of Wisconsin-Madison: Mitigation of Air Pollution and Greenhouse Gases
Daniel Suarez, University of California-Berkeley: Risk Policy and Vulnerability
Jie Zhang, University of Maryland: Ecosystems Services and Management
In addition to the YSSP, the Southern African Young Scientists Summer Program (SA-YSSP), is a three-month program for talented young researchers to work with scientists from South Africa and IIASA. PhD students from South Africa, sub-Saharan African countries, and other IIASA member countries are eligible to apply. Last year's SA-YSSP included two U.S. participants: Simon Nampindo from the University of Massachusetts and Nathaniel Tindall from the Georgia Institute of Technology.


U.S.-IIASA Fact Sheet
Interested in learning more about the research collaborations between the United States and IIASA? IIASA participates in more activities related to the U.S. than with any of its other member countries. To learn more about these collaborations and connections, please consult the U.S.-IIASA Fact Sheet (PDF).


Simon Levin: November 2014 - IIASA Public Lecture
Simon Levin, former IIASA Council Chair and former USNMO/IIASA Chair, has won numerous awards for his interdisciplinary research in environmental sciences, economics, and evolutionary biology. On November 10, the Princeton University professor gave a public lecture at IIASA, at which he was named an IIASA Distinguished Visiting Fellow. To watch the full one hour nine minute lecture, please click here or the below video image.




USNMO/IIASA Chair Don Saari Has Become IIASA Governing Council's Chairman
USNMO/IIASA Chair Don Saari has become the Chairman of IIASA's governing Council. This new role, initially until the end of 2018, will complement his positions as Distinguished Professor of Mathematics and of Economics at the University of California, Irvine, where he also directs the Institute for Mathematical Behavioral Sciences. Dr. Saari's international experience will be of great benefit as he works with the 22 national members that make up IIASA's governing Council. As well as being a member of the National Academy of Sciences, Dr. Saari is also a fellow of the American Academy of Arts and Sciences and a foreign member of the Finnish Academy of Science and Letters. For more information, please consult the IIASA website.


Mexico Joins IIASA
On June 16, 2014, IIASA announced that Mexico had become its newest member country. The newly formed Mexican National Committee for IIASA, which includes the Mexican National Council for Science and Technology (CONACYT) and the National Institute of Statistics and Geography (INEGI), will serve as Mexico's National Member Organization (NMO) to IIASA. It will join 21 other national science organizations that fund and govern IIASA. More information can be found on IIASA's website.


IIASA Research Contributions to IPCC 5th Assessment Report
IIASA researchers were major contributors to the third part of the Intergovernmental Panel on Climate Change (IPCC)'s 5th Assessment Report, "Mitigation of Climate Change," which was released on April 13, 2014. Fifteen IIASA researchers served as authors and reviewers of the Working Group III report, including IIASA's Deputy Director Nebojsa Nakicenovic, who served as a lead author. In addition to this extensive involvement by its researchers, IIASA also serves as the repository for two IPCC databases: the IPCC Scenarios database and for the historical database on energy and emissions. For more details, please visit the IIASA website.

IIASA's Postdoctoral Fellowship Program: Next Review Deadline - April 1, 2015
IIASA's Postdoctoral Fellowship Program is an annual program that provides funding for several postdoctoral researchers for a 12-24 month period. Applications are accepted all year round, with the next review deadline as April 1, 2015. Application details can be found on IIASA's website.
The program serves to:
Encourage and promote the development of young researchers.
Offer young researchers the opportunity to further their careers by gaining hands-on professional research experience in a highly international scientific environment.
Enrich IIASA's intellectual environment and help achieve research program goals.
Successful candidates are expected to conduct their own research within one of IIASA's research programs or special projects on topics related to IIASA's agenda.

U.S. NMO Collaborates with the Russian NMO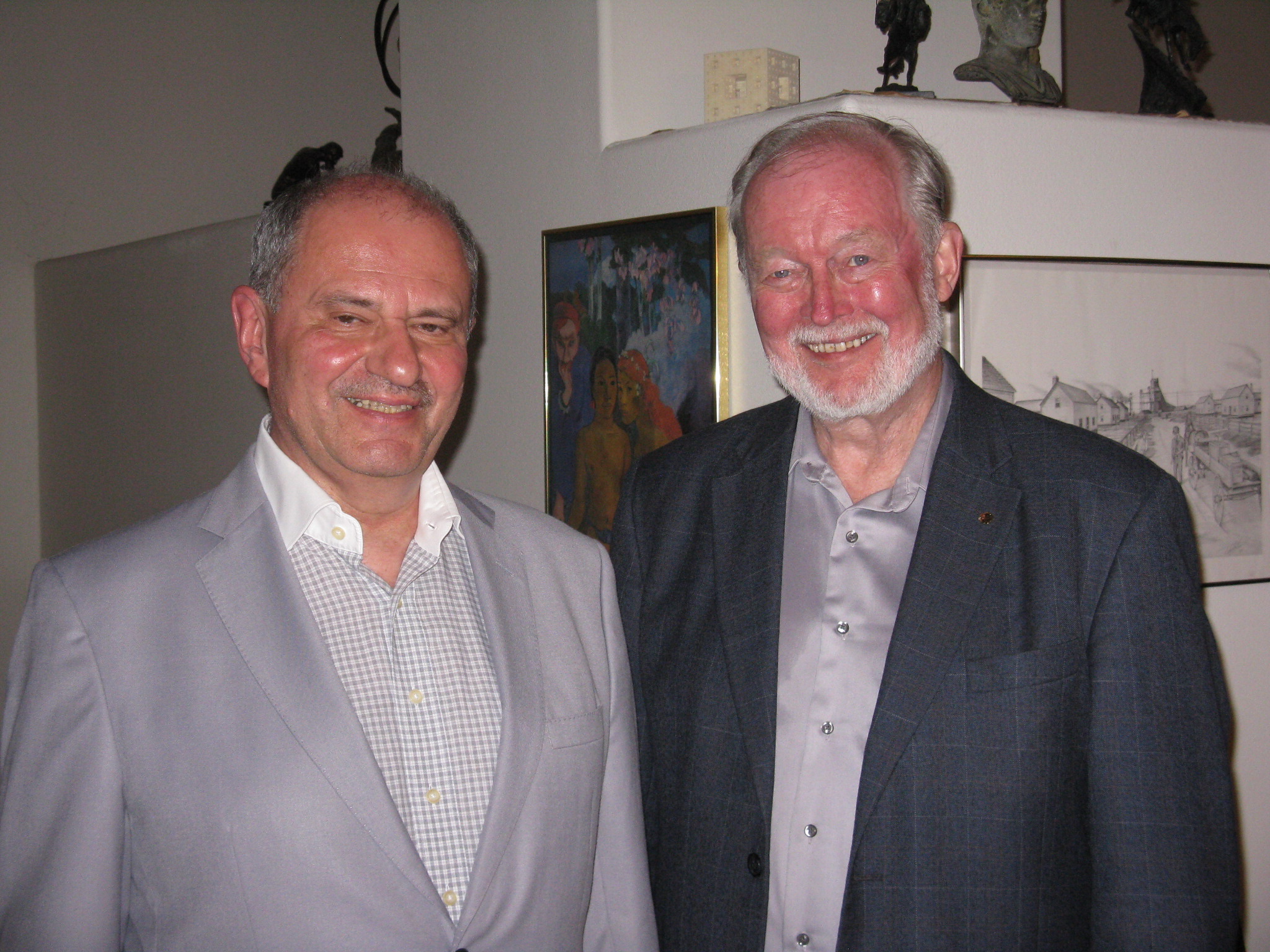 The U.S. NMO is working closely with the Russian NMO to foster international research collaborations between the two countries. In April 2013, Alexey Gvishiani, the Russian NMO Deputy-Chair, visited California to meet with Don Saari and representatives from the U.S. NMO. In June, Don Saari and Simon Levin, the former U.S. NMO Chair, visited Russia and met with the Russian NMO. A number of complex, global systems problems were discussed that are of interest to the two NMOs. These include the Eurasian economic space project being explored by IIASA and the Russian NMO, and systems analysis of global health and infectious disease questions. A number of options are currently being pursued.



Worlds Within Reach: From Science to Policy
IIASA's 40th Anniversary Conference was held October 24-26, 2012 at the Hofburg Congress Center in Laxenburg, Austria. The conference examined the many sustainability and development challenges such transformations impose and explore options for resolving them. It explored new 'future worlds': Worlds that accommodate our collective needs and aspirations, while living within, and respecting, planetary boundaries. For more information on the conference please visit the 40th Anniversary Conference website.



Global Energy Assessment




IIASA launched its

Global Energy Assessment

(GEA) at Rio+20 in 2012. The GEA involved 500 scientists, energy experts, and policymakers from all regions of the world. This important assessment outlines a range of viable sustainable development pathways, and strategies and policies that support the attainment of GEA objectives, including the UN SE4All goals.

Climate Policies Can Resolve Energy and Air Pollution Challenges


Policies to protect the global climate offer the most effective entry point for achieving energy sustainability, simultaneously reducing air pollution and improving energy security. By integrating climate and energy policies, major synergies and cost co-benefits can be realized. The findings are published in Nature Climate Change, in a commentary authored by IIASA's David McCollum, Volker Krey, and Keywan Riahi. More.


World Energy Outlook 2012 Air Pollutants Scenarios


IIASA researchers contributed to the International Energy Agency's World Energy Outlook 2012 with an assessment of global emissions of major air pollutants under three different scenarios. IIASA's report, based on the GAINS model, projects emissions to 2035 for 25 regions and demonstrates the synergies between climate change and air pollution control policies.


Feasible Emission Scenarios to Limit Temperature Rise


A comprehensive re-analysis of GHG emission pathways finds that in scenarios that limit temperature change to below 2°C, emissions peak before 2020 then fall to 41-46 GtC and continue to fall. Global emissions are currently 48 GtC and rising. The study, co-authored by IIASA's Keywan Riahi and published in Nature Climate Change 23 October 2011, aims to inform the identification of short-term emission targets compatible with the 2°C limit.

Education - A Key Determinant of Population Growth and Well-being


Future trends in global population growth could be significantly affected by improvements in both the quality and quantity of education, particularly female education. Projections of future population trends that do not explicitly include education in their analysis may be flawed, according to research by IIASA's Wolfgang Lutz and Samir K.C. published in Science (29 July 2012). More.