The U.S. National Committee for the International Union for Quaternary Research (USNC/INQUA) represents the interests of the U.S. Quaternary community in INQUA, advances Quaternary research both in the United States and abroad, and formally represents the United States in INQUA through the National Academy of Sciences (NAS), the U.S. adhering body to INQUA.

The USNC/INQUA plans and arranges for U.S. participation in INQUA congresses and programs. The INQUA congresses are held every four years and provide the only forum in which the multidisciplinary, international Quaternary research community can collaborate and exchange ideas. The committee normally holds two meetings each year, of which one is commonly in association with the meetings of the American Quaternary Association (AMQUA), the Geological Society of America (GSA), or the American Geophysical Union (AGU).

This committee has organized a series of biennial "Teaching Climate Change" teaching workshops in collaboration with On The Cutting Edge and AMQUA. The most recent workshop was held in Duluth, MN, in June 2012. This committee is also active in the organization of scientific sessions at professional society meetings with the other U.S. National Committees for Geosciences, and is very interested in supporting the development of early career Quaternary scientists through mentoring activities linked to its travel fellowship programs, and, most recently, through self-standing mentoring activities at the 2012 and 2014 AMQUA meetings.

WHAT'S NEW

2019 Dublin Bid Accepted at 2015 INQUA Congress


Once every four years, quaternary researchers from all over the world meet at the INQUA Congress to exchange the latest research results and develop agendas for the years to come. In 2015, the Congress took place in Nagoya, Japan from July 27 to August 2. The Congress program addressed the themes of the Commissions during six days of oral and poster sessions, plenary presentations, and side meetings.

The next Congress will be held in Dublin, Ireland in 2019.




23rd Biennial Meeting of the American Quaternary Association: August 7-10 in Seattle, WA
The 23rd Biennial Meeting of the American Quaternary Association (AMQUA 2014) was held August 7-10, 2014 in Seattle, WA. The meeting focused on the Quaternary geological and environmental processes that shaped the Pacific Northwest region, the animals that lived in it, and the late intrusion by humans. The meeting was hosted by the Quaternary Research Center, College of the Environment at the University of Washington. For more details, please consult the AMQUA 2014 website.

USNC/INQUA Mentoring Session for Students and Early Career Scientists: A mentoring event for early career scientists at the AMQUA meeting was held in Seattle on August 9, 2014. AMQUA generously provided the space and the lunch. This event, led by Rolfe Mandel (USNC/INQUA Chair), provided an opportunity for mentors to discuss their various career paths in different Quaternary disciplines and answer questions from early career scientists.
U.S. National Academy of Sciences, U.K. Royal Society Release Joint Publication on Climate Change
The U.S. National Academy of Sciences and the Royal Society, the national science academy of the U.K., released a joint publication that explains the clear evidence that humans are causing the climate to change, and that addresses a variety of other key questions commonly asked about climate change science. For more details and a link to the full report, please consult the
Climate Change: Evidence and Causes press release
.
PAST EVENTS
2014 AAAS Symposium - "Santa's Revenge: The Impacts of Arctic Warming on the Mid-Latitudes" - February 15, 2014
This symposium examined high-latitude changes linked to mid-latitude weather and the effect of these complex phenomena on freshwater resources, food availability, and national security. This event was spearheaded by the U.S. National Committee for Geodesy and Geophysics, and co-sponsored by the U.S. National Committees for INQUA, Soil Sciences, and Geological Sciences.
An audio file of the symposium, the presentations given by each speaker, and a more complete list of media coverage can be found on the
2014 Santa's Revenge archive page
.
Click below to see the BBC's coverage and interview with Jennifer Francis (1:51 minutes)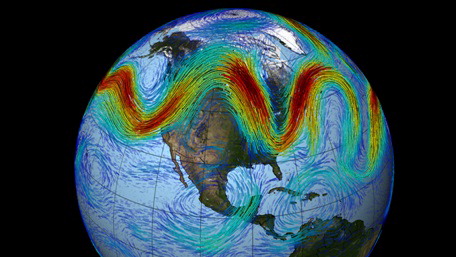 Image courtesy NASA. Original file: http://www.nasa.gov/images/content/629341main_Earth_jet_stream.jpg.
Other press from "Santa's Revenge: The Impacts of Arctic Warming on the Mid-Latitudes":

Teaching Climate Change Using Large Lakes
The 2012 teaching climate workshop was held June 19-20 in conjunction with the AMQUA Biennial Meeting. Co-sponsored by the USNC/INQUA, this workshop introduced participants to an array of data that was gathered from large lakes and used to study past climates and predict future climate changes. The workshop provided hands-on opportunities to examine cores and historic images and use public-domain databases to develop classroom teaching exercises. It also included an optional field trip that combined a tour of working core and research labs with a cruise on Lake Superior on the research vessel Blue Heron. Read the workshop overview | View the workshop program.

Workshop Conveners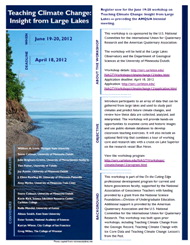 :
Steve Colman, University of Minnesota Duluth

Karin Kirk, Science Education Resource Center, Carleton College

Rolfe Mandel, University of Kansas
USNC/INQUA Chair

Alison Smith, Kent State University
USNC/INQUA Vice Chair

Ester Sztein, Board on International Scientific Organizations, National Academy of Sciences

Katryn Wiese, Department of Earth Sciences, City College of San Francisco

Greg Wiles, The College of Wooster
USNC/INQUA member

INQUA Early Career Researcher Activities
INQUA has established an Early Career Researchers Committee (INQUA ECR) to support and connect young scientists and help them to become involved in INQUA activities. From December 2nd – 6th, 2013 the inaugural INQUA Early Career Researcher inter-congress was held in Wollongong University, New South Wales, Australia. The meeting provided an avenue for MSc/PhD candidates, Post-Doctoral Researchers, and research-active academics in the early stage of their careers (within 5 years of obtaining their PhD) to attend valuable workshops designed to assist ECRs with career development, to present their science, and to gain invaluable mentoring from more senior scientists. Details can be found on the INQUA Early Career Researcher inter-congress meeting website.
To become involved in INQUA ECR, please visit and "Like" the INQUA ECR on Facebook to share links and find jobs! You can also follow INQUA ECR on Twitter through @INQUA_ECR. You may also email Jenn Marlon at jennmarlon@gmail.com for more information.


Contact the USNC/INQUA

Ester Sztein, Assistant Director
Pam Gamble, Administrative Associate
SYMPOSIA AND PRESENTATIONS
February 15, 2014 AAAS Session: "Santa's Revenge: The Impacts of Arctic Warming on the Mid-Latitudes"
---
December 12, 2013 AGU Session (PDF): "Science Diplomacy in the Geosciences"

---
February 15, 2013 AAAS Session: "U.S. Climate and Weather Extremes: Past, Present, and Future"

---
December 7, 2012 AGU Town Hall (PDF): "International Geoscience"

---
February 19, 2012 AAAS Session: "Causes and Effects of Relative Sea-Level Changes in the Northeast Pacific"

---
February 17, 2012 AAAS Session: "Toward Stabilization of Net Global Carbon Dioxide Levels"

---
February 20, 2011 AAAS Session: "The Practice of Science Diplomacy in the Earth Sciences"

---
February 19, 2010 AAAS Session: "Dust in the Earth System"

---
December 17, 2009 AGU Poster Sessions: "Extreme Natural Hazards: Risk Assessment, Forecasting, and Decision Support"

---
February 16, 2009 AAAS Session: "Global Sea Level Rise: Observation, Causes, and Prediction"

---
September 25, 2008 BISO Symposium (PDF): "Global Connections among Earth Sciences, Health, and Policy"

---
February 15, 2008 AAAS Session (PDF): "Planet Earth: Lessons Ignored, Lessons Learned"