46th World Chemistry Congress, Brazil, July 2017
Abstract submission for the 46th World Chemistry Congress will be opening this fall. The congress will be held in São Paulo, Brazil, July 9-14, 2017. The 49th IUPAC General Assembly will overlap with the congress, July 8-13. For more information, visit the Congress website.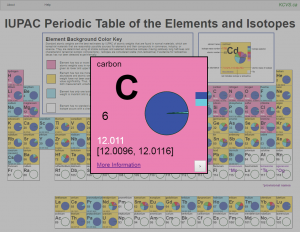 Isotopes Matter!! New Interactive Periodic Table
In partnership with researchers at the King's Centre for Visualization in Science, a team of IUPAC scientists and educators has created new IUPAC interactive electronic periodic table. The accompanying educational materials inform students and the general public about the many uses of isotopes in our lives. Following the global launch on August 17, 2016, the new IUPAC interactive electronic periodic table and accompanying resources can be accessed at www.isotopesmatter.com. A print version of the periodic table of the isotopes and elements is available at http://ciaaw.org/periodic-table-isotopes.htm. Further details will be published in the peer-reviewed IUPAC Journal, Pure and Applied Chemistry.

IUPAC Proposes Names of Four New Elements
Following review by IUPAC, the names of four new elements are open for public review and comment until 8 November 2016. The names are:

Nihonium and symbol Nh, for the element 113,
Moscovium and symbol Mc, for the element 115,
Tennessine and symbol Ts, for the element 117, and
Oganesson and symbol Og, for the element 118.

For moe information, see https://iupac.org/iupac-is-naming-the-four-new-elements-nihonium-moscovium-tennessine-and-oganesson/.

USNC/IUPAC Mourns Loss of Colleague
The USNC/IUPAC is saddened by the news that Ahmed Zewail, Nobel Laureate in Chemistry (1999) and a former IUPAC Young Observer (1981), died on August 2, 2016, at the age of 70. For more on the life and accomplishments of Dr. Zewail, please visit the American Chemical Society's Chemical & Engineering News site.

IUPAC Leaders Hold Meeting in Washington, DC
The National Academies' Keck Center hosted a meeting among IUPAC officers on Tuesday, March 29, and Wednesday, March 30, 2016. Former IUPAC President Mark Cesa welcomed recently-appointed Vice President Qi-Feng Zhou. The group was also joined by IUPAC Executive Director Lynn Soby. Over two days, they met with staff from the Board on International Scientific Organization, as well as Teresa Fryberger and Camly Tran from the Board on Chemical Sciences and Technology. They also paid a visit to the American Chemical Society, guided by ACS' Office of International Activities Director Bradley Miller.

From left to right: Xuefeng Jiang (East China Normal University), Chelsea Bock (Program Coordinator, BISO), Kathie Bailey (Director, BISO), Qi-Feng Zhou (Vice President, IUPAC), Ester Sztein (Assistant Director, BISO), and Mark Cesa (President, IUPAC)