U.S. National Committee's Young Observer Program
Established by the USNC/IUPAC in 1977 to foster interactions with internationally acclaimed scientists in various fields, the IUPAC Young Observer Program strives to introduce the work of IUPAC to a new generation of distinguished researchers and to provide an opportunity to address international scientific policy issues. The USNC holds a biennial competition to invite early career scientists to serve as United States Observers at the IUPAC World Chemistry Congress and General Assembly. Selected Young Observers may receive a fellowship grant. For more information about past Young Observer programs, please visit the Young Observer page.

The application process for the 2015 Young Observer Program is now open.

Eligibility: Open to U.S. scientists and engineers (U.S. citizens and permanent residents) under age 45 with interests and expertise related to the working groups of IUPAC. Learn more about and apply for the 2015 IUPAC Young Observer Program.

Application deadline: February 23, 2015

2015 IUPAC GA and World Chemistry Congress
IUPAC's 48th General Assembly (GA) and 45th World Chemistry Congress will be held August 6-14, 2015, in Busan, Korea. The conference will focus on "Smart Chemistry, Better Life." The events' scientific program will include 61 Symposia in 11 themes and eight plenary lectures. Abstracts are being accepted until April 30, 2015. Pre-registration is now open.

More details can be found on the General Assembly website.

2014 International Year of Crystallography
The USNC/IUPAC would like to join the USNC/IUCr in celebrating the International Year of Crystallography (IYCr2014). The United Nations has declared 2014 the International Year of Crystallography, in honor of the centennial of two groundbreaking events which marked the birth of modern crystallography. In 1912 Max von Laue showed that X-rays were diffracted by crystals, and in 1913 W. H. and W. L. Bragg demonstrated that the diffraction of X-rays can be used to determine the positions of atoms within a crystal.
The importance of crystallography for the chemistry community was recently highlighted in an article by USNC/IUPAC member Julia Chan, Jennifer Aitken, and Susan Latturner. Their article, "Celebrating Crystallography," can be found in Volume 92 of Chemical and Engineering News.





Joseph Francisco elected to the National Academy of Sciences!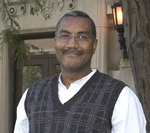 Dr. Francisco is the William E. Moore Distinguished Professor of physical chemistry at Purdue University. He is the current chair of the United States National Committee for the International Union of Pure and Applied Chemistry (USNC/IUPAC), and he has served on the committee in various capacities since 2004. His USNC/IUPAC service reflects a long commitment to fostering and participating in international science that began as a Postdoctoral Research Fellow at Cambridge University. In 2001, Dr. Francisco was selected for an Alexander von Humboldt U.S. Senior Scientist Award, and the University of Bologna, Italy, appointed him a Senior Visiting Fellow at the Institute of Advanced Studies in 2004. He is professeur invité at the Université Paris-Est, France; a visiting professor at Uppsala Universitet, Sweden; and an honorary life member of the Israel Chemical Society.

Dr. Francisco's laboratory research focuses on basic studies in spectroscopy, kinetics and photochemistry of novel transient species in the gas phase. Using a variety of high resolution laser techniques, including laser-induced fluorescence, vibrational and electronic emission, and multiphoton and UV absorption spectroscopy, his research aims to characterize the photochemical processes that free radicals undergo. He has served on a number of NRC boards and committees, including the Board on Science Education (2010-present), the Laboratory Assessments Board (2009-2012), the Committee on Communicating Chemistry in Informal Settings (2013-present), the Panel on Benchmarking the Research Competitiveness of the U.S. in Chemistry (2006-2007), and the Ford Foundation Minority Postdoctoral Review Panel on Physical Sciences, Mathematics and Engineering (1992-1995). He is a past president of the American Chemical Society (2010), past president of the National Organization of Black Chemists and Chemical Engineers (2005-2007), and a recipient of the Herbert Newby McCoy Award (2007), as well as a fellow of the American Academy of Arts and Sciences, American Association for the Advancement of Science, the American Chemical Society, and the American Physical Society. He received his Ph.D. in Chemical Physics from the Massachusetts Institute of Technology (1983).