WHAT'S NEW

IUTAM/AmeriMech Symposium to be Held in U.S. in September 2017
"Dynamics of Gravity Currents," a symposium dually sponsored by IUTAM and AmeriMech, will be hosted by University of California, Santa Barbara next year. The symposium, organized by Eckart Meiburg of UC Santa Barbara and Ben Kneller of the University of Aberdeen, is tentatively scheduled for September 25--27, 2017.

For more information about this symposium, download the complete PDF.

October 2016 Additive Manufacturing Workshop Held in China
WAM2016, short for the Workshop on Predictive Theoretical, Computational, and Experimental Approaches for Additive Manufacturing (WAM 2016), was held in Dalian, China from October 17--19, 2016. The National Natural Science Foundation of China (NSFC) and the Chinese Society of Theoretical and Applied Mechanics (CSTAM) co-sponsored the event.

The workshop is an extension of last October's "A Workshop on Predictive Theoretical and Computational Approaches for Additive Manufacturing" held in Washington, DC at the National Academies of Sciences, Engineering, and Medicine. Both workshops aimed to foster collaboration among professionals and undertake challenges within the field of additive manufacturing.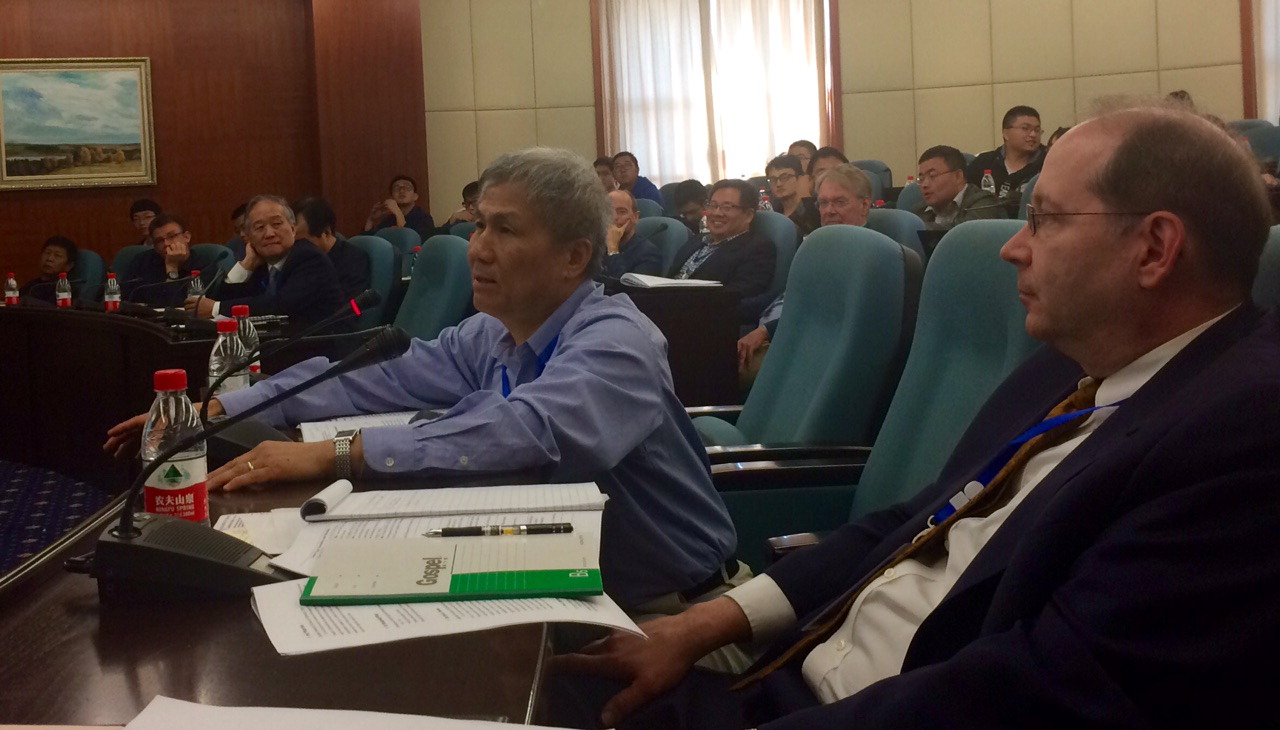 Wing Kam Liu, USNC/TAM chair and co-chair of WAM 2016, speaking at the workshop.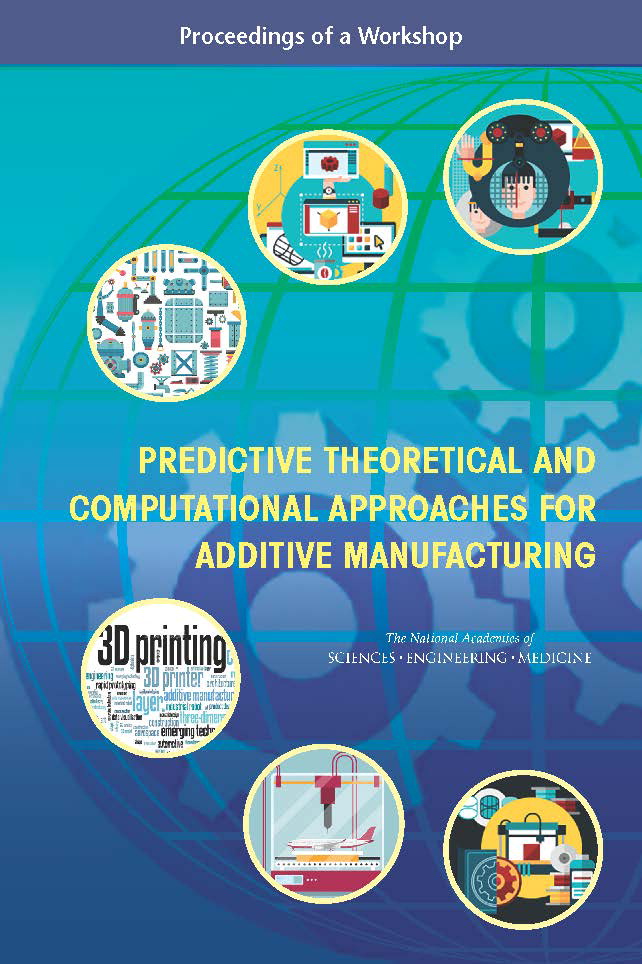 USNC/TAM Additive Manufacturing Workshop Proceedings Available
Predictive Theoretical and Computational Approaches for Additive Manufacturing: Proceedings of a Workshop is now available for download or purchase. This workshop was held at the National Academies' Keck Center in Washington, DC over three days in October 2015.


ICTAM 2016 in Montréal: August 21-26
The USNC/TAM was proud to host a Mentoring Breakfast at the 24th International Congress of Theoretical and Applied Mechanics (ICTAM 2016), held August 21-26, 2016 in Montréal, Canada. 46 early career professionals and mentors networked at the breakfast, during a session facilitated by USNC/TAM member Wendy Crone.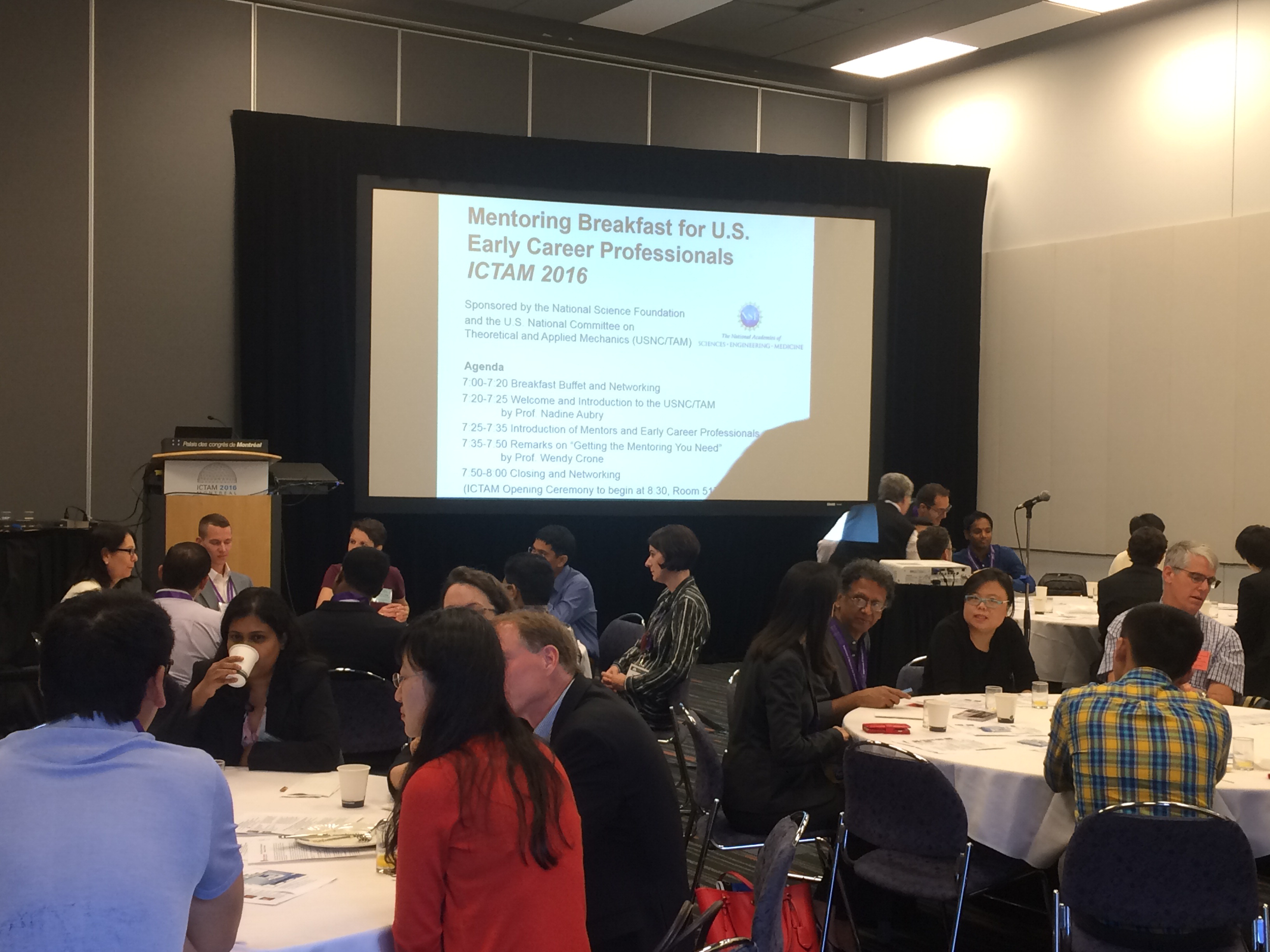 Early Careers at the USNC/TAM Mentoring Breakfast, ICTAM 2016 (click to enlarge)

Nadine Aubry of the United States was selected as the next president of IUTAM. Dr. Aubry is a current member of the USNC/TAM, and is also a Fellow of the American Physical Society (APS) and the American Society of Mechanical Engineers (ASME). She is Dean of the College of Engineering and a University Distinguished Professor at Northeastern University.

The IUTAM Bureau Prize for best lecture in Solid Mechanics by a young scientist was awarded to Professor Stavros Gaitanaros. Dr. Gaitanaros is an Assistant Professor at Johns Hopkins University in Baltimore, and was recognized for his work on the effect of polydispersity on the crushing of open-cell random foams.

IUTAM Symposia Winners Selected
The winners of 2018-2019 IUTAM Symposia were announced at ICTAM 2016 in Montreal. Here is the comprehensive list of American winners, which can also be accessed on the Symposia and Schools subpage:

IUTAM Symposium on Dynamics and Stability of Fluid Interfaces
Chair: Professor R. Narayanan, University of Florida
Place: Gainesville, Florida
Contact E-mail: ranga@ufl.edu
Date: TBD, 2018
IUTAM Symposium on Stochastic Dynamical Systems Approaches to Fluid Flow Transitions
Chair: Professor H. Dijkstra, Utrecht University
Place: Ithaca, New York
Contact E-mail: had54@cornell.edu
Date: TBD, 2018
IUTAM Symposium on Architectured Material Mechanics
Chair: Professor T. Siegmund, Purdue University
Place: Chicago, Illinois
Contact E-mail: francois.barthelat@mcgill.ca
Date: TBD, 2018
Website: https://engineering.purdue.edu/IUTAM2018AMS
IUTAM Symposium on Phase Transformation in Shape Memory Models: Modeling and Applications
Chair: Professor C. Landis, University of Texas
Place: Austin, Texas
Contact E-mail: landis@utexas.edu
Date: TBD, 2018
IUTAM Symposium on Vortex Dynamics in Science, Nature, and Technology
Chair: Professor S. Llewellyn Smith, University of California, San Diego
Place: La Jolla, California
Contact E-mail: sgls@ucsd.edu
Date: TBD, 2019
IUTAM Symposium on Viscoplastic Flows: From Theory to Application
Chair: Professor G. McKinley, MIT
Place: Cambridge, Massachusetts
Contact E-mail: gareth@mit.edu
Date: TBD, 2019

USNC/TAM Awards 20 Travel Grants for International Congress of Theoretical and Applied Mechanics (ICTAM)
The USNC/TAM awarded 20 travel grants at $1,500 each to attend the 24th International Congress of Theoretical and Applied Mechanics in Montreal, Canada, August 21--26, 2016. The USNC/TAM sponsored a mentoring breakfast at ICTAM, where each travel fellowship awardee were paired with a mentor from the USNC or a senior U.S. mechanician, and a U.S. Reception. The mentoring breakfast was open to any U.S. early career professional attending the congress.



2018 U.S. National TAM Congress


The 18th U.S. National Congress on Theoretical and Applied Mechanics will be held from June 5 to June 9, 2018 at the Hyatt Regency O'Hare in Chicago. Northwestern University is proud to host this event.

2017 USNC/TAM Annual Meeting
The next USNC/TAM meeting will be held Friday, March 24 and Saturday, March 25 at the NAS building in Washington D.C.


Download the 2016 USNC/TAM Annual Meeting Presentations


On April 22 and 23, the USNC/TAM held its 2016 meeting at the National Academies in Washington, D.C. Presentations from invited speakers are available for download here. If you are looking for the presentations from the 2015 USNC/TAM meeting, they are located here.



IUTAM Symposia and Summer Schools Selected at General Assembly


The final proposal selections for the 2018 or 2019 IUTAM Symposia or Summer School were made at the 2016 IUTAM General Assembly, held during ICTAM in Montreal (August 21--26). For more information on symposia panel members, please visit the IUTAM Symposia and Summer Schools webpage.

Four NAS Workshop Participants Discuss Additive Manufacturing
Ade Makinde (GE Global Research Center), Tahany El-Wardany (United Technologies Research Center), Peter Olmstead (Georgetown University), and Joseph Beaman (University of Texas - Austin) answer your questions on additive manufacturing in a new NAS video.





Additive Manufacturing Workshop Media Available For Download


The recent USNC/TAM-hosted Workshop on Predictive Theoretical and Computational Approaches for Additive Manufacturing was a tremendous success. The three-day workshop featured 24 presentations from speakers in academia, industry, and government labs, and the Livestream workshop broadcast has already reached over 200 live and 1,700 total viewers.

All workshop media, including session videos, meeting agenda, and presentation PDFs, are listed on the 2015 Additive Manufacturing Workshop page. Or click below to browse and view the eight session videos.

As a result of this workshop, Lyle Levine, Project Leader of Additive Manufacturing of Metals at NIST, has proposed a series of benchmark tests and an accompanying conference series. Dr. Levine's ideas for AM-Bench are loosely based upon his existing NUMISHEET benchmark test series, which has profoundly influenced the sheet metal field for over 25 years. The project, which aims to start developing AM standards, requires input from experts across the board in industry, national labs, and academia.

If you are interested in joining the planning committee, which will define the scope and organization of this series, please contact Lyle Levine at Lyle.Levine@nist.gov.

Upcoming IUTAM Symposia in the U.S.

An IUTAM symposium will be held in the United States in 2017:
"Computational Particle Mechanics in Fluid and Solid Systems," jointly sponsored by IUTAM and AmeriMech, will be held at UC Berkeley in 2017. This invitation-only workshop will feature speakers on topics such as biomedical engineering, material design, and manufacturing processes. There will be time for roundtable discussions afterward.