WHAT'S NEW

Remembering Former USNC/TAM Chair Ted Belytschko
The USNC/TAM would like to highlight the life and accomplishments of Ted Belytschko, who passed away on September 15, 2014. Dr. Belytschko provided invaluable service during his many years on the USNC/TAM, which included serving as its chair from 2004 to 2006. He was also a member of both the U.S. National Academy of Sciences and the National Academy of Engineering. More information on his academic contributions to the field of mechanical engineering can be found on the website of Northwestern University.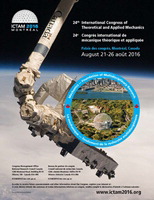 ICTAM 2016 Dates Announced: August 21-26
The USNC/TAM is pleased to announce the 24th International Congress of Theoretical and Applied Mechanics (ICTAM 2016) will be held August 21-26, 2016 in Montréal, Canada. The ICTAM 2016 poster can now be found online (PDF).


2014 IUTAM General Assembly
The 2014 IUTAM General Assembly was held August 17-20 in Copenhagen, Denmark. The General Assembly is the union's highest authority and each adhering organization has representatives with voting rights in the General Assembly. The U.S. Delegation to the General Assembly was chaired by Stelios Kyriakides and included the members Linda P. Franzoni, Huajian Gao, Carl Herakovich, and Krishnaswamy Ravi-Chandar.

Highlights of the General Assembly included:
Sixteen new IUTAM Symposia were approved for the 2016-17 period, including two from the U.S.:

Integrated Computational Material-Structure Modeling Deformation and Failure under Extreme Conditions, Somnath Ghosh, Johns Hopkins University, 2016
Computational Particle Mechanics in Fluid and Solid Systems, Tarek Zohdi, UC Berkeley, 2017

Chairs and Co-Chairs for 44 Thematic Sessions (mini-symposia on current technical subjects) were selected. U.S. scientists were selected to co-chair 30 sessions.
The number of Congress Committee Members was increased to 34, with 17 each in solids and fluids. Five new members were also selected. Seven U.S. members will serve in the Congress Committee through 2016.
For more details on the members and observers of IUTAM's General Assembly, please consult the IUTAM website. 




AmeriMech Symposia Series


AmeriMech symposia are intended to promote interactions among researchers in an area of contemporary interest in the mechanics of fluids and solids. Proposal guidelines and more details on the series can be found on the AmeriMech website and the 2014 AmeriMech overview (PDF document).


AmeriMech symposia proposals that have already been approved include:


New Report Series Launched: Recent Trends in Mechanics
The USNC/TAM has initiated a new series of periodic reports, Recent Trends in Mechanics. Report proposals are due April 15th of each year. More information on the types of reports included in the series and report proposal guidelines can be found on the Reports: Recent Trends in Mechanics website.

Recent Trends in Mechanics reports that were completed in 2013 or 2014 include:


PAST EVENTS

2013 Workshop on Mathematics of Climate Change, Related Natural Hazards and Risks
This workshop brought together about 40 young researchers, mainly from Latin America and the Caribbean, and a dozen distinguished scientists. It was jointly organized by the International Mathematical Union (IMU), the International Union of Theoretical and Applied Mechanics (IUTAM), and the International Union of Geodesy and Geophysics (IUGG). For more details, please consult the 2013 Mathematical Congress of the Americas website.


2012 International Congress on Theoretical and Applied Mechanics (ICTAM)
The 23rd ICTAM was held August 2012 in Beijing, China, featuring extensive participation by the USNC/TAM and its members. The committee also provided travel fellowships to 19 recipients, from a variety of career stages. For more details, please consult the Activities and Events website.