WHAT'S NEW

Download the 2016 USNC/TAM Annual Meeting Presentations
On April 22 and 23, the USNC/TAM held its 2016 meeting at the National Academies in Washington, D.C. Presentations from invited speakers are available for download here. If you are looking for the presentations from the 2015 USNC/TAM meeting, they are located here.

Next IUTAM Symposium to be Held in Baltimore, Maryland, June 20-22, 2016

The USNC/IUTAM and U.S. Association of Computational Mechanics are proud to sponsor "Integrated Computational Structure-Material Modeling of Deformation and Failure under Extreme Condition," an IUTAM symposium held from June 20 through June 22 in Baltimore's Inner Harbor.

The symposium, hosted by Johns Hopkins University, will support collaboration among experts in Computational and Experimental Mechanics and Materials Science. Multidisciplinary approaches to integrated modeling and simulation, characterization, and experiments to predict extreme deformation and failure in heterogeneous materials will be emphasized.

The National Science Foundation (NSF), Army Research Office (ARO), and Los Alamos National Laboratory will be financially co-sponsoring the symposium. For more information, including speaker lists and registration forms, please visit the symposium website or e-mail Ruth Hengst at ruth@usacm.org

Reminder: IUTAM Symposia and Summer Schools Deadline May 16, 2016

May 16, 2016 is the last day to submit a proposal for a 2018 or 2019 IUTAM Symposia or Summer School. All proposals must be submitted through the IUTAM website: www.iutam.org.

The final proposal selections will be made at the 2016 IUTAM General Assembly, held during ICTAM in Montreal (August 21--26). For more information on symposia panel members, please visit the IUTAM Symposia and Summer Schools webpage.

Register Now for the Workshop on Measurement Science for Directed Energy Deposition

Following the October 2015 Additive Manufacturing Workshop in Washington D.C., a Workshop on Measurement Science for Directed Energy Deposition will be held this spring, May 23--24, 2016, at the Ford Motor Company Engineering Design Center at Northwestern University. The registration form is available here.

Items to be covered include:
Critical process metrics controlling microstructural and mechanical properties for parts fabricated using the Laser Engineered Net Shaping (LENS) process
Tools developed and process insights gained through the modeling efforts that will improve product design expanding the range of capabilities of additive manufacturing equipment
Current and future needs, priorities establishment, and development of action plans to advance the capabilities for metal-based additive manufacturing by Directed Energy Deposition
The workshop is sponsored by:
National Institute for Standards & Technology (NIST)
ASM International -- The Materials Information Society
Fabricators & Manufacturers Association, International (FMA)
IMEC -- Manufacturing Improvement Specialists
Quad City Manufacturing Laboratory
Northern Illinois University (NIU)
Northwestern Initiative for Manufacturing Science and Innovation (NIMSI)
Northwestern Center for Hierarchical Materials Design ChiMaD

USNC/TAM Now Accepting Travel Grant Applications for International Congress of Theoretical and Applied Mechanics (ICTAM)

The USNC/TAM is now accepting travel grant applications to attend the 24th International Congress of Theoretical and Applied Mechanics in Montreal, Canada, August 21--26, 2016. Twenty travel grants will be awarded at $1,500 each, and the deadline to apply is April 1, 2016. The USNC/TAM subcommittee will review applications and reach a decision by April 15. Click here to submit your application.

Those who are active in mechanics in academia, government, or industry are encouraged to apply. All applicants are expected to hold a strong interest in international collaboration, have an interest in IUTAM topics and activities, and be studying at or working for a U.S. institution.

Each applicant must submit the following by April 1:

1. A cover page indicating name, address, telephone number, fax, and e-mail address of the applicant, and name and address of advisor;
2. A current Curriculum Vita for the applicant (2 pages maximum);
3. Abstract including title and authors, with applicant as presenter, submitted for presentation at the 2016 ICTAM;
4. A paragraph by the applicant describing where they are in their career and why they want to attend the Congress. Applicants must identify if they have received this fellowship in the past;
5. A statement of financial need. For students and postdocs, a letter of recommendation from the advisor detailing the group's travel funding and explaining why funds from the USNC/TAM are needed. Also, the advisor should comment on the content value of the abstract and the quality of the research.

The USNC/TAM is additionally sponsoring a mentoring breakfast, where each travel fellowship awardee will be paired with a mentor from the USNC or a senior U.S. mechanician, and a U.S. Reception.

Register Now for the ASTM/NIST Additive Manufacturing Workshop, May 4-5, 2016

Fatigue and fracture behavior of AM metals and components
Current needs, barriers, and possible solutions to achieve broader acceptance and use of AM metals in fatigue and fracture critical applications
Fatigue and fracture standards for AM
Nondestructive evaluation of AM materials and components
Online registration opens approximately eight weeks before the workshop (early-mid March) and closes April 27, 2016. Two separate registrations are necessary for Wednesday and Thursday. This workshop is free for ASTM members, and costs only a small fee ($25) for non-members.
Register for the Wednesday (May 4) session here.
Register for the Thursday (May 5) session here.

Professionals in all aspects of the AM community (industrial, academic, government, regulatory, and funding agencies) interested in these areas are welcome to attend. For more information, please contact any of the workshop's three co-chairs: Steve Daniewicz at daniewicz@me.msstate.edu, Nima Shamsaei at shamsaei@me.msstate.edu, or Nik Hrabe at nik.hrabe@nist.gov.

Four NAS Workshop Participants Discuss Additive Manufacturing

Ade Makinde (GE Global Research Center), Tahany El-Wardany (United Technologies Research Center), Peter Olmstead (Georgetown University), and Joseph Beaman (University of Texas - Austin) answer your questions on additive manufacturing in a new NAS video.





Additive Manufacturing Workshop Media Available For Download


The recent USNC/TAM-hosted Workshop on Predictive Theoretical and Computational Approaches for Additive Manufacturing was a tremendous success. The three-day workshop featured 24 presentations from speakers in academia, industry, and government labs, and the Livestream workshop broadcast has already reached over 200 live and 1,700 total viewers.

All workshop media, including session videos, meeting agenda, and presentation PDFs, are listed on the 2015 Additive Manufacturing Workshop page. Or click below to browse and view the eight session videos.

As a result of this workshop, Lyle Levine, Project Leader of Additive Manufacturing of Metals at NIST, has proposed a series of benchmark tests and an accompanying conference series. Dr. Levine's ideas for AM-Bench are loosely based upon his existing NUMISHEET benchmark test series, which has profoundly influenced the sheet metal field for over 25 years. The project, which aims to start developing AM standards, requires input from experts across the board in industry, national labs, and academia.

If you are interested in joining the planning committee, which will define the scope and organization of this series, please contact Lyle Levine at Lyle.Levine@nist.gov.

ECCOMAS Congress 2016: Minisymposium Additive Manufacturing and Optimization
The next European Congress on Computational Methods in Applied Sciences in Engineering (ECCOMAS) will be held in Crete, Greece, from June 5-10, 2016. USNC/TAM chair Wing Kam Liu, in collaboration with IUTAM members of the Executive Committee, will be hosting the minisymposium, "Additive Manufacturing and Optimization." The minisymposium will primarily focus on the application of structural optimization in additive manufacturing.

If you are interested in submitting a proposal, one-page abstracts will be accepted until November 29, 2015. Examples of potential contribution areas are listed below.
Simulation of additive manufacturing processes
Material modeling, simulation and design in multiscale and multiphysics context
Design of advanced and bioinspired composite materials
Structural optimization, in particular topology optimization
Simulation of manufacturing for smart materials, nano-structures, sensors, etc.
Remedies overcoming geometrical and mechanical manufacturing restrictions
Integration of model
More details, including instructions for abstract submission, are available on the congress website: http://www.eccomas2016.org/.

2016 USNC/TAM Annual Meeting Dates Announced
The USNC/TAM will hold their next annual meeting on April 22-23, 2016, in room 120 of the NAS building in Washington, D.C.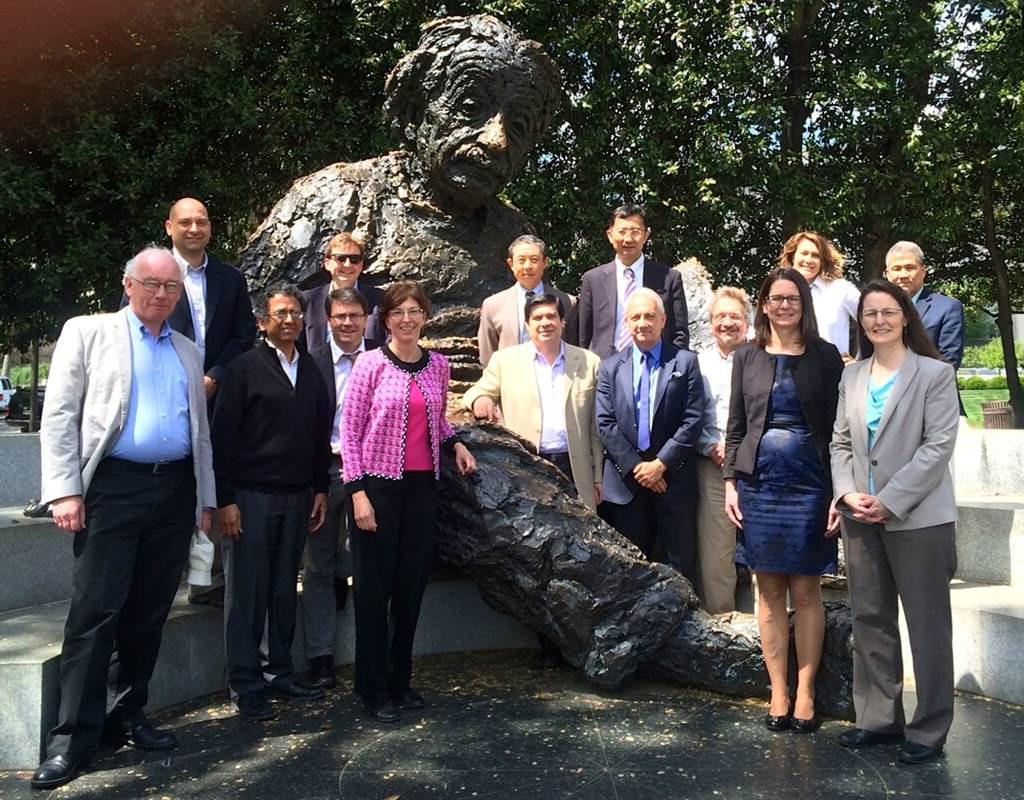 Pictured above: Members of the USNC/TAM at the Einstein Memorial, May 2015.

ICTAM 2016 Dates Announced: August 21-26
The USNC/TAM is pleased to announce the 24th International Congress of Theoretical and Applied Mechanics (ICTAM 2016) will be held August 21-26, 2016 in Montréal, Canada. The ICTAM 2016 poster can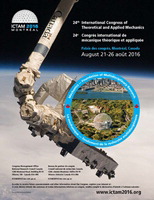 now be found online (PDF).

The venue will provide up to 1,500 slots for oral presentations and 400 for poster presentations. Participation starts with the submission of a two-page summary by January 15, 2016.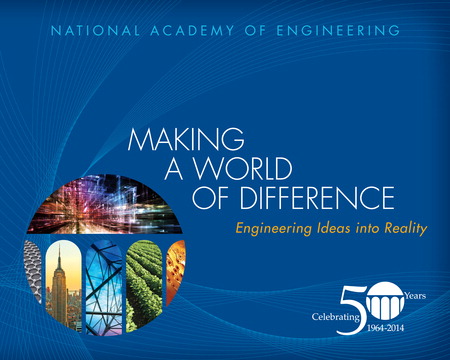 Making a World of Difference: Engineering Ideas into Reality (An NAE Report)
This 2014 report celebrates the 50th Anniversary of the National Academy of Engineering by spanning major engineering challenges and accomplishments from 1964 through the present. NAE President C.D. Mote, Jr. and Executive Officer Lance A. Davis utilized the contributions of over 25 engineering practitioners to cover an array of topics in computer science, space exploration, laser technology, and global sustainability. Download the full report PDF.

Making the Case for Engineering: Study and Recommendations (An NSF Report)
In 2004, NSF Assistant Director of Engineering John Brighton initiated a task force chaired by Ken Chong that would "make the case" for the necessity of engineering research and education in the United States. The goal of this report is to bring increased visibility to the United States' continued need for additional funding in this area, and to further inform the public on the myriad ways engineering innovations are a part of everyday life. Download the full report.
Upcoming IUTAM Symposia in the U.S.
Two IUTAM symposia will be held in the United States in 2016 and 2017:
"Integrated Computational Structure-Material Modeling of Deformation and Failure Under Extreme Conditions" will be held in Baltimore, Maryland, from June 6-8, 2016. The Whiting School of Engineering of Johns Hopkins University will host the symposium, which will consist of four thematic parts and feature speakers and panelists from academia, industry, and government laboratories.
"Computational Particle Mechanics in Fluid and Solid Systems," jointly sponsored by IUTAM and AmeriMech, will be held at UC Berkeley in 2017. This invitation-only workshop will feature speakers on topics such as biomedical engineering, material design, and manufacturing processes. There will be time for roundtable discussions afterward.
New Report Series Launched: Recent Trends in Mechanics
The USNC/TAM has initiated a new series of periodic reports, Recent Trends in Mechanics. Report proposals are due April 15th of each year. More information on the types of reports included in the series and report proposal guidelines can be found on the Reports: Recent Trends in Mechanics webpage.

Recent Trends in Mechanics reports that were completed in 2015 include: