What's New

Early Registration Open for Soil and Human Health Conference
The Conference on Connections Between Soil Health and Human Health will take place at the Doubletree Hotel in Silver Spring, MD, on October 16 and 17, 2018. Because seats at the conference are limited to 200, attendees are encouraged to register as soon as possible. The early bird registration price will increase on Friday, September 14, 2018.

To help offset travel costs, ten $1000 scholarships will be awarded to graduate students attending the conference. These scholarships are made possible by Bayer Crop Science, and applications for them will close at 11:59 p.m. EDT on Friday, August 24, 2018. Click here to apply for a scholarship.

If you would like to learn more about the conference, visit the website, or click this link to register.

Chair of USNC/Soils Joins National Academies' "New Voices" Initiative
Asmeret Asefaw Berhe is one of eighteen professionals selected for the "New Voices in Sciences, Engineering, and Medicine" inaugural cohort. This group of early career scientists will meet over the course of two years to discuss current issues of importance and attend events centered around science policy. For more information on cohort members and activities, see the New Voices press release on the National Academies website, or the UCMerced press release.

The USNC/Soils congratulates Dr. Berhe on this tremendous honor.

Congratulations to Diana Wall, New NAS Member
The U.S. National Committee for Soil Sciences extends heartfelt congratulations to Diana Wall, who became a member of the National Academy of Sciences in 2018. Dr. Wall was a founding member of the UNSC/SS and has participated in a number of committee activities over the last twenty years. Most recently, she was a presenter at the Soils: The Foundation of Life workshop in 2016.

Eighteen Travel Fellowships Awarded from the Wilford Gardner IUSS Congress Fellowship Program
Congratulations to the eighteen graduate students and researchers who have received Wilford Gardner fellowships to attend the 20th World Congress of Soil Science in Rio de Janeiro, Brazil, in August 2018. This USNC/Soils - Soil Science Society of America joint fellowship program is administered by the USNC/Soils, and funded by generous grants from the National Science Foundation, the Soil Science Society of America, and the American Society of Agronomy. We are grateful to the University of California-Merced for additional assistance. The USNC/Soils-Soil Science Society of America fellowship program is named in honor of the USNC/SS's founding chair and SSSA past-president, Wilford R. Gardner. In alphabetical order, the eighteen recipients are:

Dinesh Adhikari, University of Nevada-Reno
Diego Barcellos, University of Georgia
Aaron Betts, University of Delaware
Erin Bush, Kansas State University
Thomas Close, Massachusetts Institute of Technology
Jennifer Cooper, University of Florida
Chelsea Duball, University of Wyoming
Claire Friedrichsen, University of Florida
Aaron Joslin, University of Georgia
Kay Kastner-Wilcox, University of Florida
Kimber Moreland, University of California-Merced
Anna Paltseva, City University of New York
Joshua Sanchez, University of Delaware
Tyler Sowers, University of Delaware
Zachary Stewart, Kansas State University
Ligia Faria Tavares de Souza, University of Kansas
Adrian Wackett, University of Minnesota
Joseph (Jay) Weeks, Kansas State University

For more information about the upcoming WCSS, visit https://www.21wcss.org/.

Soils on Public Radio
IUSS President Rattan Lal appeared on a WAMU 88.5 program on Monday, December 4, 2017 to discuss soil and crop health. The complete podcast, "The Ground Beneath Our Feet," is located on the American University Radio website.
.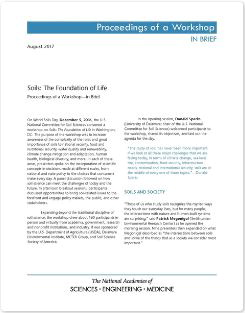 Soils: The Foundation of Life Workshop Proceedings Now Available
On December 5, 2016--World Soils Day--the Soils: The Foundation of Life Workshop was held at the Keck Center of the National Academies. This 12-page workshop-in-brief highlights presentations and discussions on areas such as soil and national security, biodiversity, and the communication of soil science. The PDF is available for download free of charge on the National Academies Press page.

Additionally, organizers Asmeret Asefaw Berhe, Ronald Amundson, and Ester Sztein composed a July 2017 article about the workshop entitled "Healthy Soils for Healthy Societies" for EoS. It is available here.

Voting for the Officers of IUSS Divisions and Commissions Now Open
Eligible society members may cast their ballots for the 2017 election of IUSS division and commission officers. Voting will remain open until December 31, 2017. Information on voting guidelines, as well as biographies for all candidates, can be found on the election subpage. For the direct link to the ballot, please e-mail either Chelsea Bock at cbock@nas.edu or Ester Sztein at esztein@nas.edu.

IUSS Celebrates International Decade of Soils -- 2015-2024
Following the highly successful International Year of Soils in 2015, the IUSS is continuing its efforts and activities as we advance toward the 2024 Centenary of the IUSS formation. For a comprehensive list of national and international soils-related events, please visit the International Decade of Soils webpage.





"Soils and Society: A Shared Future" Video Highlights Frontier Areas of Soil Science
USNC/Soils Chair Donald Sparks, along with committee members Pedro Sanchez and Diana Wall, discussed the future of soil science and its connection to society at the Soils: the Foundation of Life Workshop held December 5, 2016 at the National Academies Keck Center. Watch the video to learn more:



Media from the December 5, 2016 Soils: The Foundation of Life Workshop Now Available
Visit our workshop subpage to learn more. Additionally, Nora Goldstein, editor of BioCycle Magazine, recently published a piece on her involvement with the Soils workshop, which can be viewed here.



Two New Additions to the World Soils Book Series


Springer Publishing announces two 2017 additions to its World Soils Book Series: The Soils of the USA and The Soils of Wisconsin, both available now for purchase. All books in the World Soils series, according to the website, "summarize what is known about the soils in a particular country in a concise and highly reader-friendly way."

Soil Science Society of America Receives ASAE Award for International Year of Soils
The American Society of Association Executives (ASAE) presented the Soil Science Society of America (SSSA) with a 2016 Gold Circle Award for its promotion of the International Year of Soils. The Gold Circle awards program highlights excellence in communication among associations and non-profit groups, and recognizes talent in several categories. The SSSA was recognized for achievement in Media/Public Relations/Advocacy.

Several past and present USNC/SS members and staff were involved with the planning and execution of the U.S. activities for the International Year of Soils coordinated by the SSSA. The IYS 2015 website serves as a repository for classroom resources, colorful infographics, social media tips, and an interactive blog.

USNC/IUSS Members Publish Paper in Science Journal
Four members of the USNC on Soil Sciences have published "Soil and human security in the 21st century" in the May 8, 2015 edition of Science.

Ronald Amundson

(UC Berkeley), Asmeret Asefaw Berhe (UC Merced), Ester Sztein (BISO), and Donald Sparks (University of Delaware), in collaboration with Jan Hopmans (UC Davis) and Carolyn Olson (USDA), contend that human activity is responsible for soil erosion at an unprecedented rate. Understanding these challenges, they argue, is imperative for human survival and stability. Read the University of Delaware and University of California, Merced press releases, or read the full paper here.

Since its release, "Soil and human security in the 21st century" has been cited and reviewed by several publications of note, including: A list of American and international press on the Science paper can be found here. The paper has also been cited in the October 2015 edition of the Journal of Applied Ecology, and on the Wikipedia page for "Peak Phosphorus." As of January 29, 2017, the paper has been downloaded a total of 12,165 times from various platforms and the abstract read 41,994 times. In the 1.5 years that the review has been out, it has been cited 96 times (according to Google Scholar).

"Soil and human security" Author Featured on Radio Program
University of California Merced professor Asmeret Asefaw Berhe appeared on a July 22 radio program to discuss "Soil and human security in the 21st century." Berhe, who collaborated with five other soil scientists on the Science review paper, was a guest on Tom Willey's "Down on the Farm" on Fresno, CA station KFCF 88.1 FM. Listen to the complete interview here.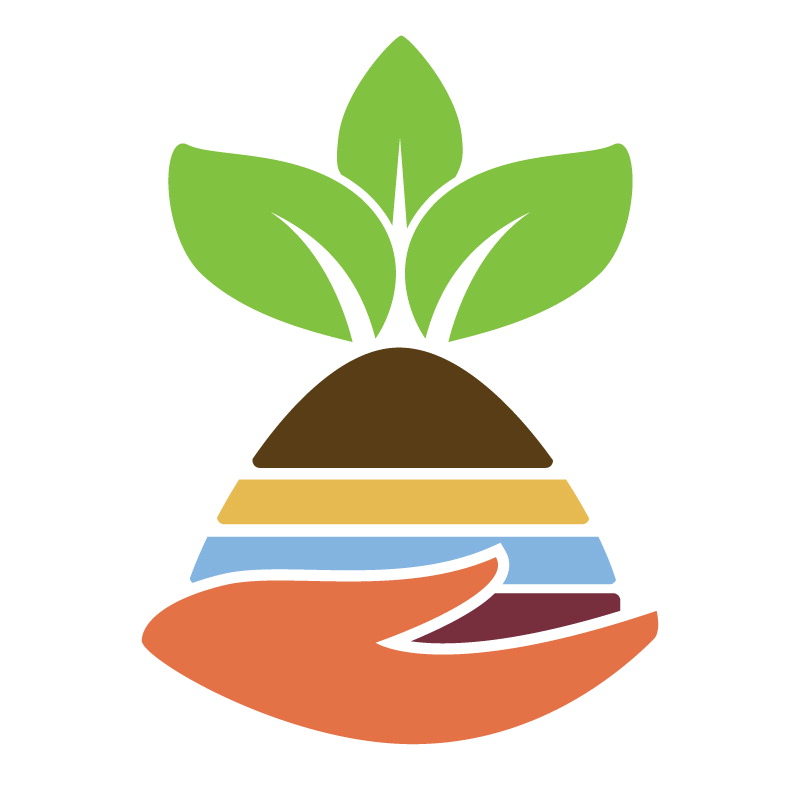 2015 Declared the International Year of Soils


In December 2013, the United Nations General Assembly designated December 5 as World Soil Day and declared 2015 as the International Year of Soils (IYS). The designations were made in recognition of sustainable soil management's essential role in food security, hunger eradication, climate change adaptation, poverty reduction, and sustainable development. The Food and Agriculture Organization (FAO) of the United Nations has been nominated to implement the IYS 2015, within the framework of the Global Soil Partnership and in collaboration with Governments and the secretariat of the United Nations Convention to Combat Desertification. More information can be found on the 2015 IYS website, and a comprehensive calendar for IYS events is available on the 2015 IYS events website.


Contact the USNC/SS

Ester Sztein, Assistant Director
Pam Gamble, Administrative Associate
SYMPOSIA AND PRESENTATIONS
2016 AGU Session (PDF):
"The U.S. Government Role in Preserving Geoscience Sample and Data Collections" by Ester Sztein

---
December 16, 2015 AGU Session (PDF):
"Arctic Science Diplomacy: Opportunities for International Collaboration and Policy-Engaged Scholarship" by Ester Sztein and Melody Brown Burkins

---
February 15, 2014 AAAS Session: "Santa's Revenge: The Impacts of Arctic Warming on the Mid-Latitudes"

---
December 12, 2013 AGU Session (PDF): "Science Diplomacy in the Geosciences"

---
February 15, 2013 AAAS Session: "U.S. Climate and Weather Extremes: Past, Present, and Future"

---
December 7, 2012 AGU Town Hall (PDF): "International Geoscience"

---
February 19, 2012 AAAS Session: "Causes and Effects of Relative Sea-Level Changes in the Northeast Pacific"

---
February 17, 2012 AAAS Session: "Toward Stabilization of Net Global Carbon Dioxide Levels"

---
February 20, 2011 AAAS Session: "The Practice of Science Diplomacy in the Earth Sciences"

---
February 19, 2010 AAAS Session: "Dust in the Earth System"

---
December 17, 2009 AGU Poster Sessions: "Extreme Natural Hazards: Risk Assessment, Forecasting, and Decision Support"

---
February 16, 2009 AAAS Session: "Global Sea Level Rise: Observation, Causes, and Prediction"

---
September 25, 2008 BISO Symposium (PDF): "Global Connections among Earth Sciences, Health, and Policy"

---
February 15, 2008 AAAS Session (PDF): "Planet Earth: Lessons Ignored, Lessons Learned"