BISO Home > About the Board on International Scientific Organizations > BISO Involvement with the International Council for Science


BISO Involvement with the International Council for Science
The National Academy of Sciences (NAS) was a founding member of the International Council for Science (ICSU), a non-governmental organization created in 1931 to advance, serve, and enable science. ICSU provides a wide spectrum of scientific expertise, enabling members to address major international, interdisciplinary issues. Membership in ICSU is divided into two categories: national members (multidisciplinary scientific academies or research councils) and scientific union members (international, disciplinary organizations).

For more information on the membership of BISO, please consult the BISO membership webpage.

BISO represents the NAS as the U.S. national member of ICSU and fulfills its membership responsibilities through:
sharing information about ICSU programs and activities with the U.S. scientific community,

sending the U.S. delegation to the triennial General Assembly of ICSU,

responding to requests from ICSU,

nominating individuals to serve on committees and as officers of ICSU,

alerting ICSU to important new issues, and

monitoring the activities of ICSU.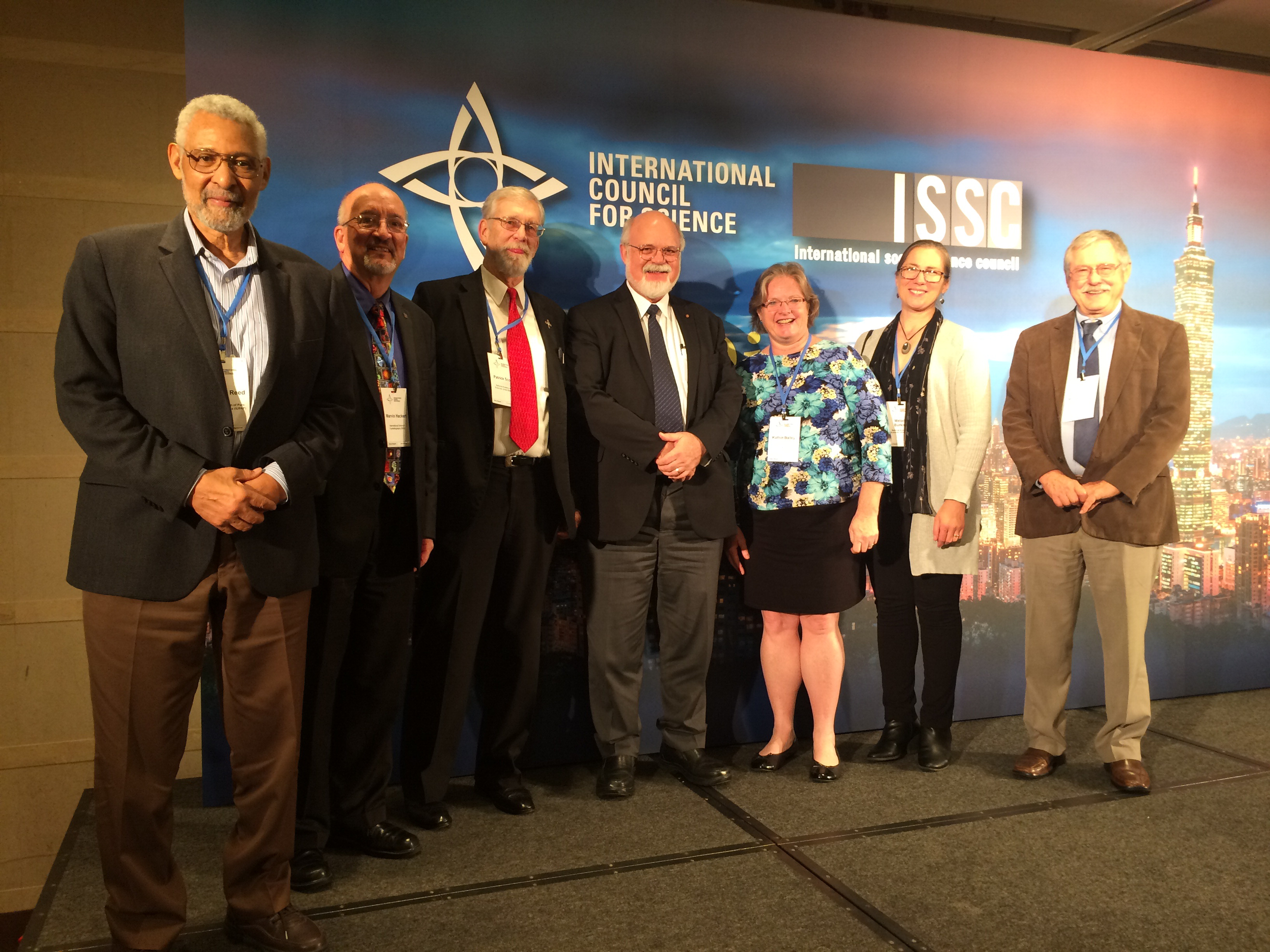 BISO Board Members and Director at the 2017 ICSU General Assembly. From left to right: Kennedy Reed, Marvin Hackert, Patrick Scott, John Hildebrand, Kathie Bailey, Melody Brown Burkins, and Michael Clegg.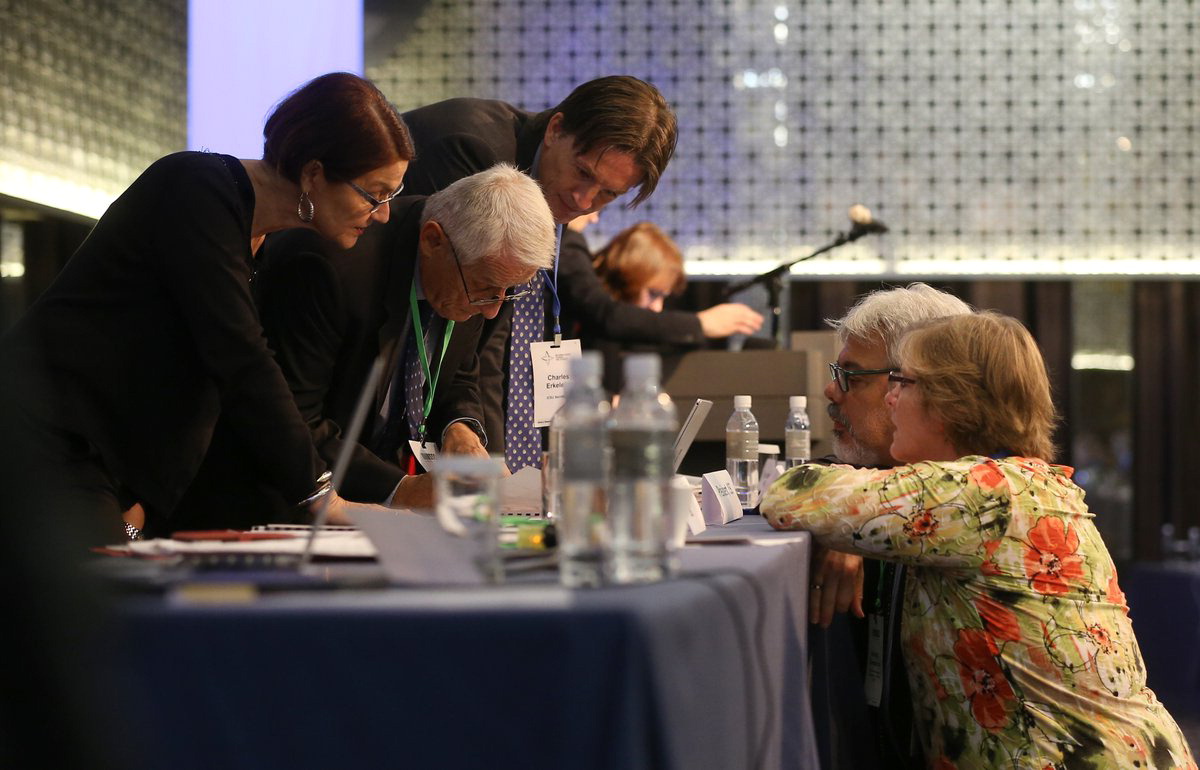 ISCU Flagship Programs
ISCU has several flagship programs. These include:
Integrated Risk and Disaster

Reduction (IRDR)
is a decade-long

program sponsored by ICSU, the International Social Science Council (ISSC) and the United Nations International Strategy for Disaster Reduction (UN-ISDR) to examine transdisciplinary methods in researching how science is used to shape social and political decision-making in the context of hazards and disasters. A brochure describing
IRDR
can be viewed
here
. Additionally, IRDR has published
The Forensic Investigations of Disasters (FORIN) Project: A Conceptual Framework and Guide to Research
. FORIN is an IRDR research program that focuses on
"uncovering root causes of disaster."


Led largely by ICSU's Regional Office for Asia and the Pacific, Urban Health and Wellbeing: A Systems Approach
examines the changing urban environment in terms of health, urbanization, design of cities, and systems science.

, Franz Gatzweiler (Executive Director), Yong-Guan Zhu (IUE Director), and Yi Zhang (Science Officer) describe how the program approaches the particular challenges of sustaining growing urban communities around the world.
In this YouTube introduction
ICSU's Principle of the Universality of Science (
http://www.icsu.org/freedom-responsibility/cfrs/statute-5
) embodies freedom of movement, association, expression and communication for scientists as well as equitable access to data, information and research materials. Important responsibilities for scientists are also included. The National Academies addresses these responsibilities partly through BISO's International Visitors Office.
Future Earth
originally began as an ICSU initiative. While ICSU still maintains a role, Future Earth is now a semi-independent program. Further details can be found on our Future Earth page and on the Future Earth website (
http://www.futureearth.org/
).



ICSU and the International Social Science Council (ISSC) to Merge

A merger of the International Council for Science (ICSU) and the International Social Science Council (ISSC) was overwhelmingly approved by the memberships of both organizations at a meeting on October 25, 2017 in Taipei, Taiwan. The name of the new organization will be the International Science Council.

The U.S. was represented at the meeting by a delegation led by NAS Foreign Secretary John Hildebrand (University of Arizona), and including Melody Brown Burkins(Dartmouth University), Bruce Overmier (University of Minnesota), and Patrick Scott (New Mexico State University). Over the past year, Dr. Burkins served on the ICSU-ISSC Strategy Working Group (SWG) which developed the goals, mission and vision of the new organization, and Dr. Overmier served on the ICSU-ISSC Transition Task Force (TTF) which addressed membership and organizational concerns. The BISO Board had worked closely with Dr. Burkins and Dr. Overmier throughout this period. Recommendations from both the SWG and the TTF fed into the final proposal.

The new organization will have three categories of membership.

· Member unions and associations, being international scientific bodies devoted to the scientific activities in one or more disciplines and areas of science and to their promotion.

· Member organizations, being Academies of Sciences, Research Councils, or analogous not-for-profit bodies representing science in a country, region, or territory.

· Affiliated Members, being other governmental and non-governmental organizations, whose affiliation with the Council is not covered by the membership categories above, or whose activities are in a field cognate to those of the Council. Affiliated members pay dues but have no voting rights.

Under French law, all members of either organization automatically become members of the new merged organization. The NAS is the only national member of ICSU. The U.S. has no national member in the ISSC.

Current dues for all members will be maintained through 2021, although a small annual inflationary adjustment will be applied. A dues committee will be formed to determine a new structure and recommend new dues levels. The NAS has asked for a U.S. representative on that committee as well as a cap on the U.S. dues.

The first General Assembly of the new organization will be held in Paris, France in early July 2018.
Science International: Speaking with One Voice
ICSU's 2014 external review also recommended that
(
ICSU
)
and several closely-allied organizations, including the International Social Science Council
(
ISSC
)
, the InterAcademy Partnership
(
IAP
)
, and
The World Academy of Sciences for the advancement of science in developing countries (
TWAS
)
find a way of speaking with a common voice on important themes. Science International (http://www.science-international.org) was the result. It is a platform through which the four organizations can speak with one voice.
The first Science International accord was released in December 2015 and addresses big data/open data.
It proposes 12 principles to guide open access to big data.
A four-page summary of Open Data in a Big Data World
can be found here
. For the full version,
click here
.



Providing International Science Advice to Governments
In September 2016, ICSU was involved with the 2nd International Science Advice to Governments conference in Brussels, Belgium. More than 600 policymakers, practitioners and scientists from 72 countries discussed the needs and opportunities associated with providing scientific advice and evidence into the policy process.

The conference was organized by the International Network on Government Science Advice (INGSA), which operates under the auspices of ICSU, and the European Commission. A report of the conference can be found on the ICSU webpage at

http://www.icsu.org/news-centre/news/top-news/2nd-international-science-advice-to-governments-conference-concludes-in-brussels

.

ICSU Advisory Note Issued Addressing Gender-based Harassment in the Practice of Science
This material is based upon work supported by the National Science Foundation under Grant Number IIA-1332689. Any opinions, findings, and conclusions or recommendations expressed in this material are those of the author(s) and do not necessarily reflect the views of the National Science Foundation.

ICSU General Assembly Photo Credit: Bruce Alberts with the U.S. Delegation; Early Career Scientists Panel (Source: https://www.flickr.com/photos/icsu/14946102940); ICSU President, Gordon McBean (Source: https://www.flickr.com/photos/icsu/15132341262); General Assembly meeting (Source: https://www.flickr.com/photos/icsu/14946081729)
To comment on this webpage or report an error, please send feedback to the
BISO Site Manager
.