BISO Home > About the Board on International Scientific Organizations > BISO Involvement with the International Council for Science

BISO Involvement with the International Council for Science

The National Academy of Sciences (NAS) was a founding member of the International Council for Science (ICSU), a non-governmental organization created in 1931 to advance, serve, and enable science. ICSU provides a wide spectrum of scientific expertise, enabling members to address major international, interdisciplinary issues. Membership in ICSU is divided into two categories: national members (multidisciplinary scientific academies or research councils) and scientific union members (international, disciplinary organizations).

For more information on the membership of BISO, please consult the BISO membership webpage.

BISO represents the NAS as the U.S. national member of ICSU and fulfills its membership responsibilities through:
sharing information about ICSU programs and activities with the U.S. scientific community
sending the U.S. delegation to the triennial General Assembly of ICSU,
responding to requests from ICSU,
nominating individuals to serve on committees and as officers of ICSU,
alerting ICSU to important new issues, and
monitoring the activities of ICSU.

ICSU-Related News and Events





2014 ICSU General Assembly: August 31 - September 3 in Auckland, New Zealand


The last ICSU General Assembly was held August 31 - September 3, 2014 in Auckland, New Zealand. This event was hosted by the ICSU National Scientific Member in New Zealand, the Royal Society of New Zealand. The U.S. Delegation to the General Assembly was chaired by former NAS foreign secretary Michael Clegg and included delegates Melody Brown Burkins and C. Bradley Moore.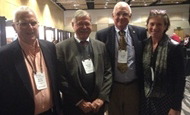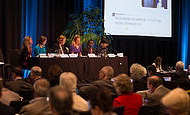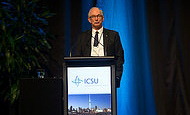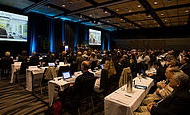 Highlights of the General Assembly included:
­Michael Clegg was elected Vice President for External Relations.
Professor Daya Reddy, an internationally recognized mathematician from South Africa, became the new ICSU President-elect. He will take over from the current ICSU President, Gordon McBean, in October, 2017.
The General Assembly endorsed open access principles and provided key recommendations guarding against the misuse of metrics in the evaluation of research performance.
The General Assembly also celebrated three decades of research collaboration amongst thousands of volunteer scientists across the globe to deepen our understanding of the Earth System. The legacy of global change research will be carried on by the new Future Earth programme, into which IGBP, IHDP and DIVERSITAS will be merged in 2015.
The preliminary findings of the ICSU External Review Panel (ERP) were discussed. The ERP was established in mid-2013 to review the activities of ICSU.
Other important topics of discussion included updates to the ICSU Strategic Plan, a review of CODATA, and the Urban Health and Wellbeing in the Changing Urban Environment initiative.
More information can be found on the ICSU General Assembly website.


Future Earth to Have Globally Distributed Secretariat
Future Earth will have a new Secretariat, with a unique and innovative structure that spans three continents, as announced by the International Council for Science on behalf of the members of the Science and Technology Alliance for Global Sustainability (the Alliance). Over 20 expressions of interest were received for the Future Earth Secretariat. The new Secretariat is comprised of five global hubs, which will function as a single entity. They are located in the United States (Colorado), Canada (Montreal), France (Paris), Japan (Tokyo), and Sweden (Stockholm). The consortium of five global hubs is currently working with the Alliance to refine details of their proposal, ahead of agreeing to a Memorandum of Understanding. For more details, please consult the ICSU website.




ICSU Expresses Visa Concerns


In February 2014, ICSU again expressed its concern that visa measures taken by some national authorities are becoming a significant obstacle to attendance at international scientific meetings. ICSU's long-term commitment to scientific mobility is reflected in its Statute 5, which notes that science requires freedom of movement, association, expression, and communication for scientists, as well as equitable access to data, information, and other resources for research. The complete statement of concern can be found on the ICSU website. In addition, information on the U.S. National Academy of Sciences' efforts to further scientific mobility can be found on the International Visitors Office website.


Future Earth Meeting in Washington, DC
BISO hosted and participated in an international Future Earth meeting held January 20-22, 2014 at the National Academies in Washington, DC that allowed members of the Future Earth science and interim engagement committees and the Future Earth Secretariat to meet with the leaderships of ICSU's Global Environmental Change (GEC) core projects and programs to discuss their integration into Future Earth. ICSU's GEC programs include DIVERSITAS, the International Human Dimensions Programme (IHDP), the International Geosphere-Biosphere Programme (IGBP), and the World Climate Research Programme (WCRP). The 74 participants provided input into the merger of the GEC programs, established task forces, and discussed potential fast-track initiatives, cluster activity proposals, and advanced communications among the core projects. More information on BISO's involvement with Future Earth can be found on the North American Regional Consultation for Future Earth page.





This material is based upon work supported by the National Science Foundation under Grant Number IIA-1332689. Any opinions, findings, and conclusions or recommendations expressed in this material are those of the author(s) and do not necessarily reflect the views of the National Science Foundation.

ICSU General Assembly Photo Credit: Bruce Alberts with the U.S. Delegation; Early Career Scientists Panel (Source: https://www.flickr.com/photos/icsu/14946102940); ICSU President, Gordon McBean (Source: https://www.flickr.com/photos/icsu/15132341262); General Assembly meeting (Source: https://www.flickr.com/photos/icsu/14946081729)

To comment on this webpage or report an error, please send feedback to the BISO Site Manager.