UPCOMING EVENT

NAS Symposium on Cooperative Threat Reduction (CTR)
for the Next Ten Years and Beyond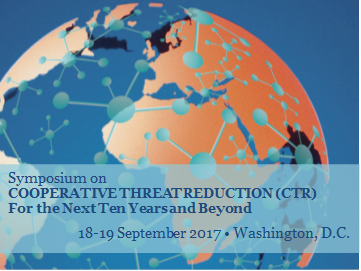 September 18-19, 2017
The National Academy of Sciences (NAS) - Keck Center
500 Fifth Street, NW
Washington, DC 20001

In 2009 the National Academy of Sciences (NAS) report Global Security Engagement: A New Model for Cooperative Threat Reduction concluded that expanding and updating U.S. Government Cooperative Threat Reduction (CTR) programs in both form and function would enhance U.S. national security and global stability. The NAS Committee on International Security and Arms Control (CISAC) is convening a symposium to examine how CTR has evolved since that time and to consider new approaches for CTR programs and related WMD elimination efforts to increase their ability to enhance U.S. security.
Speakers will include:
Amb. Laura Holgate, former U.S. Representative to the Vienna Office of the UN and IAEA
Amb. Jimmy Kolker, former Assist. Secretary for Global Affairs, Department of Health & Human Services
Amb. Ronald Lehman, former Director, Arms Control and Disarmament Agency
Andrew Natsios, former Administrator of the U.S. Agency for International Develop
William Tobey, former Deputy Administrator for Defense Nuclear Nonproliferation at NNSA
Andrew Weber, former Asst. Secretary of Defense for Nuclear, Chemical, and Biological Defense Programs
and other key thinkers and practitioners from CTR programs as well as experts from outside of CTR implementing agencies who have experience addressing complex international security problems.
The symposium is sponsored by the Project on Advanced Systems and Concepts for Countering Weapons of Mass Destruction (PASCC) in the Naval Postgraduate School and will be open to the public. A "meeting in brief" document will be issued by NAS after the symposium.
For detailed information on this event and a draft agenda please visit: www.nas.edu/cisac
For inquiries or comments please contact us at (202) 334-2811/ Email: CISAC@nas.edu