CSTB celebrates its 25 anniversary with a panel discussion, "CSTB then, now, and in the future," at its fall 2011 meeting.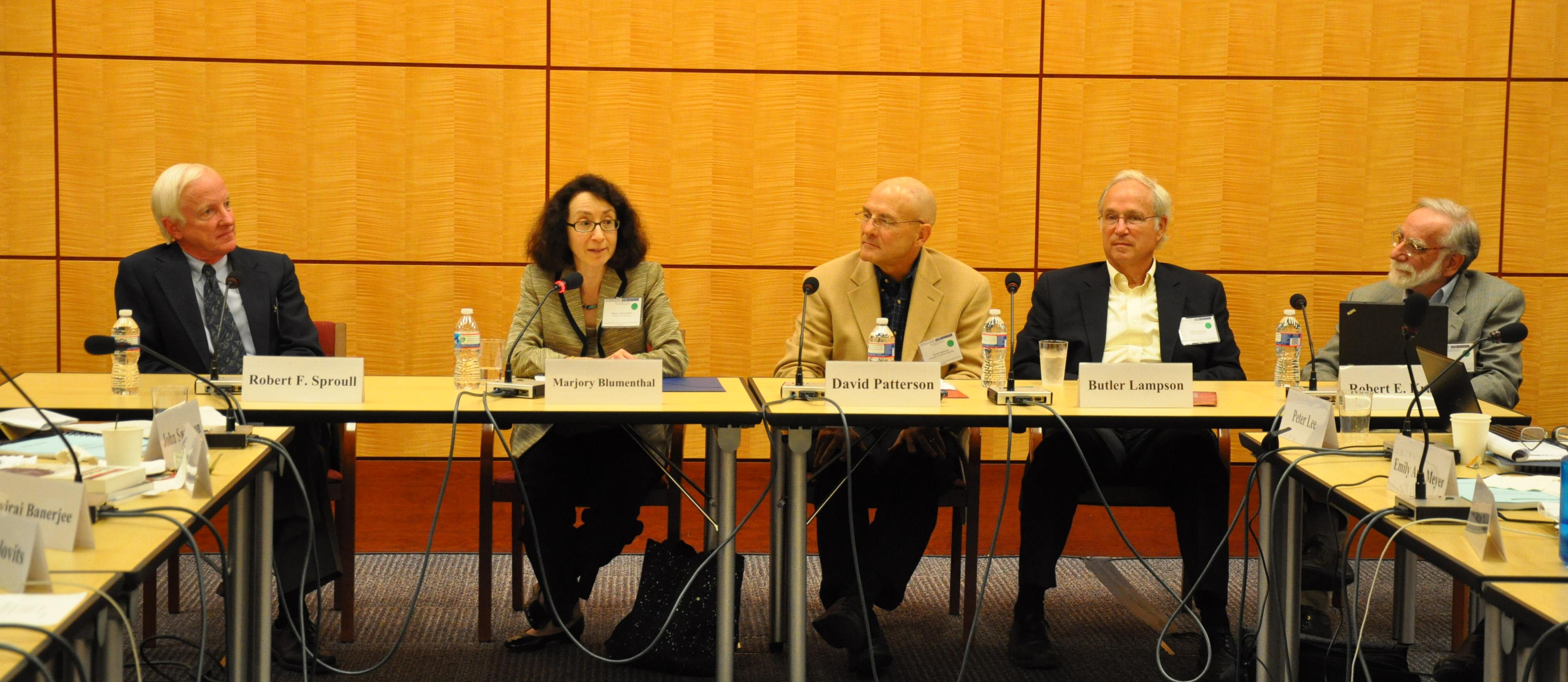 Pictured from left to right, Bob Sproull, Marjory Blumenthal, David Patterson, Butler Lampson, and Bob Kraut. Photo by Ben Shneiderman.

Founding CSTB director Marjory Blumenthal (Georgetown University) started with a brief history of CSTB, noting its origins in 1986 shortly after the establishment of the Computer and Information Science and Engineering Directorate within the National Science Foundation. She characterized CSTB's historical strength as taking a systems perspective on computing that integrates technological, social, legal, economic, and policy perspectives and identified emerging areas where such an approach would be fruitful--such as social media or robotics and assistive technologies for the elderly.
Former member David Patterson (University of California, Berkeley) reflected on the amazing success story represented by Moore's law and the associated expectations that have shaped computing, the implications for computing performance of power limits, and prospects for such techniques as "dark silicon," where substantial portions of chips will be powered up only when their specific functions are needed(Discussion that followed considered a variety of options and alternatives for moving forward.) He closed by asking whether whereas computing's first 50 years were focused on solving computing's problems, the next 50 years might be as much about about working on socially important, intellectually rich applications--a shift that represents an exciting frontier for computing and CSTB.
Former CSTB chair David Clark (MIT) joined the panel by telephone. Reflecting on CSTB's 2002 report "Bringing Home the Bits," he noted that its dynamic definition of "broadband" had stood the test of time, as has its prediction that heterogeneous solutions would be needed to bring broadband to all. Next, he turned to the challenges facing the public switched telephone network, asking whether the time may have come to set a date certain for ending the PSTN as a "network of record," and noting the many questions raised by a shift to broadband residential networks. Looking ahead, Clark observed that the architecture and ways of thinking that have grown wireline networks are in many ways ill-suited for wireless networks, which raises significant technical and business challenges.
Former member Butler Lampson (Microsoft Research) considered the question, how did software get so big without collapsing? He noted despite handwringing about the difficulties of software dating back at least to the 1960s, we've actually been tremendously successful building software that is many orders of magnitude more complicated. He observed that one reason for our success is that many computer systems don't work entirely correctly, or need to. Large systems that many of us use, like Amazon and Facebook, sometimes fail to generate the "correct" display in answer to a request, but are still very useful. A second factor is that faster and cheaper hardware reduces the need for performance optimizations that make software more fragile. A third factor is very large components, like databases and web browsers, that we use to build even bigger systems. A fourth factor is that multiple implementations of components tend to force interfaces to become better specified.
Current member Bob Kraut (Carnegie Mellon University) offered three metaphors that illustrate the ways the relationship between people and computing systems has changed since CSTB was founded--computers as tools, computers as communication conduits and computers as habitats. For many years, much attention was paid to the usability of computers as tools, while today, the principles for building easy to use computer systems are well understood, and embodied in such things as graphical user interfaces. Networked email, which quickly became the killer app of the ARPANET, was the first of many uses of computing systems as a conduit for communications. Despite this routine use of computers for telecommunications, we are much further from vanquishing the tyranny of distance than in overcoming the usability challenge. Today, with online social networks and user-generated content, people are not just using a computer system but are inextricably part of it. How to design such hybrid systems, Kraut concluded, is very much an open issue.
CSTB chair Bob Sproull (Oracle Sun Labs, retired) moderated the panel.