The Context of Military Environments: Social and Organizational Factors
As the U.S. military continues to transform itself to accomplish its full spectrum of missions in the 21st century, an efficient and effective research program to inform U.S. military personnel policies and practices is essential. Highly effective leaders and teams must be adaptable and flexible, because they operate in varied, dynamic, and changing environments. Therefore, any program to improve leadership and performance must consider the social and organizational factors that present external influences on the behavior of individuals operating within the context of military environments. This study, performed by an ad-hoc committee with oversight from the Board on Behavioral, Cognitive, and Sensory Sciences, will identify and assess these factors and recommend an agenda for future U.S. Army Research Institute research in these areas.


Click here for the study's full statement of task.
Past meeting details and agendas are available on the National Academies' Current Projects site.
Click here for the Study Background Paper.
Project Sponsor: U.S. Army Research Institute
Project Start: September 2012
Report Release: September 2014


NRC Staff Contact
Cherie Chauvin, Study Director, 202-334-2096
Report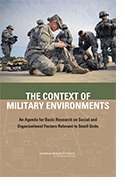 This report presents recommendations to the U.S. Army Research Institute for a program of basic scientific research on the roles of social and organizational contextual factors, such as organizational institutions, culture, and norms, as determinants and moderators of the performance of individual soldiers and small units.

More Information




Committee Members

Reid Hastie, Chair, Chicago Booth Business School, University of Chicago
Catherine H. Tinsley,Vice-Chair, McDonough School of Business, Georgetown University
Burt. S. Barnow, Trachtenberg School of Public Policy and Public Administration, The George Washington University
Corinne Bendersky, Anderson School of Management, University of California at Los Angeles
Edward J. Coss, U.S. Army Command and General Staff College
Leslie DeChurch, School of Psychology, Georgia Institute of Technology
Jonathan Gratch, Department of Computer Science, Psychology and Institute for Creative Technology, University of Southern California
Douglas H. Harris, Anacapa Sciences, Inc.
Lee D. Hoffer, Department of Anthropology, Case Western Reserve University
Alair MacLean, Department of Sociology, Washington State University, Vancouver
Charles F. Manski, NAS, Department of Economics and Institute for Policy Research, Northwestern University
William Schulze, Charles H. Dyson School of Applied Economics and Management, Cornell University
For committee biographies, see the Committee Membership page.