Project Description
Mental and substance use disorders are common conditions in the United States. It is estimated that 43.6 million or 18.1 percent of Americans ages 18 and older experience some form of mental illness and 20.2 million (8.8 percent) have a substance use disorder. While these disorders are prevalent, many individuals who experience them are the targets of negative stereotypes, prejudice, and discrimination. Discrimination can deprive individuals of opportunities in many areas including education, housing, and competitive employment.

Despite extensive research on negative attitudes and discrimination against persons with mental and substance use disorders and general agreement that it is persistent and harmful, evidence about what works to change negative behavioral health social norms is not uniformly robust. In this context, in 2014 the Substance Use and Mental Health Services Administration (SAMHSA) requested that the National Academies of Sciences, Engineering and Medicine assemble a committee to conduct a study about what is known about negative social norms and how to change them. The committee conducted two workshops and authored a consensus report. The report, Ending Discrimination Against People with Mental and Substance Use Disorders, described the current state of behavioral health social norms and the discrimination individuals with mental and substance use disorders face. The report provided six broad recommendations that the Department of Health and Human Services (HHS) could use to take a national approach to address discrimination and prejudice.

The current project will provide information to help SAMHSA implement the recommendation focused on messaging and communications programs. The goal of this project is to advance SAMHSA's ability to address behavioral health social norms and provide SAMHSA an exemplary campaign based on evidence-based and best practices that can be implemented by a collaborator and serve as a template for the development of future campaigns. The committee will deliver campaign materials to SAMHSA by September 2017. This project is being led by the Board on Behavioral, Cognitive, and Sensory Sciences in collaboration with the Board on Population Health and Public Health Practice within the Health and Medicine Division.
Members

Bernice A. Pescosolido
(Chair)
, Distinguished Professor, Department of Sociology, Indiana University
Joseph N. Cappella, Gerald R. Miller Professor of Communication, Annenberg School for Communication,
University of Pennsylvania
Tony Foleno, Senior Vice President, Strategy and Evaluation, The Ad-Council
Matthew W. Kreuter, Professor and Director, Health Communication Research Laboratory, George Brown
School of Social Work, Washington University
Ruth Shim, Luke & Grace Kim Professor in Cultural Psychiatry, Director of Cultural Psychiatry,
University of California, Davis
Rebecca Palpant Shimkets, Associate Director, The Rosalynn Carter Fellowships for Mental Health Journalism
Michael D. Slater, Social and Behavioral Science Distinguished Professor, School of Communication,
The Ohio State University
Timothy J. Strauman, Professor, Department of Psychology and Neuroscience, Duke University
Eduardo Vega, President and CEO, Mental Health Association of San Francisco, Center for Dignity,
Recovery and Empowerment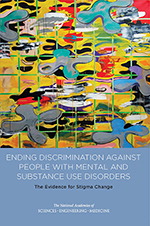 Ending Discrimination Against People with Mental and Substance Use Disorders: The Evidence for Stigma Change explores stigma and discrimination faced by individuals with mental or substance abuse disorders and recommends effective strategies for reducing stigma and encouraging people to seek treatment and other supportive services. It offers a set of conclusions and recommendations about successful stigma change strategies and the research needed to inform and evaluate these efforts in the United States. Read more

---

Staff Information

Adrienne Stith Butler, Study Director,
Board on Behavioral, Cognitive, and Sensory Sciences

Barbara A. Wanchisen, Senior Board Director, Board on Behavioral, Cognitive, and Sensory Sciences

Rose Martinez, Senior Board/Program Director, Board on Population Health and Public Health Practice

Renée L. Wilson, Senior Program Assistant, Board on Behavioral, Cognitive, and Sensory Sciences

---
Contact
For more information, contact:

Mailing Address
Keck Center
500 Fifth Street, NW
Washington, DC 20001