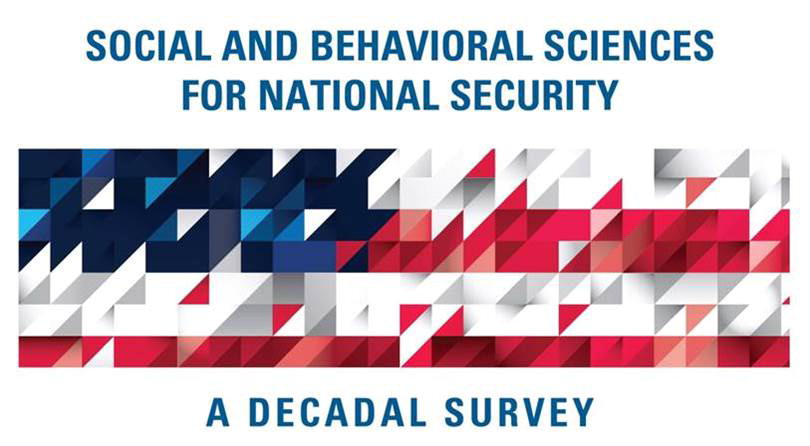 Changing Socio-cultural Dynamics and Implications for National Security: A Workshop

Speaker Bios


DAVID BRONIATOWSKI
is an Assistant Professor in the School of Engineering and Applied Science at The George Washington University and the director of the Decision Making and Systems Architecture Laboratory. He conducts research in decision-making under risk, group decision-making, system architecture, and behavioral epidemiology. This research program draws upon a wide range of techniques including formal mathematical modeling, experimental design, automated text analysis and natural language processing, social and technical network analysis, and big data. Current projects include a text network analysis of transcripts from the U.S. Food and Drug Administration's Circulatory Systems Advisory Panel meetings, a mathematical formalization of fuzzy trace theory, and a study using Twitter data to conduct surveillance of influenza infection and the resulting social response. He received his Ph.D. in Engineering Systems from the Massachusetts Institute of Technology.

WILLIAM DRESSLER is Professor of Anthropology at The University of Alabama. His research examines the relationship between culture and health including concepts and methods for examining the health effects of individual efforts to achieve culturally-defined goals and aspirations in in settings as diverse as urban Great Britain, the Southeast U.S., the West Indies, Mexico, and Brazil. Over the past 30 years, Dr. Dressler and his Brazilian colleagues have carried out four major projects on health in Brazil showing that difficulties in achieving the culturally-defined goals in Brazilian society are associated with increased risk of high blood pressure, obesity, depression, and poor immune function. Dr. Dressler also served on the faculties of The University of Alabama School of Medicine-Tuscaloosa and the School of Social Work. He received a Ph.D. in anthropology from the University of Connecticut.

JESSE EGBERT is Assistant Professor of Applied Linguistics at Northern Arizona University. He specializes in the use of corpus linguistic methods to explore patterns of language variation across registers, particularly academic prose and the internet. His research also explores issues related to quantitative linguistic research, including corpus design and representativeness, methodological triangulation, and the application of advanced statistical techniques to language data. He is one of two founding General Editors of the new journal Register Studies. He is co-Editor (with Paul Baker) of the book Triangulating Methodological Approaches in Corpus Linguistic Research (Routledge, 2016) and co-author of the book Register Variation Online (Cambridge, forthcoming). Dr. Egbert has been awarded a number of academic awards and research grants. He received a M.A. in Teaching English as a Second Language and his Ph.D. in Applied Linguistics from Northern Arizona University.

MICHELE GELFAND is a Distinguished University Professor in the Department of Psychology at the University of Maryland, College Park. Her research interests include cross-cultural social and organizational behavior; cultural influences on conflict, negotiation, justice, revenge, and forgiveness; discrimination and sexual harassment; theory and method in assessing aspects of culture (individualism-collectivism; cultural tightness-looseness). She has conducted research across many cultures, using field, experimental, computational, and neuroscientific methods to understand the evolution of cultural differences and their consequences for individuals, teams, organizations, and nations and has also done work on the role of culture in negotiation and conflict and the psychology of revenge and forgiveness. She is a recipient of the Carol and Ed Diener Award in Social Psychology, the William A. Owens Scholarly Achievement Award, the Anneliese Maier Research Award, and has received the Distinguished Early Career Contribution Award from the Society for Industrial and Organizational Psychology. She is the editor of several academic books and series, including Advances in Culture and Psychology, which she co-founded; Psychology of Conflict and Conflict Management in Organizations; and The Handbook of Negotiation and Culture. She was the president of the International Association for Conflict Management from 2009 to 2010. She received a B.A. in psychology from Colgate University, and both a M.A. and Ph.D. in Social/Organizational Psychology from the University of Illinois, Urbana-Champaign.

DAN KAHAN is the Elizabeth K. Dollard Professor of Law and Professor of Psychology at Yale Law School. He is a member of the Cultural Cognition Project, an interdisciplinary team of scholars who use empirical methods to examine the impact of group values on perceptions of risk and science communication. In studies funded by the National Science Foundation, Professor Kahan and his collaborators have investigated public dissensus over climate change, public reactions to emerging technologies, and public understandings of scientific consensus across disputed issues. Articles featuring the Project's studies have appeared in a variety of peer-reviewed scholarly journals including the Journal of Risk Research, Judgment and Decision Making, Nature Climate Change, Science, and Nature. The Project's current focus is on a field research to integrate insights from the science of science communication into the craft of professional science communicators in various domains, including democratic decisionmaking, education, and popular engagement with science. Professor Kahan is a Senior Fellow at the National Center for Science and Civic Engagement, and a member of the American Academy of Arts and Sciences.He received his J.D. from Harvard Law School.

GUISEPPE (JOE) LABIANCA is a Gatton Chaired Professor of Management and co-director of the LINKS Social Network Analysis Center in the Gatton College of Business and Economics at the University of Kentucky. His main research stream focuses on understanding interpersonal conflict from a social network perspective, including understanding how dyads in conflict within an organization are affected by third parties. In addition, Dr. Labianca also does research on groups' social networks, as well as on how individuals' cognitions about organizational change and justice are affected by their network ties. He serves on the editorial boards of Organization Science, the Journal of Applied Psychology, Strategic Organization, and Organizational Psychology Review, and is currently co-editing a special issue of the journal Social Networks. Prior to joining the Gatton School he was on faculty at the Goizueta Business School at Emory University and the Freeman School of Business at Tulane University and served as a research fellow at Penn State's Center for Research on Conflict and Negotiation. He received his Ph.D. in Business Administration from the Pennsylvania State University.

DHIRAJ MURTHY is an Associate Professor of Journalism and Sociology at the University of Texas at Austin. Prior to his academic career, he was a network engineer and UNIX systems administrator. Dr. Murthy's work explores social media, digital research methods, race/ethnicity, qualitative/mixed methods, big data quantitative analysis, and virtual organizations. He has authored over 40 articles, book chapters, and papers and a book about Twitter, the first on the subject (second edition in press). Dr. Murthy is currently funded by the National Science Foundation's Division of Computer and Network Systems for pioneering work on social media use during Hurricane Harvey. In this project, he is developing coding ontologies derived from qualitative fieldwork that can be applied to big data environments. Dr. Murthy founded and directs the Computational Media Lab at UT Austin. He is co-editor of the journal, Big Data & Society. He received a PhD in Sociology from the University of Cambridge.

PHILLIP RESNIK is the Director of the University of Maryland Computational Linguistics and Information Processing Laboratory and he has joint appointments in the Department of Linguistics and at the University of Maryland Institute for Advanced Computer Studies and is an Affiliate Professor in the Department of Computer Science. His research focuses on computational social science and computational psycholinguistics, and he has interests in the application of natural language processing techniques to practical problems such as machine translation and sentiment analysis, computational models in social science, and the modeling of human linguistic processes (especially related to lexical semantics). Dr. Resnik's general research agenda for language technology is to improve the state of the art by finding the right balance between data driven statistical modeling and the use of linguistic and expert domain knowledge, with the larger goal of obtaining a better scientific understanding of human language itself. Dr. Resnik has served on the editorial boards of Linguistic Issues in Language Technology, Cognitive Linguistics, Computational Linguistics, Cognition, and Computers and the Humanities. He received his Ph.D. in Computer and Information Science from the University of Pennsylvania.

GWYNETH SUTHERLIN is the Director of Human Geography and Analytics Research at Geographic Services, Inc. As a researcher, she focuses on the intersection of cultural dimensions and technology for application in conflict analysis with insights stemming from cognitive linguistics, cultural dynamics, and empirical study. In the field, her focus on multilingual communications in conflict environments includes designing a program to impact identity narratives through media in North Africa that garnered UN recognition for innovation. Her publications in peer-reviewed information and technology journals seek to bridge social science and engineering. Topics have included an analysis of crowdsourcing data for decision-making in Haiti, Somalia, and the Arab Spring and an integration of cultural variables in opensource communication models supporting policy decisions. Her research is featured in textbooks and UN reports and her conference presentations range from the Africa Writes literature conference to GEOINT. Currently, her research in human geography supports various USG and international NGOs with analysis, including contributions the Strategic Multilayer Assessment group out of the Joint Staff J39. Dr. Sutherlin has a degree in political science from Indiana University and a PhD in peace and conflict studies from the University of Bradford. She operates in seven foreign languages.