How People Learn
Brain, Mind, Experience, and School: Expanded Edition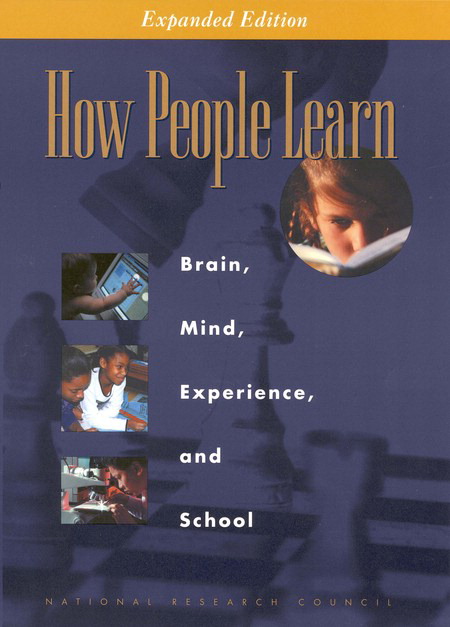 Download:
How People Learn
continues to be one of the most widely known reports produced by the Board on Behavioral, Cognitive, and Sensory Sciences. Originally released in 1999, this expanded edition was released in 2000. This important report engages such topics as:
How learning actually changes the physical structure of the brain.
How existing knowledge affects what people notice and how they learn.
What the thought processes of experts tell us about how to teach.
The amazing learning potential of infants.
The relationship of classroom learning and everyday settings of community and workplace.
Learning needs and opportunities for teachers.
A realistic look at the role of technology in education.
The expanded edition makes connections between classroom activities and learning behavior through discussion of how theories and insights can translate into actions and practice. The report uses exemplary teaching to illustrate how approaches based on what we now know result in in-depth learning and examines these findings and their implications for what we teach, how we teach it, and how we assess what our children learn. The report also includes far-reaching suggestions for research that could increase the impact that classroom teaching has on actual learning.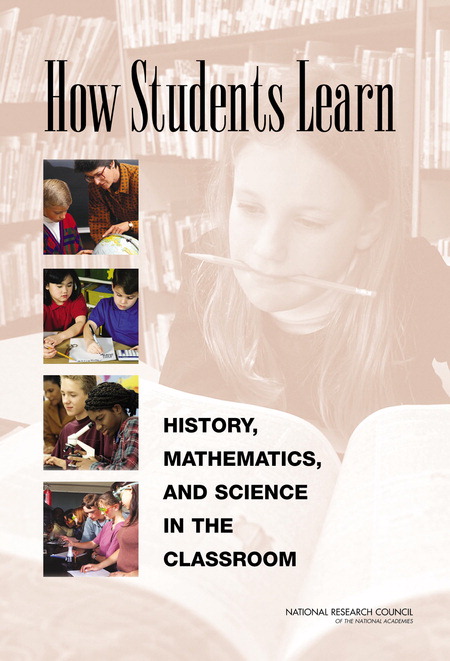 How Students Learn: Mathematics
How Students Learn: History, Mathematics, and Science in the Classroom
builds on the discoveries detailed in
How People Learn
and presents findings in a way that teachers can immediately use to revitalize their work in the classroom for even greater effectiveness.
Organized for utility, the report explores how the principles of learning can be applied in teaching history, science, and math topics at three levels: elementary, middle, and high school. Leading educators explain in detail how they developed successful curricula and teaching approaches, presenting strategies that serve as models for curriculum development and classroom instruction. Their recounting of personal teaching experiences lends strength and warmth to this volume.
The report explores the importance of balancing students' knowledge of historical fact against their understanding of concepts, such as change and cause, and their skills in assessing historical accounts. It discusses how to build straightforward science experiments into true understanding of scientific principles. And it shows how to overcome the difficulties in teaching math to generate real insight and reasoning in math students. It also features illustrated suggestions for classroom activities.
How Students Learn offers a highly useful blend of principle and practice. It is intended not only for teachers, administrators, curriculum designers, and teacher educators, but also for parents and the larger community concerned about education.