Project Description:



An ad hoc committee will provide an evidence-based analysis of the complex findings in the research on birth settings, focusing particularly on health outcomes experienced by sub-populations of women. It will bring together key stakeholders in a public workshop to further inform this analysis, including representatives from government, academia, healthcare provider organizations, third party payors, and women's health organizations.


The ad hoc committee will explore and analyze the current state of science on the following topics, identifying those questions that cannot be answered given available findings.

Statement of Task:


I. Risk factors that affect maternal mortality and morbidity
II. Access to and choice in birth settings
III. Social determinants that influence risk and outcomes in varying birth settings
IV. Financing models for childbirth across settings
V. Licensing, training, and accreditation issues pertaining to professionals providing maternity care across all settings
VI. Learning from International experiences



Meetings of the Committee


Meeting 1 | February 19-20, 2019
Washington, DC
Agenda

Meeting 2 | April 9, 2019 - Public Session
Washington, DC
Agenda | More Information

Archived Webcast



Meeting 3 | June 27-28, 2019
Washington, DC
Closed Meeting

Meeting 4 | August 12-13, 2019
Washington, DC
Closed Meeting

---
Previous Reports:

An Update on Research Issues in the Assessment of Birth Settings Workshop Summary (2013)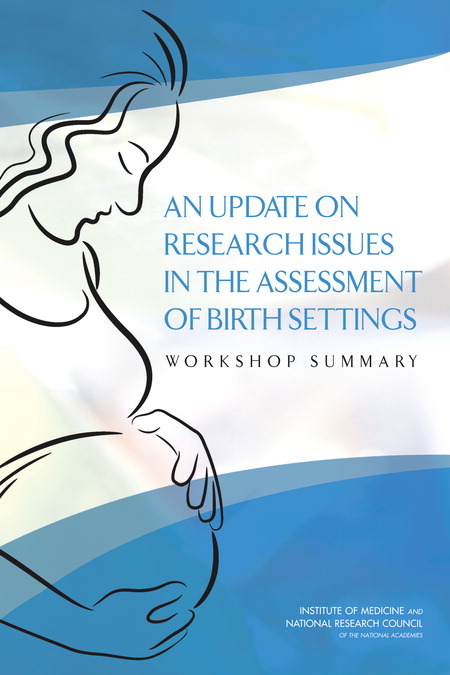 Description:



More than 30 years ago, the Institute of Medicine (IOM) and the National Research Council (NRC) convened a committee to determine methodologies and research needed to evaluate childbirth settings in the United States. The committee members reported their findings and recommendations in a consensus report, Research Issues in the Assessment of Birth Settings (IOM and NRC, 1982). An Update on Research Issues in the Assessment of Birth Settings is the summary of a workshop convened in March, 2013, to review updates to the 1982 report. Health care providers, researchers, government officials, and other experts from midwifery, nursing, obstetric medicine, neonatal medicine, public health, social science, and related fields presented and discussed research findings that advance our understanding of the effects of maternal care services in different birth settings on labor, clinical and other birth procedures, and birth outcomes. These settings include conventional hospital labor and delivery wards, birth centers, and home births. This report identifies datasets and relevant research literature that may inform a future ad hoc consensus study to address these concerns.

Type: Consensus Study

Topics: Children, Youth
Board: Board on Children, Youth, and Families
Email: Birth_settings@nas.edu

---
Emily Backes, Study Director
ebackes@nas.edu

Kenne Dibner, Program Officer
kdibner@nas.edu

Elizabeth Howe-Huist, Associate Program Officer
ehowehuist@nas.edu

Dara Shefska, Research Associate
dshefska@nas.edu

Lesley Webb, Senior Program Assistant
lwebb@nas.edu

Lori Trego, (NAM) Distinguished Nurse Scholar-in-Residence
ltrego@nas.edu
---
Committee Members

Susan Scirmshaw, Chair
Jill Alliman
Wanda Barfield
Melissa Cheyney
Michelle Collins
Brownsyne Tucker Edmonds
Wendy Gordon
Marian MacDorman
Kathryn M. Menard
Karen Milgate
Jochen Profit
Carol Sakala
Neel Shah
Kathleen Simpson
Ruth Enid Zambrana

Committee Biosketches


---


Eunice Kennedy Shriver National Institute of Child Health and Human Development (NICHD)




---
Contact
For more information, contact:


(202) 334-1663


Mailing Address


Keck Center

500 Fifth Street, NW

Washington, DC 20001