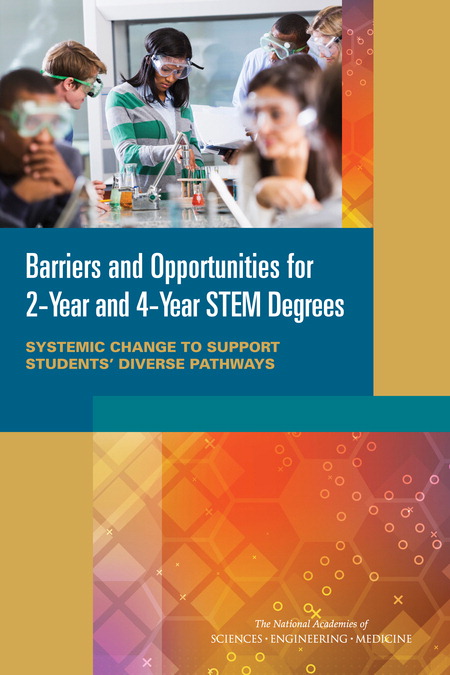 Read or download for free:
Report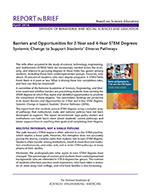 Report Brief
This report reviews research on the roles that people, processes, and institutions play in 2-and 4-year STEM degree production. This study pays special attention to the factors that influence students' decisions to enter, stay in, or leave STEM majors—quality of instruction, grading policies, course sequences, undergraduate learning environments, student supports, co-curricular activities, students' general academic preparedness and competence in science, family background, and governmental and institutional policies that affect STEM educational pathways.

Because many students do not take the traditional 4-year path to a STEM undergraduate degree, Barriers and Opportunities describes several other common pathways and also reviews what happens to those who do not complete the journey to a degree. This book describes the major changes in student demographics; how students, view, value, and utilize programs of higher education; and how institutions can adapt to support successful student outcomes. In doing so, Barriers and Opportunities questions whether definitions and characteristics of what constitutes success in STEM should change. As this book explores these issues, it identifies where further research is needed to build a system that works for all students who aspire to STEM degrees.

Sponsors: National Science Foundation, Alfred P. Sloan Foundation, S.D. Bechtel Jr. Foundation, Kellogg Fund of the National Academies


View the video related to the report



---
Public Report Briefing

June 6, 2016

Members of the authoring committee and other experts gave an overview of the report and discussed the report's conclusions and recommendations, the research context surrounding issues of STEM stratification and data collection, and the implications for college and university completion. Agenda and Biographies

Shirley Malcom's Presentation
Lynne Molter's Presentation

NSF Handout: Opportunities to Address Barriers and Opportunities for 2-Year and 4-Year STEM Degrees

Archived Webcast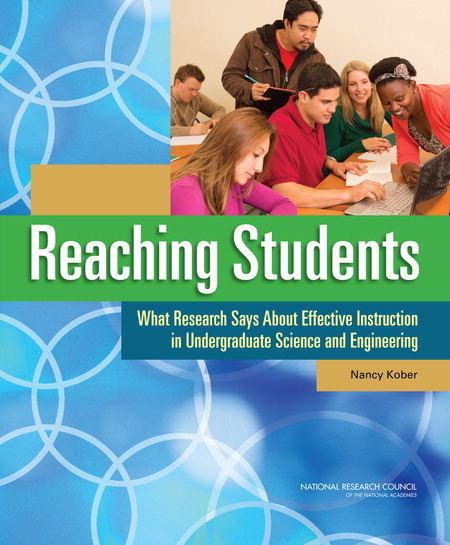 Reaching Students: What Research Says About Effective Instruction in Undergraduate Science and Engineering
(2015)
,
presents the best thinking to date on teaching and learning undergraduate science and engineering. Focusing on the disciplines of astronomy biology, chemistry, engineering, geosciences, and physics, this book is an introduction to strategies to try in the classroom or institution. Most downloaded report of 2015!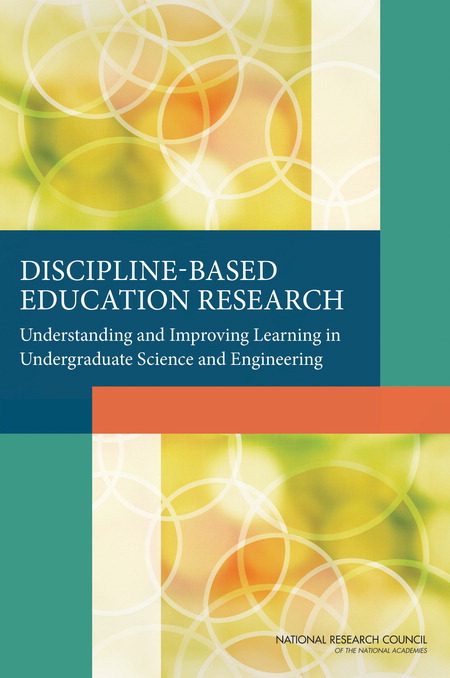 Discipline-Based Education Research: Understanding and Improving Learning in Undergraduate Science and Engineering (2012), examines the emerging field of discipline-based education research (DBER) and how it could improve the teaching of undergraduate science and engineering.


---
This section includes information about the committee, the committee's meetings (including presentations and agendas), and the papers commissioned during the course of the project.

► View project information