Related Reports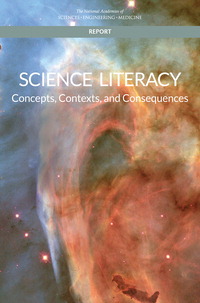 Science Literacy: Concepts, Contexts, and Consequences (2016)
Science Literacy studies the role of science literacy in public support of science. This report synthesizes the available research literature on science literacy, makes recommendations on the need to improve the understanding of science and scientific research in the United States, and considers the relationship between scientific literacy and support for and use of science and research.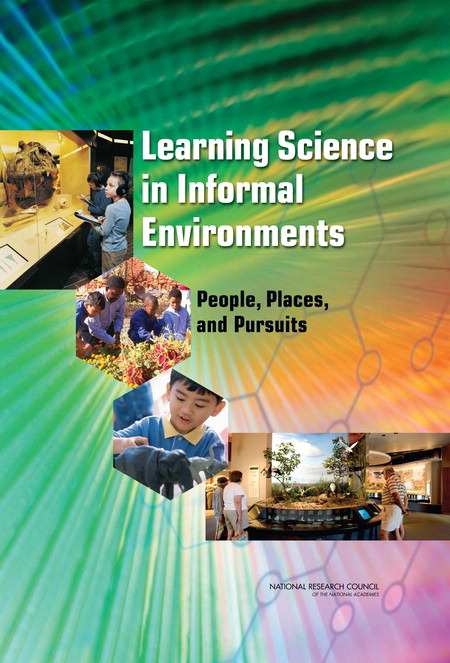 Learning Science in Informal Environments: People, Places, and Pursuits
(2009)
This report examines how evidence based on research relevant to the development of DLLs/ELs from birth to age 21 can inform education and health policies and related practices that can result in better educational outcomes. This report makes recommendations for policy, practice, and research and data collection focused on addressing the challenges in caring for and educating DLLs/ELs from birth to grade 12.


Upcoming Events

Public Event (Agenda Forthcoming):
Report Launch and Video Release
Washington, DC - NAS Building
February 28, 2019
Register Here


---

Commissioned Papers

Science Identity and Agency in Community and Citizen Science: Evidence & Potential -
Heidi l. Ballard, Emily M. Harris, Colin G. H. Dixon; University of California, Davis
Read now

Designing Citizen Science Projects -
Christopher Hoadley; New York University, Steinhardt
Read now

Design-Based Research in Education -
William A. Sandoval; University of California, Los Angeles
Read now
---

Committee Information
Committee Biographies

Rajul (Raj) Pandya (Chair), American Geophysical Union
Megan Bang, Northwestern University
Darlene Cavalier, Arizona State University
Daniel Edelson, BSCS Science Learning
Louis Gomez, University of California, Los Angeles
Joe E. Heimlich, Center of Science and Industry
Lekelia "Kiki" Jenkins, Arizona State University
Bruce V. Lewenstein, Cornell University
Christine Massey, University of California, Los Angeles
John C. Mather, NASA
Julia Parrish, University of Washington; COASST
Tina Phillips, Cornell Lab of Ornithology


Kenne Dibner, Study Director
Kerry Brenner, Program Officer
Leticia Garcilazo Green, Senior Program Assistant
Jessica Covington, Senior Program Assistant
Heidi Schweingruber, Director, BOSE

Mailing Address
Keck Center
500 Fifth Street, NW
Washington, DC 20001