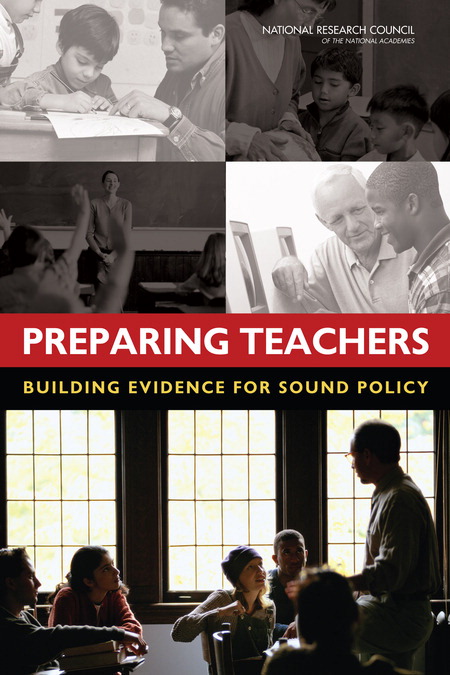 Preparing Teachers: Building Evidence for Sound Policy
(2010)

This publication from the Center for Education Division of Behavioral and Social Sciences and Education addresses the issue of teacher preparation with specific attention to reading, mathematics, and science. The book evaluates the characteristics of the candidates who enter teacher preparation programs, the sorts of instruction and experiences teacher candidates receive in preparation programs, and the extent that the required instruction and experiences are consistent with converging scientific evidence. Preparing Teachers also identifies a need for a data collection model to provide valid and reliable information about the content knowledge, pedagogical competence, and effectiveness of graduates from the various kinds of teacher preparation programs. Federal and state policy makers need reliable, outcomes-based information to make sound decisions, and teacher educators need to know how best to contribute to the development of effective teachers. Clearer understanding of the content and character of effective teacher preparation is critical to improving it and to ensuring that the same critiques and questions are not being repeated 10 years from now.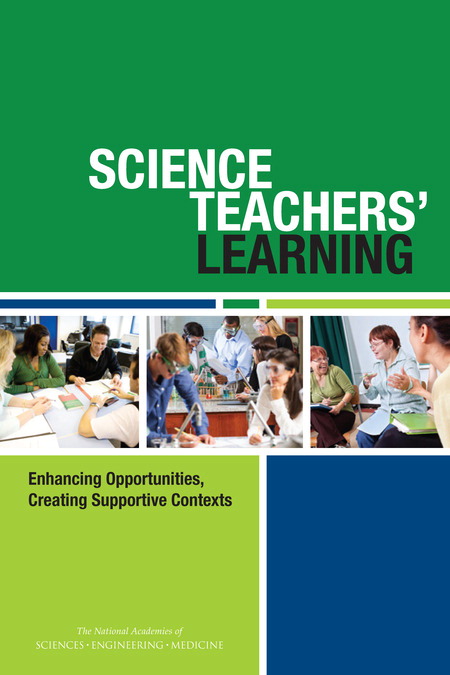 Science Teacher's Learning: Enhancing Opportunities, Creating Supportive Context (2015)
Currently, many states are adopting the Next Generation Science Standards (NGSS) or are revising their own state standards in ways that reflect the NGSS. For students and schools, the implementation of any science standards rests with teachers. For those teachers, an evolving understanding about how best to teach science represents a significant transition in the way science is currently taught in most classrooms and it will require most science teachers to change how they teach. The challenge of developing the expertise teachers need to implement the NGSS presents an opportunity to rethink professional learning for science teachers. Science Teachers' Learning will be a valuable resource for classrooms, departments, schools, districts, and professional organizations as they move to new ways to teach science.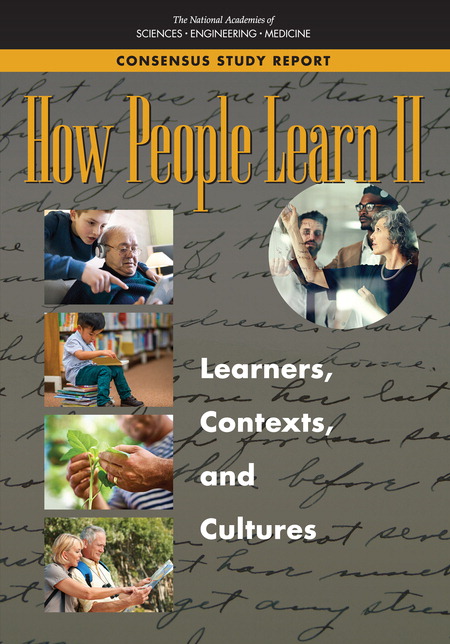 How People Learn II: Learners, Contexts, and Cultures (2018)

This publication from the Board on Behavioral, Cognitive, and Sensory Sciences and the Board on Science Education summarizes research on the science and nature of learning. The report identifies new findings related to neurological processes involved in learning, individual and cultural variability related to learning, and educational technologies. In addition to expanding scientific understanding of the mechanisms of learning and how the brain adapts throughout the lifespan, there have been important discoveries about influences on learning, particularly sociocultural factors and the structure of learning environments. Finally, the report offers specific research objectives in two broad areas to serve as a guide for researchers and funding entities to spur investigations in to levels of analyses, methods, and theoretical frameworks across diverse disciplines to contribute to the study of how people learn.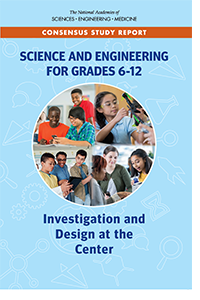 Science and Engineering for Grades 6-12: Investigation and Design at the Center
(2019)

This report reviews research on science investigations and engineering design problems for middle and high school students and explores promising models of innovative investigations and experiences both inside and outside the classroom. Through published research, this report provides ideas for teaching and learning, and incorporates the new vision for science education embodied in the Framework and the NGSS. The resulting report will provide guidance for designing science investigations and engineering design problems for middle and high school students that align with this vision.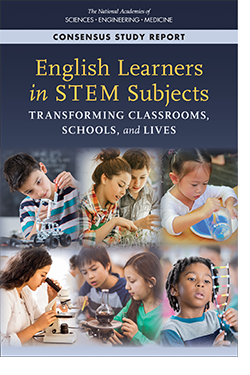 English Learners in STEM Subjects: Transforming Classrooms, Schools, and Lives (2018)
Released in October 2018, this publication from the Board on Science Education and the Board on Children, Youth, and Families calls for a shift in how science, technology, engineering, and mathematics (STEM) subjects are taught to students in grades preK-12 who are learning English. The report recommends strategies for instruction in the classroom, requisite tools educators need, and ways for building capacity in schools and districts so that English learners have opportunities to develop proficiency in both STEM subjects and language.




Previous Meetings

December 3-4, 2018: Washington, DC

January 28-29, 2019: Washington, DC

March 14-15, 2019: Irvine, CA

May 9-10, 2019: East Lansing, MI

August 15-16, 2019: Virtual

---
Committee Information

Robert Floden, Chair, Michigan State University
Anne Marie Bergen, California Polytechnical State University
Malcolm Butler, University of Central Florida
Marcy Garza Davis, John F. Kennedy Elementary School in Corpus Christi, Texas
Dan Goldhaber, University of Washington
Susan Gomez-Zwiep, California State University, Long Beach
Jason Grissom, Vanderbilt University
Anne-Lise Halvorsen, Michigan State University
Deena Khalil, Howard University
Kara Jackson, University of Washington
Bruce Johnson, University of Arizona
Judith Warren Little, University of California, Berkeley
Tiffany Neill, Oklahoma State Department of Education


---
Staff Information

Layne Scherer, Co-Study Director
Austen Applegate, Research Associate
John Veras, Senior Program Assistant
Thomas Rudin, Director, BHEW


Amy Stephens, Co-Study Director
Kenne Dibner, Senior Program Officer
Jessica Covington, Senior Program Assistant
Heidi Schweingruber, Director, BOSE


Sponsor

The Hewlett Foundation
Mailing Address
Keck Center
500 Fifth Street, NW
Washington, DC 20001