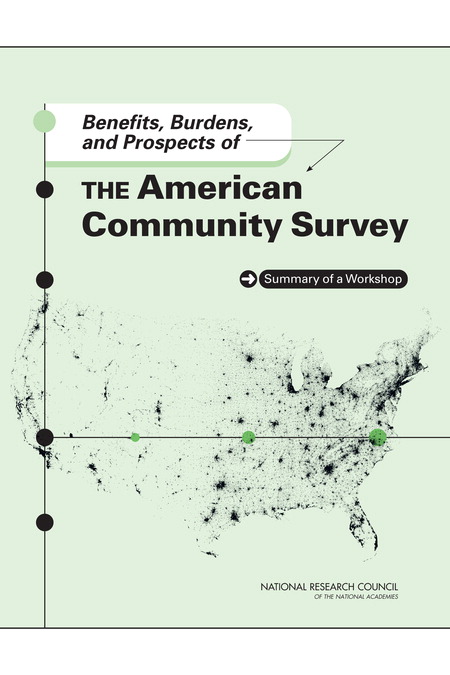 Download:
Agenda Book: Case Studies and User Profiles
(Please note that the presentations included here may be subject to copyright restrictions of the individual presenters.)
The U.S. Census Bureau asked the Committee on National Statistics to convene a workshop on the benefits to a broad array of non-federal users of the data products from the American Community Survey (ACS). Such a workshop is timely because the full suite of products from the ACS---including the first two iterations of 5-year period estimates covering small geographic areas (and most of the nation's cities and counties, with populations less than 20,000)---only became available in 2010 and 2011. This workshop to take stock of user experience with the data and to identify priority uses for the future is part of a larger review that the Census Bureau is conducting to assess the overall mission, vision, goals, and objectives of the ACS. In addition to assessing the benefits of the ACS, the workshop was also designed to address the burden on the American public of responding to the ACS questions.
The workshop program was assembled by a steering committee co-chaired by Linda Gage (California Department of Finance, retired) and Ken Hodges (Nielsen). Also serving on the steering committee---and serving as moderators at the workshop itself---were Linda Jacobsen (Population Reference Bureau), Patrick Jankowski (Greater Houston Partnership), Joan Naymark (Target Corporation, retired), and Richard Rathge (North Dakota State University). The workshop took place on the afternoon of June 14 and the full day of June 15, 2012, at the National Academies' Keck Center in Washington.
In addition to the speaking slots at the workshop, the steering committee invited a wide variety of ACS data users to contribute brief case studies of particular uses of ACS estimates---or simply a "user profile" discussing common ways in which ACS data are used on a daily basis to answer questions and inform policies---to serve as the background agenda book for the workshop. Both this agenda book and the presentation slides were distributed at the workshop, and are available at the links to the left.
A summary of the workshop is currently being prepared.