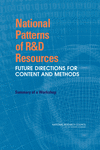 The National Center for Science and Engineering Statistics (NCSES) issues the series of reports National Patterns of R&D Resources which is a set of tables of R&D awards by type of provider, type of recipient, and whether the award is for basic, applied, or developmental research. These tables are to be used for comparison with historical trends and for comparison with what is happening internationally. NCSES requested that the Committee on National Statistics carry out a workshop exploring ways in which this series of reports could be modified to provide additional information for its current user community. Issues explored at the workshop included whether the surveys that National Patterns draws from could support other tabular displays; whether the surveys themselves should be expanded to support additional statistical displays; whether international comparability could be enhanced; the use of administrative sources of R&D data; improved estimation of non-profit R&D (as either provider or recipient); the development of subnational R&D totals; and graphical techniques that could help communicate data patterns over time and geography.
(Please note that the presentations included
here may be subject to
copyright restrictions
of the individual presenters.)
This new workshop from the Committee on National Statistics examines the various dimensions of the National Center for Science and Engineering Statistics' (NCSES) annual report which provides a national view of current "patterns" in funding of R&D activities in the United States. Statistics on research and development are important indicators of innovation and economic growth. However, it is possible that additional, and more relevant information could be provided to the user community than is now the case. This summary is based on a workshop held in 2012 which explored a set of possible next steps for improving the relevance, the content, and the presentation of NCSES's report by better understanding the demands of users, the constraints of the data producers, the techniques used to address data limitations, the purpose of the current strategies for data dissemination, and the challenges in using administrative data. This workshop summary provides NCSES a range of possiblities for improving the report and process.