Project Description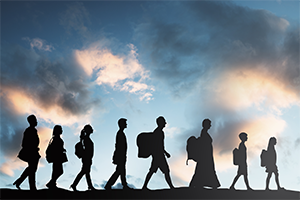 The Committee on Population held a two-day public workshop in Washington, DC in order to bring fresh and innovative approaches in social demographic theory, methodology, data collection and analysis, and practice and applications to the forefront of the community of researchers and practitioners who are concerned with better understanding and assisting forced migrant populations. Workshop participants will share cutting-edge social demographic research and practice from around the globe, with the aim of creating a research and practice agenda for the field of forced migration in the 21st century – and improving research, analysis, data collection, and practices to make better progress in the health and well-being of forced migrants at every stage of their life course. The lessons that can be learned by the United States from global best practices will be emphasized throughout the workshop. After the workshop, the National Academies Press will publish a rapporteur-prepared proceedings volume that summarizes the workshop presentations and discussions.


National Academy of Sciences Building, Lecture Room
2101 Constitution Ave, NW
Washington, DC

Workshop Agenda, Presentation Slides, and Background Readings
Malay Majmundar, Study Director
Ellie Grimes, Senior Program Assistant

---
Sponsors

Support for this workshop is provided by the Robert Wood Johnson Foundation and the Andrew W. Mellon Foundation.
---
Workshop Planning Committee

Ellen P. Kraly, Co-Chair
Holly E. Reed, Co-Chair
Susan McGrath
Pia M. Orrenius
Romesh Silva
Paul B. Spiegel
Sarah Staveteig

See committee bios
---
For more information, please contact:

Ellie Grimes
EGrimes@nas.edu

Mailing Address
Keck Center
500 Fifth Street, NW
Washington, DC 20001