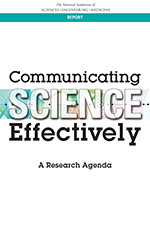 Read or download for free:
Report
Report Highlights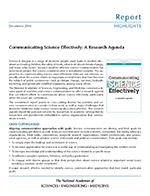 Highlights from two reports—Science Literacy and Science Communication
Science is integral to a range of decisions people must make in modern life—about vaccinating children, the safety of foods, what to do about climate change, and many other issues. Society's need for effective science communication has never been greater. But science communication is remarkably complex. The approaches to communicating science most effectively often are not obvious, especially
when the science relates to important societal issues that have become the subject of public controversy—such as climate change, vaccines, hydraulic fracturing, and genetically modified organisms, among many others.

The Division of Behavioral and Social Sciences and Education convened a diverse panel of scientists and science communicators to offer a research agenda that can inform efforts to communicate about science effectively, particularly when the issues are contentious.

The committee's report points to cross-cutting themes for scientists and science communicators to consider in their work, as well as major challenges that should be studied to make science communication more effective. This research agenda should be pursued not only by researchers in academic settings but by researchers and practitioners embedded in various organizations that communicate science.

Sponsors: Burroughs Wellcome Fund; David and Lucile Packard Foundation; Gordon and Betty Moore Foundation; Rita Allen Foundation (via ClimateCentral); William and Flora Hewlett Foundation.

Report Release


---
Public discussion of the report


Agenda | Presentation about the report

Bios of: Members | Respondents

Members of the committee discussed the report's conclusions and recommendations.


Webcast

November 16-17, 2017
—Arthur M. Sackler Colloquium, The Science of Science Communication III: Inspiring Novel Collaboration and Building Capacity.
More Information
In the News

---

December 17, 2015 – Agenda
February 24-25, 2016 – Agenda



Members' Bios

Alan Leshner, (Chair), IOM, AAAS
Dietram Scheufele, University of Wisconsin–Madison
Ann Bostrom, University of Washington
Wändi Bruine de Bruin, University of Leeds and Carnegie Mellon University
Karen Cook, NAS, Stanford University
Thomas Dietz, Michigan State University
William Hallman, Rutgers University
Jeffrey Henig, Columbia University
Robert Hornik, University of Pennsylvania
Andrew Maynard, Arizona State University
Matthew Nisbet, Northeastern University
Ellen Peters, Ohio State University
Sylvia Rowe, SR Strategy, LLC, and Tufts University



Melissa Welch-Ross, Study Director
Holly Rhodes, Program Officer
Emily Backes, Research Associate
Leticia Green, Program Assistant